With around 450 delegates, including over 80 CEOs, Wings of Change Europe this year again gathered key air transport industry leaders from the entire value chain in an event designed to serve as a platform for industry debates, discussions, launches, signings, and side-meetings. Sustainability in all its forms took center stage.
Aviation illustrates like no other industry the benefits of taking down walls, connecting businesses, people, families, and discovering new cultures. Or as IATA's Director General & CEO Alexandre de Juniac summarizes it. "Aviation is the business of freedom." It was therefore appropriate that Wings of Change Europe was held in Berlin, on the week of the 30th anniversary of the fall of the Berlin wall.
Despite trade wars and protectionist measures, aviation continues to grow and so does the need to ensure it multiplies its efforts to become more sustainable. In his opening speech, Carsten Spohr, Chairman and CEO of Lufthansa Group (host airline of this WoCE edition) and Chairman of the Board of Governors of IATA, stressed the carbon challenge, stating sustainable aviation fuel, air traffic control, and the Carbon Offsetting and Reduction Scheme for International Aviation (CORSIA) are key to address what has become a real and major concern for the citizens of Europe. He added: "Air traffic will continue to grow. So climate-friendly flying becomes all the more important. The airline industry committed voluntarily to increasing fuel efficiency. By 2050 our CO2 emissions are to be reduced by 50%. Yet we airlines cannot do it alone."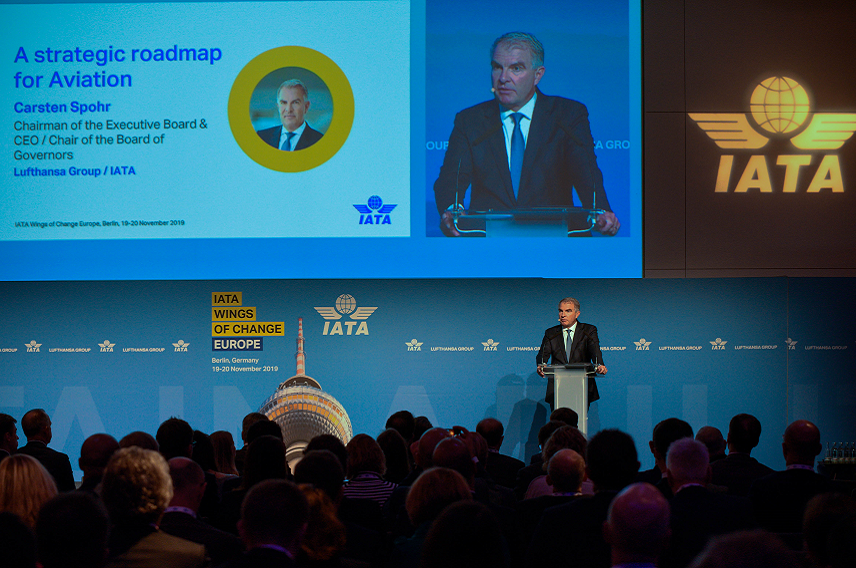 Carsten Spohr opens the WoCE19 conference in Berlin, November 19, 2019
Governments, facing public demand for a greener planet, are quick to raise or even create new taxes. Benjamin Smith, Air France-KLM's CEO, raised this issue on stage: "Aviation taxes will not reduce CO2 emissions and are an ineffective way to pursue environmental objectives." This refrain was echoed by Alexandre de Juniac: "Taxation is a crude and inefficient method. And it picks a fight with the wrong enemy. The goal must not be to bluntly cut people's access to flying by making it unaffordable. Neither should it be to cripple tourism industries which create jobs and drive development. And it should not stifle airline finances, which must be healthy in order to invest in greener technologies. The enemy isn't flying—it is carbon. Government policies should aim to help people fly sustainably."
As Andreas Klöckner, Coordinator Electric Flying Program Strategy Aeronautics at DLR explained in his presentation, large commercial electric aircraft are years away from becoming a reality. This translates into ground and air capacity as well as Sustainable Aviation Fuels becoming even more important priorities for the industry. For Filip Cornelis, Director for Aviation for the European Commission: "We must unblock the Single European Sky under the leadership of the Croatian and German Presidencies", adding "We must consider public funding for Sustainable Aviation Fuels".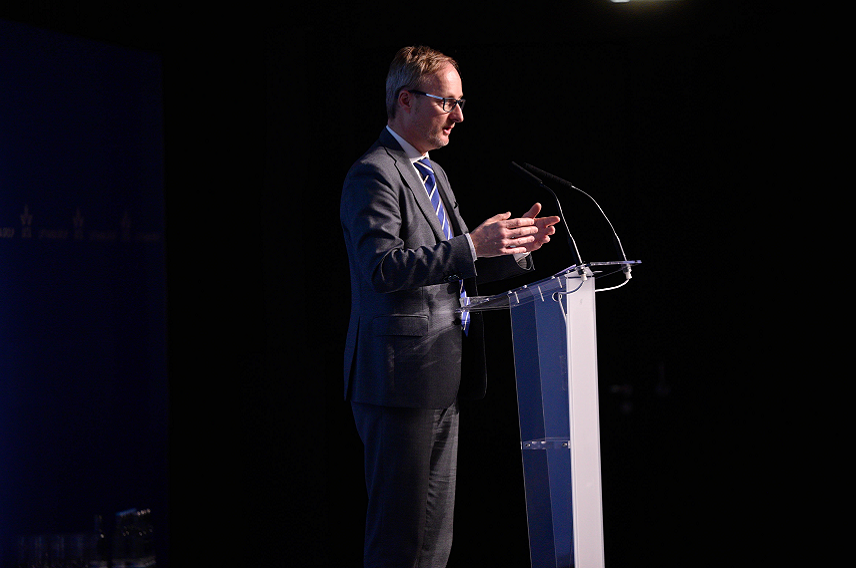 Filip Cornelis, Director for Aviation for the European Commission
The industry will continue to advocate and work towards sustainable growth to ensure aviation remains a motor for strong economies and societies alike. This was reinforced on stage on the second day of the conference, when a focus on technology and innovation revealed important solutions, not just for the industry and the airlines to remain or become competitive, but also as means to ensure climate change objectives are met.
In addition to its external commitments, the industry must also focus on some internal priorities, one of which is the poor level of gender diversity in executive and technical positions. Addressing this issue made for one of the great highlights of the event, thanks to the '25by2025' signing ceremony where 29 airlines committed to the '25by2025 campaign', a voluntary initiative for IATA member airlines to improve female representation in the industry by 25%, or up to a minimum of 25% by 2025. A great surprise came when Norwegian Air Shuttle, a non-IATA member, committed and signed the pledge through its President and Founder, Bjørn Kjos.

Airline CEOs or representatives pose with the 25by2025 pledge they just signed
Another highlight was the official announcement of the 3rd edition of Wings of Change Europe, which will be held in Paris, France, 17-18 November 2020, and hosted by Air France.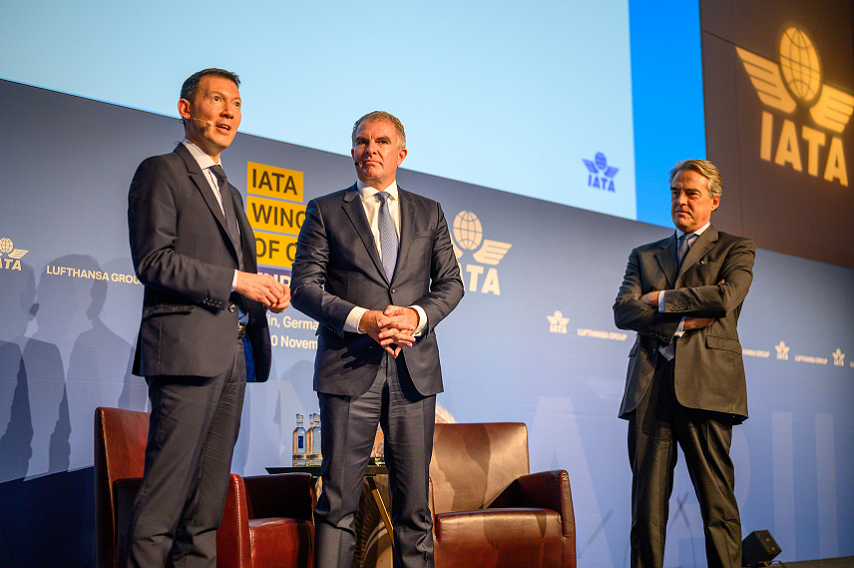 Benjamin Smith, CEO of Air France – KLM announces Air France as the host airline of Wings of Change Europe 2020 in Paris, next November, as Carsten Spohr and Alexandre de Juniac look on
A big thank you to the Lufthansa Group for hosting the 2nd edition in Berlin, as well as to our sponsors who made this possible!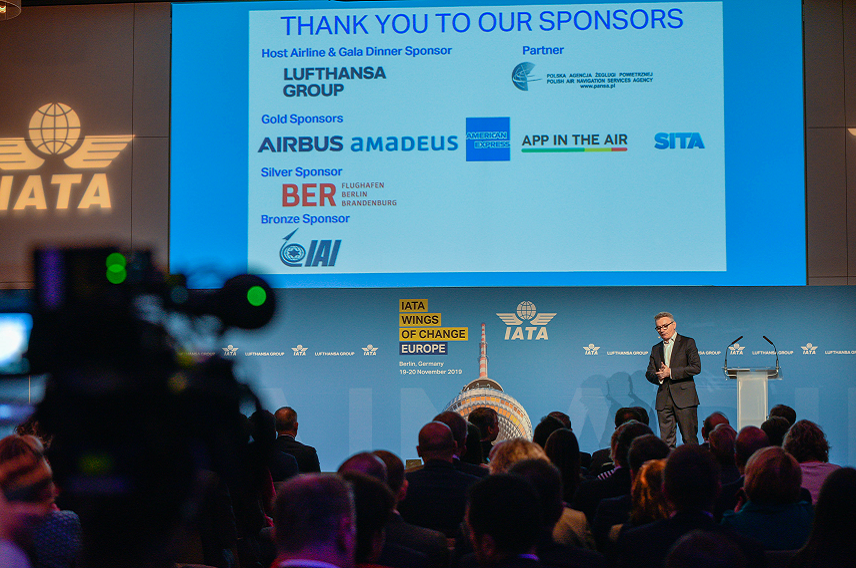 Rendez-vous très bientôt à Paris !
WoCE19 Key signings
Memorandum of Understanding between the German CAA and IATA
Memorandum of Understanding between the Latvian CAA and IATA
WoCE19 Membership ceremonies
WoCE19 Key launches
WoCE19 Photos
WoCE19 Presentations
WoCE19 Agenda
You can find the complete WoCE19 agenda here.