The 2020 edition of the Aviation Data Symposium, initially planned for June 2020, has been cancelled due to the COVID-19 pandemic and its impact on the industry and business meetings. The dates and location of the 2021 edition will be announced shortly. Please, have a look at the FAQ if you were a registered participant or sponsor. For more information, please contact us.
Driving innovation, efficiency and sustainability – Together
Aviation and the wider travel and hospitality industry are faced with a great opportunity as the availability of data is rapidly increasing. These industries have to become more efficient to be able to deal with the expected doubling of demand in the next 15-20 years as a very pressing requirement.
IATA represents and leads the industry through this journey and its Aviation Data Symposium (ADS) & Artificial Intelligence (AI) Lab is the unique global forum to learn about new Big Data, AI, Data Science & Technology trends impacting our indsutry in the following key areas of involvement:
Passenger
Operations
Air Freight
Safety
Digital Transformation
Technology


ADS 2020 is preparing to welcome over 700+ aviation industry and data professionals from across the entire value chain and various functional domains.
Check out the ADS 2019 highlights
Who should attend and why?
The ADS Plenary, Track & AI Lab cover a wide variety data topics across business and functional areas envisaged for aviation executives, leaders, commercial and technical professionals across:
Airlines
Travel agents, OTAs, TMCs
Search and aggregation and distribution providers
Travel and hospitality providers
Financial services and payment providers
Aircraft manufacturers and MRO providers
Air cargo service providers
Airports, ground handlers and ANSPs
Join the conversation on Twitter with #IATAADS
Join the conversation on LinkedIn with #IATADS
Aviation Data Symposium & AI Lab Agenda
The theme of ADS & AI Lab is Driving innovation, efficiency and sustainability – Together. The agenda will focus on data capabilities and technologies in all areas in aviation and the wider travel industry.
​Speakers
You can expect to hear CEOs and experts from leading travel providers giving a bird's-eye view on how data is shaping the future of travel, but also external senior executives from technology giants such as Amazon, Google and IBM.
You will also hear subject matter experts and technical experts share their experiences leveraging Big Data, AI and Data Science.
List of 2019 speakers (pdf).
Sponsorship & Exhibition Contact
Mickey Martin
Business Development Director
E-mail: martinm@iata.org
Tel: +1 631-841-6866
ADS offers exceptional opportunities to showcase your products and services, while associating your brand with the latest industry insights, leadership and best practices, shaping the future of air travel.
Did you know?
Being an IATA Strategic Partner brings numerous benefits, including preferential rates at IATA events. Discover how your company could benefit at IATA Strategic Partnerships Program.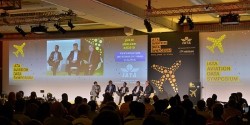 ADS 2019
The Aviation Data Symposium 2019 took place in Athens, 25-27 June
Wednesday, 26 June
Thursday, 27 June
ADS & AI Lab 2019 Photos & Videos
Browse the full list of organizations that participated in the 2019 edition.
ADS 2018
The Aviation Data Symposium 2018 was held in Berlin 19-20 June
​​Tuesday, 19 June
Artificial Intelligence and Machine Learning
The AI Lab attracted over 120 delegates.
The lab showcased how AI can transform the air transport industry as a new and pertinent tool for doing business. Participants left the lab with an understanding of artificial intelligence and knowing where and how to start AI developments within their companies.
ADS & AI Lab 2018 Photos & Videos
Our Diversity & Inclusion Pledge
IATA believes that diversity of culture, gender, age, orientation and experience boosts the success of the aviation industry. We actively encourage aviation professionals with diverse profiles to contribute to our events as speakers, panelists, facilitators, or in any other way.
Supporting Organization - Passenger Track
Host Airline & Principal Sponsor
Dragons' Den Contest Partner
Track Supporting Organizations