Coronavirus update
We are currently assessing possible travel restrictions to Macau in light of current epidemy. Please check this page for further information as it becomes available.
​​Since its launch in 2014, this event has brought together hundreds of cabin safety experts from airlines, regulatory agencies, governments, manufacturers and suppliers to address the most important cabin safety challenges.​​​​​​​​​​​​​ Now with a six-year track record, our goal in 2020 is to provide the ultimate delegate experience by featuring a programme the includes industry's most pressing topics, what to do about them, and to benchmark best practices from leading airlines.
#IATACabinSafety
Who you will meet
Our previous events have attracted delegates from airlines, emergency equipment suppliers, regulators, training providers, training equipment manufacturers, investigators, human factors specialists and all functions from cabin and safety operations.
Why you should attend ​
It is the only event of its kind
This unique event brings together all aspects of Cabin Safety under one roof, allowing you fantastic networking opportunities with others in your field of expertise. 130 international organizations, including +100 airlines, regulatory agencies, investigation organizations, aircraft manufacturers and suppliers attend this event each year.
Informative workshops
Our highly popular workshops will give you numerous opportunities to ask questions and seek answers from your peers and share best practice ideas and suggestions.
The Cabin Safety Exchange
This session generates discussions among delegates and shapes and steers the work of IATA Cabin Safety in the years to come. Tell us your issues and we'll work together to resolve them. Participate, interact and engage in the dynamic speed-networking event that discusses and captures important global cabin safety issues.
Stay on top of new de​velopments
This event allows the industry to benchmark best practices from leading airlines and to work together to continue to enhance global aviation cabin safety. Plenary sessions are designed to bring important topics relevant to the current issues and developments.
​​​​
Macao, A Heritage at the crossroads of China and Portugal


Recognized as UNESCO World Heritage, the Historic Centre of Macao reflects the grand historical legacy of the city-state. For 4 centuries, the strategic location of Macao has made it a hub in the complex maritime trading network between China and the western world. The port city has not only enabled the flow of goods between East and West but it has also facilitated the meeting of different cultural and religious influences which are to this day embedded in the lifestyle of the Macanese people.

The streets, public spaces, religious buildings, cuisine and even language of Macao still provide testimony of the multicultural dynamic of the region. From Chinese temples standing on Portuguese theme tiles to Portuguese egg tarts being served as dessert to Macanese meal, Macao's wonderful heritage is displayed everywhere if you just look closely. The 17th century St. Paul's church façade, the Guia Fortress offering panoramic views of the city, the A-Ma Temple dedicated to the worship of different deities and the pastel colored Taipa Houses are all living proofs of Macao's legacy.
When visiting Macao, make sure to align your interests with the seasons as there are various festivals all year round. You can indulge in the sweet and savory mooncakes with a cup of fragrant tea at the Mid-Autumn Festival, or enjoy the beautiful Lotus plant display at the Macao Summer Lotus Festival, or even attend the Chinese New Year festival in January to witness colorful parades, fireworks and dragon dances.

Known for being a fast growing economic region in recent decades, the urban development and economic growth of the casino city are associated to a booming gaming sector. Complementary to the gaming industry, Macao has witnessed the establishment of several large international hotel resorts. In 2016, approximately 31 million tourists visited Macao, equating to 48 times the population of local residents. These numbers are believed to increase in the upcoming years, as Macao's popularity is on the rise.

Venue: The Parisian, Macao

The Parisian Macao is a luxury hotel on the Cotai Strip of Macao. With approximately 3000 rooms and suites designed with a contemporary French Flair, dazzling views from the Eiffel Tower, 56000 square feet of world-class meeting venues, 170 luxury shops, restaurants and bars, spa, the Parisian Macao is your ideal destination for leisure and business.

Spacious rooms and suites at The Parisian will offer a 55-inch flat-screen cable TV, a fully-stocked minibar and in-room safe. Filled with signature toiletries, the en-suite bathroom includes a bathtub and a separated shower as well. Shimmering views of the tower illumination can be enjoyed from some of the units.

Guests can watch a wide selection of popular shows and concerts at the spectacular theatre of The Parisian Macao, while the 2000-square-metre Qube Kingdom would be a perfect antidote for boredom at any age. The hotel also provides professional services and facilities such as a well-equipped fitness centre and a full-service travel agency.

The Parisian Macao offers diverse dining experiences to please even the pickiest of palates. You can enjoy authentic French cuisines at Brasseries or La Chine, or have traditional Chinese dishes at Lotus Palace. Assorted traditional Dim Sum are served at Crystal Jade La Mian Xiao Long Bao while European delicacies can be found at Le Buffet. There is also a Market Bistro offering 24-hour dining.
The hotel is a 6-minute drive from Macau Ferry Terminal, a 10-minute drive from Taipa Ferry Terminal and an 8-minute drive from Macau International Airport. Free shuttle buses from the ferry terminals or airport to the hotel are available.

​​​
The full program is coming soon!
Workshops at COSC 2020:
This workshop is aimed at providing you with background information to help you more fully understand IOSA Standards and Recommended Practices, their intent, their foundation, their history and more importantly how to comply with them. Bring your IOSA questions, problems and concerns and we will do all we can to help you.
Inadvertent Slide Deployment
The issue of inadvertent slide deployment remains a concern for many airlines, but not an issue for some. This workshop intends to take a look at the scale of the issue worldwide, discuss what works for some and not others and take a look at some of the potential solutions.
Cabin Crew Workload Management
Cabin crew workload appears to be increasing for many reasons. This workshop intends to look to the future and attempt to identify to what extent can we help manage cabin crew workload and what impact it have on communication, fatigue, customer service and safety compliance.
The IATA Cabin Operations Safety Conference will take place in Macao from June 16th to 18th, 2020. Based on previous content and delegate feedback, we intend to build on our success and provide even more engaging, thought provoking and educational content for our delegates.

With this in mind, we are currently looking for engaging speakers who can share their experience with the audience which mainly comprises of airline Cabin Safety professionals, Cabin Crew Managers, Regulators, and Human Factors specialists. Do you have experience in any of the following areas you might like to share?

Accidents and Incidents
Experiences and lessons learned from an airline's perspective
Evacuation procedures
Carrying out investigations

Cabin Crew
Cabin Crew Fatigue Risk Management
Innovation in Cabin Crew Management, recruitment or Training
Onboard Communication, Co-ordination and leadership
Safety Management Systems in Cabin Operations

Cabin Safety Risk Assessments and risk identification
Safety Culture and Safety Reporting
Cabin Safety Auditing, LOSA, Safety performance Indicators

Cabin Operations

The safe carriage of special category passengers including those with disabilities
Change Management
Innovation in Cabin design
Innovation in Cabin Safety and emergency Equipment including fire extinguishing, Unruly Passenger incident management
Onboard medical equipment and incident management
Lithium battery cabin fire containment
Passenger education and awareness in safety/security procedures and requirements


If you are interested in delivering a presentation at this prestigious event, please complete the speaker application form (pdf)

Applications should be submitted by 01 January 2020
​​​​
Hong Kong Airport (HKG) to
The Parisian Macao
Please make sure you have a valid travel document or visa for Mainland China/ Macao before boarding a ferry, coach or a car
By ferry
Upon arrival, walk to the ferry ticketing counter at Transfer Area E2 at Arrivals Level in Terminal 1
DO NOT go through immigration and reclaim your baggage, passengers who have gone through immigration CANNOT return to the ferry ticketing counter and use the ferry service
Purchase ferry ticket and present baggage tag receipt at the Ferries to Mainland/Macao ticketing counter at Transfer Area E2
Scan ferry ticket and check your baggage status at the ferry boarding entrance
Board the Automated People Mover to SkyPier
Board ferry to PRD & Macao ports
Take the Cotai Water Jet or Turbo Jet heading to the Macao Taipa Ferry Terminal
Once at the Terminal, take the Transmac bus heading to Estrada do Istmo / Sands Cotai Central
When you exit the bus, head south on Estrada do Istmo until you see The Parisian Macao on your right hand side
By bus (coach)
Upon arrival, walk to the coach ticketing counter located at the Mainland/Macao Transport Centre, Hall A of Arrivals Level (L5), Terminal 1
Purchase coach ticket from counters M01-M02, M05-M05 or M07-M08
Board your coach following the instructions given to you at the counters
Service hours are from 6:50 am to 12:40 pm
By limousine
Upon arrival, walk to the Maindland/Macao Transport Centre, Hall A of Arrivals Level (L5), Terminal 1
For any questions or details, go to counters M01-M08
The local SkyLimo service picks up passengers at the lounge area of Level 1, Car Park 4, Terminal 1
Macao Airport (MFM) to
The Parisian Macao
By shuttle
Upon arrival, walk towards the north exit of the airport and walk out into the parking lot where you can find The Parisian Macao Shuttle Bus
Buses depart every 15-20 minutes from 11:00 am to 9:00 pm
By taxi
Upon arrival, walk to the exit of the airport at the Arrivals Level where you can find Taxi ranks
The Macao International Airport website provides information about taxi fares
By limousine
Upon arrival, walk towards on of the two Airport Limousine counters at the terminal building; one is located in the center of the restricted baggage claim area while the other is at the public hall
Note that you can book your ride in advance
Visa Requirements
To know more about visa requirements into Mainland China/Macao, visit the official immigration website of Macao
​​​​
Registration Rates


| ATTENDANT TYPE | EARLY BIRD | REGULAR RATE |
| --- | --- | --- |
| IATA Member Airline | $ 875 | $ 1025 |
| Non-IATA Member Airline | $ 1050 | $ 1250 |
| IATA Strategic Partner | $ 1050 | $ 1250 |
| Regulator | $ 1075 | $ 1325 |
| ​IATA Staff | ​$ 750 | ​$ 750 |
| ​Media | ​$ 1075 | ​$ 1325 |
| Government Authority/Governmental Agency | $ 1075 | $ 1325 |
| Other | $ 1075 | $ 1325 |

Registration opens in January 2020
Join IATA's Strategic Partnership Program and benefit from discounts on sponsorship and exhibition rates. Get on Board!
Sponsorship/Exhibition Contact:
Business Development Director
McVEIGH Global Meetings and Events
IATA Conferences and Events
Tel.: +1-561-325-8200
Mobile: +1-561-289-4796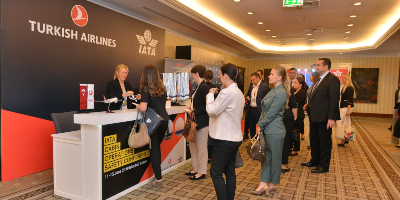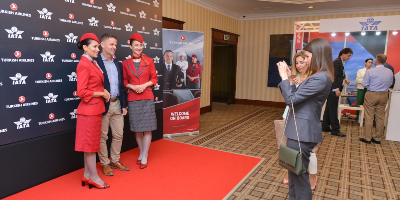 ​​​​​​​​​​​
Potential Sponsors and Exhibitors may include but are not limited to:
Aircraft manufacturers
Cabin baggage manufacturers
Cabin crew training equipment providers
Cabin crew training providers
Cabin crew uniform providers
Cabin seat manufacturers
Electronic flight bag solutions
Emergency and survival equipment manufacturers and suppliers
Galley equipment manufacturers
Inflight medical equipment providers
Passenger comfort device designers and manufacturers
Safety reporting and safety management software solution providers


​​​​
Day 1:
Day 2: Workshops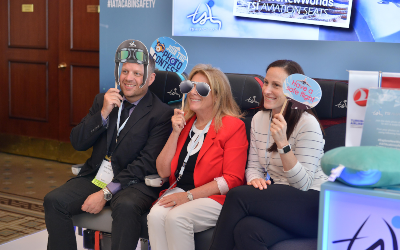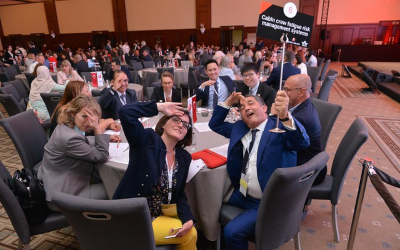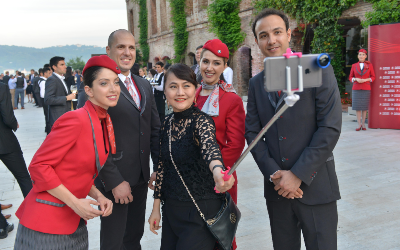 Program
​​​​
Thank you to our 2019 Sponsors!