We continue to monitor the Coronavirus (COVID-19) situation carefully and regularly. Our number one priority is always the health of our speakers, delegates and staff.
We are following the guidance of the World Health Organization (WHO)—the global authority on public health issues—and the local Public Health Ministry. Currently we are going ahead with the event as planned. If the situation changes, we will announce this on our website and inform all registered participants.
In the interim, please refer to the IATA Travel Center, for daily updates on travel restrictions.
Since its launch in 2014, this event has brought together hundreds of cabin safety experts from airlines, regulatory agencies, governments, manufacturers and suppliers to address the most important cabin safety challenges.​​​​​​​​​​​​​ Now with a six-year track record, our goal in 2020 is to provide the ultimate delegate experience by featuring a programme the includes industry's most pressing topics, what to do about them, and to benchmark best practices from leading airlines.
#IATACabinSafety
Who you will meet
Our previous events have attracted delegates from airlines, emergency equipment suppliers, regulators, training providers, training equipment manufacturers, investigators, human factors specialists and all functions from cabin and safety operations.
Why you should attend ​
It is the only event of its kind
This unique event brings together all aspects of Cabin Safety under one roof, allowing you fantastic networking opportunities with others in your field of expertise. 130 international organizations, including +100 airlines, regulatory agencies, investigation organizations, aircraft manufacturers and suppliers attend this event each year.
Informative workshops
Our highly popular workshops will give you numerous opportunities to ask questions and seek answers from your peers and share best practice ideas and suggestions.
The Cabin Safety Exchange
This session generates discussions among delegates and shapes and steers the work of IATA Cabin Safety in the years to come. Tell us your issues and we'll work together to resolve them. Participate, interact and engage in the dynamic speed-networking event that discusses and captures important global cabin safety issues.
Stay on top of new de​velopments
This event allows the industry to benchmark best practices from leading airlines and to work together to continue to enhance global aviation cabin safety. Plenary sessions are designed to bring important topics relevant to the current issues and developments.
​​​​
Venue
With Western Canada's majestic Rocky Mountains as its backdrop, the
JW Marriott Parq Vancouver
boasts a distinct sense of place in British Columbia with beautifully designed accommodations and impeccable service.
Anchored by the stylish neighborhoods of Gastown and Yaletown, the hotel is at the epicenter of downtown Vancouver's dynamic entertainment district.
Destination
The 2020 COSC will take place in Vancoover. Located at the southwestern corner of the coastal province of British Columbia, it is well known for its majestic natural beauty, as it is nestled between the Coast Mountains and the Pacific Ocean. It is frequently ranked as one of the best cities to live in and is certainly a beautiful destination to visit.
The city's numerous beaches, parks, waterfronts, and mountain backdrop, combined with its cultural and multi-ethnic character, all contribute to its unique appeal and style.
The full program is coming soon!
Workshops at COSC 2020:
This workshop is aimed at providing you with background information to help you more fully understand IOSA Standards and Recommended Practices, their intent, their foundation, their history and more importantly how to comply with them. Bring your IOSA questions, problems and concerns and we will do all we can to help you.
Inadvertent Slide Deployment
The issue of inadvertent slide deployment remains a concern for many airlines, but not an issue for some. This workshop intends to take a look at the scale of the issue worldwide, discuss what works for some and not others and take a look at some of the potential solutions.
Cabin Crew Workload Management
Cabin crew workload appears to be increasing for many reasons. This workshop intends to look to the future and attempt to identify to what extent can we help manage cabin crew workload and what impact it have on communication, fatigue, customer service and safety compliance.
Registration Rates


| ATTENDANT TYPE | EARLY BIRD | REGULAR RATE |
| --- | --- | --- |
| IATA Member Airline | $ 875 | $ 1025 |
| Non-IATA Member Airline | $ 1050 | $ 1250 |
| IATA Strategic Partner | $ 1050 | $ 1250 |
| Regulator | $ 1075 | $ 1325 |
| ​IATA Staff | ​$ 750 | ​$ 750 |
| ​Media | ​$ 1075 | ​$ 1325 |
| Government Authority/Governmental Agency | $ 1075 | $ 1325 |
| Other | $ 1075 | $ 1325 |

Registration opens shortly
Join IATA's Strategic Partnership Program and benefit from discounts on sponsorship and exhibition rates. Get on Board!
Sponsorship/Exhibition Contact:
Business Development Director
McVEIGH Global Meetings and Events
IATA Conferences and Events
Tel.: +1-561-325-8200
Mobile: +1-561-289-4796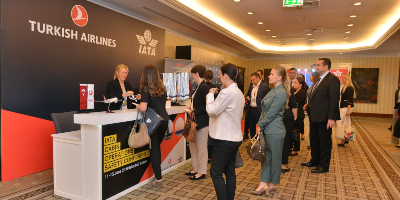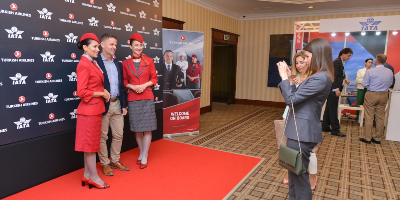 ​​​​​​​​​​​
Potential Sponsors and Exhibitors may include but are not limited to:
Aircraft manufacturers
Cabin baggage manufacturers
Cabin crew training equipment providers
Cabin crew training providers
Cabin crew uniform providers
Cabin seat manufacturers
Electronic flight bag solutions
Emergency and survival equipment manufacturers and suppliers
Galley equipment manufacturers
Inflight medical equipment providers
Passenger comfort device designers and manufacturers
Safety reporting and safety management software solution providers


​​​​
Day 1:
Day 2: Workshops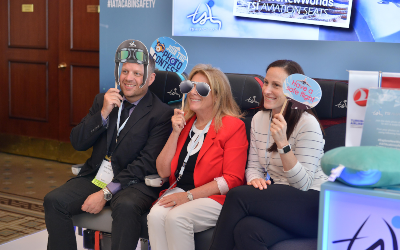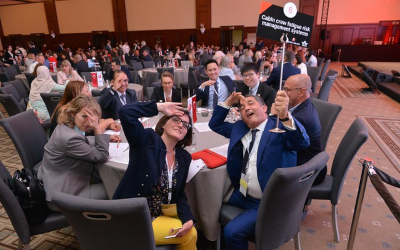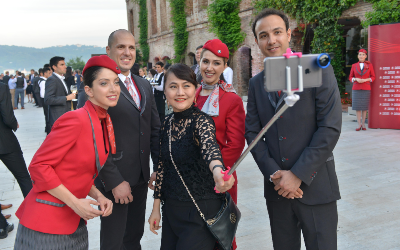 Program
​​​​
Thank you to our 2019 Sponsors!