Since its launch in 2014, this event has brought together hundreds of cabin safety experts from airlines, regulatory agencies, governments, manufacturers and suppliers to address the most important cabin safety challenges.​​​​​​​​​​​​​ The 2021 edition will take place as a virtual event.
Who will attend
Our previous events have attracted delegates from airlines, emergency equipment suppliers, regulators, training providers, training equipment manufacturers, investigators, human factors specialists and all functions from cabin and safety operations.
Why you should attend ​
It is the only event of its kind
This unique event brings together all aspects of Cabin Safety under one roof, allowing you fantastic networking opportunities with others in your field of expertise. 130 international organizations, including +100 airlines, regulatory agencies, investigation organizations, aircraft manufacturers and suppliers attend this event each year.
Informative workshops
Our highly popular workshops will give you numerous opportunities to ask questions and seek answers from your peers and share best practice ideas and suggestions.
The Cabin Safety Exchange
This session generates discussions among delegates and shapes and steers the work of IATA Cabin Safety in the years to come. Tell us your issues and we'll work together to resolve them. Participate, interact and engage in the dynamic speed-networking event that discusses and captures important global cabin safety issues.
Stay on top of new de​velopments
This event allows the industry to benchmark best practices from leading airlines and to work together to continue to enhance global aviation cabin safety. Plenary sessions are designed to bring important topics relevant to the current issues and developments. This year's conference theme is Emerging Stronger!
Main Topics will include:
Cabin Crew Wellbeing and Support
Passenger accessibility activities, changes and updates
Unruly Passengers
Global Aviation Date Management-Using data to support Safety Performance Indicators, demonstrating what the data is showing us.
IATA's Current Safety Strategy
How IATA and our airlines are adapting to the emerging post covid world.
#IATACabinSafety
​​​​
COSE Full Virtual Pass: 7&8 December 2021
| Iata Member & NON-mEMBER aIRLINE | oTHER |
| --- | --- |
| Complimentary | $390.00 |
COSE One-Day Virtual Pass: 7 December 2021
| Iata Member & NON-mEMBER aIRLINE | oTHER |
| --- | --- |
| Complimentary | $199.00 |
COSE One-Day Virtual Pass: 8 December 2021
| Iata Member & NON-mEMBER aIRLINE | oTHER |
| --- | --- |
| Complimentary | $199.00 |
ACT Airlines
Aer Lingus
Africa World Airlines
AirArabia
AirAsia
Air Baltic
AIRBUS
Air Canada
Air Canada Rouge
Air India Express Ltd.
Airlink
AirMautritus Ltd
Air New Zeland
Air Transat
Alaska Airlines
Alitalia
American Airlines
ANA
Asiana Airlines



Aviana
Avion Express
Azul Brazilian Airlines
BA CityFlyer
BoA
Cathay Pacific Airways
Compagnie Aérienne ASKY
Condor Flugdienst GmbH
DAC Aviation
easyjet
Emirates
Etihad Airways
EuroAtlantic Airways
FAI rent-a-Jet
Fiji Airways
Finnair
Hibernian Airlines


Iberia
Icelandair
indiGO
Japan Airlines
JetBlue Airways
Kenya Airways
Latam Airlines Brasil
Lufthansa
Malindo Air
Novair
PGA Portugália Airlines
Qantas
QatarAirways
Regent Airways
Regional Jet OÜ
Royal Air Maroc
Royal Jordanian



Ryanair
SAS
Saudia Airlines
Surinam AirwaysSunwing Airlines
Swoop Airlines
TAA
Tarom
ThaiAirAsia Co.,Ltd
Trade Air
Turkish Airlines
TUS Airways
UIA
Ukraine International Airlines
Virgin Atlantic Airways
Wideroe
Xfly
Join IATA's Strategic Partnership Program and benefit from discounts on sponsorship and exhibition rates. Get on Board!
Sponsorship/Exhibition Contact:
Business Development Director
McVEIGH Global Meetings and Events
IATA Conferences and Events
Tel.: +1-561-325-8200
Mobile: +1-561-289-4796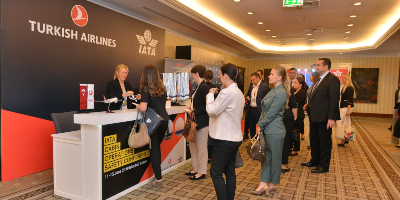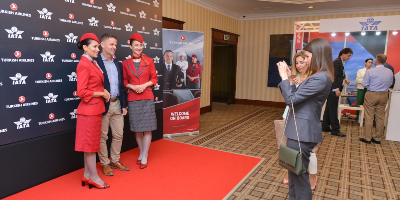 ​​​​​​​​​​​
Potential Sponsors and Exhibitors may include but are not limited to:
Aircraft manufacturers
Cabin baggage manufacturers
Cabin crew training equipment providers
Cabin crew training providers
Cabin crew uniform providers
Cabin seat manufacturers
Electronic flight bag solutions
Emergency and survival equipment manufacturers and suppliers
Galley equipment manufacturers
Inflight medical equipment providers
Passenger comfort device designers and manufacturers
Safety reporting and safety management software solution providers


​​​​
Topics of Discussion:
Day 1:
Accessibility in Air Travel
IATA Cabin Safety Activities
IATA Cabin Operations Safety Technical Group Activities
IATA External Affairs Activities
ICAO Cabin Safety Activities
Turkish Bazaar Discussions


Day 2: Workshops
Identifying, Creating and Presenting Safety Performance Indicators
Effective Change Management Processes within Cabin Operations
The Challenges of Regulation, Policies and Procedures relating to Persons with Disabilities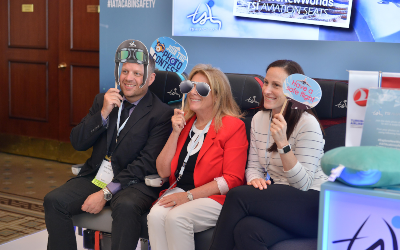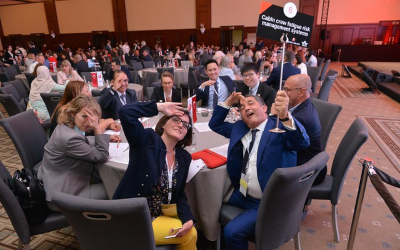 Day 3:
App-Based ECG - Lufthansa's Approach to Introduce mHealth for more Safety on Board
Cabin Crew Mental Health
Data Driven Safety Decisions
Merging of Safety Cultures within Cabin Operations
Post Germanwings 4U9525
Regulating Cabin Crew - Are We Doing Enough?
Service Leadership - Empowering Onboard Leaders
SMS in Airbus Cabin Operations
The Importance of CRM in Inflight Emergencies
Turbulence Encounters
Closing Session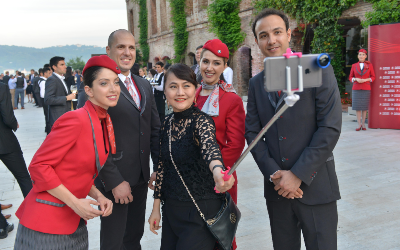 Program
​​​​
Thank you to our 2019 Sponsors!