Since its launch in 2014, this event has brought together hundreds of cabin safety experts from airlines, regulatory agencies, governments, manufacturers and suppliers to address the most important cabin safety challenges.​​​​​​​​​​​​​ The 2022 edition will take place as an in-person event.
Who will attend
Our previous events have attracted delegates from airlines, emergency equipment suppliers, regulators, training providers, training equipment manufacturers, investigators, human factors specialists and all functions from cabin and safety operations.
Why you should attend
​It is the only event of its kind
This unique event brings together all aspects of Cabin Safety under one roof, allowing you fantastic networking opportunities with others in your field of expertise. 130 international organizations, including +100 airlines, regulatory agencies, investigation organizations, aircraft manufacturers, and suppliers attend this event each year.
Informative workshops
Our highly popular workshops will give you numerous opportunities to ask questions and seek answers from your peers and share best practice ideas and suggestions.
The Cabin Safety Exchange
This session generates discussions among delegates and shapes and steers the work of IATA Cabin Safety in the years to come. Tell us your issues and we'll work together to resolve them. Participate, interact and engage in the dynamic speed-networking event that discusses and captures important global cabin safety issues.
Stay on top of new developments
This event allows the industry to benchmark best practices from leading airlines and to work together to continue to enhance global aviation cabin safety. Plenary sessions are designed to bring important topics relevant to the current issues and developments.
COSC 2021 Agenda
Day 1 - 7th December
13:30-13:40 (CET) Opening Remarks and Introductions
Jonathan Jasper, Senior Manager Cabin Safety, IATA
Gabriel Acosta, Head Operational Safety, IATA
13:40-14:00 (CET) ICAO Cabin Safety Group
Martin Maurino, Technical Officer, Global Aviation Safety, ICAO
14:00-14:20 (CET) IATA's Safety Strategy
Mark Searle, Director Safety, IATA
14:20-14:35 (CET) Accessibility Update
Linda Ristagno, Assistant Director External Affairs, IATA
14:35-14:50 (CET) Wheelchairs in the Cabin-Feasibility Study
Geraldine Lundy, Owner, Accessible Travel Consultancy
14:50-15:00 (CET)
Break
15:00-15:40 (CET) Panel-Unruly Passengers
Timothy Colehan, Assistant Director External Affairs
Michael Gill, Director of Legal Affairs and External Relations, ICAO
Matthew Vaughan, Director Aviation Security and Cyber, IATA

Sara Nelson, President of the Association of Flight Attendants-CWA, AFL-CIO
15:40-16:20 (CET) Panel Discussion-Cabin Crew Well-Being
Catherine Chan, Group Safety Manager-Operational Safety (Cabin), Cathay Pacific Airways
Kris Major, European Transport Workers Federation, Unite the Union
Steve Sneddon, Senior Manager Crew Experience, Virgin Atlantic Airways
Sandra Alves Pontes, Human Factors Safety Officer, TAP Portugal
16:20-16:30 (CET) Closing Session
Gabriel Acosta, Head Operational Safety, IATA
Day 2 - 8th December
13:30-13:40 (CET) Opening Session
Jonathan Jasper, Senior Manager Cabin Safety, IATA
13:40-14:10 (CET) Using IDX data to support Cabin SMS
Nathan Toltesi, Acting Senior Manager, IATA
14:10-14:25 (CET) Safety Data within Cabin Safety Management
Kris Hutchings, Westjet
14:25-14:45 (CET) Airline Experience in Restart
Noel Houlihan, Safety Training Officer, Chief Instructor CCTO, Aer Lingus
14:45 - 14:55 (CET)
Break
14:55-15:15 (CET) Adapting and Emerging From The Storm – Rebuilding Trust
Paul Tizzard, Lovefly Fear of Flying
15:15-15:35 (CET) Adapting and Emerging: Have airlines invested in the right health & safety initiatives to restore passenger confidence?
Yen-Pu Paul CHEN, Managing Director, VX Consulting
15:35-16:20 (CET) COSTF Panel Discussion
Anabel Brough, Safety Manager (Cabin) - Group Safety, Emirates Airlines (Host)
All members of the IATA Cabin Ops Safety Task Force
16:20-16:30 (CET) Closing Remarks
Jonathan Jasper, Senior Manager Cabin Safety, IATA
Registration and Pricing Coming Soon!
Destination & Venue
Lisbon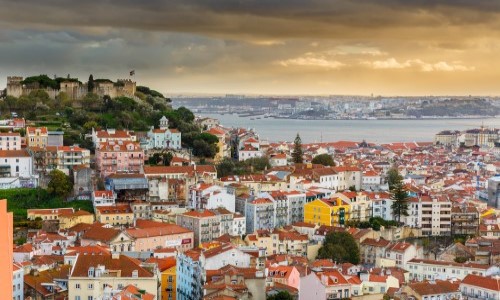 With seven hills overlooking the River Tejo, Lisbon has a stunning location and an amazing light that immediately captivates visitors.
Lisbon reveals an eclectic range of architectural styles formed as the city expanded: Roman ruins, a Moorish castle and its neighborhood Alfama, the iconic Jerónimos Monastery, and Parque das Nações' futuristic buildings make up some of the distinctive styles that run through the city.
The sunniest capital in Europe, Lisbon boasts one of the mildest climates and warmest winter seasons. Summer is Lisbon's driest and hottest season, with mild nights caused by the short distance to the Atlantic.
Weather in Lisbon
Epic Sana Lisboa Hotel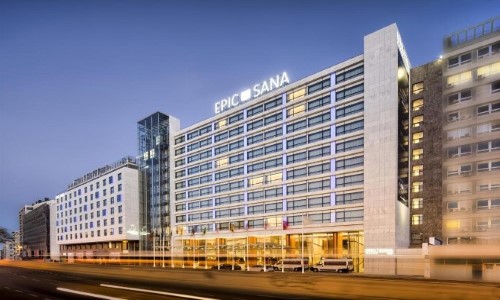 Located in Lisbon's upscale Amoreiras district, Epic Sana Lisboa Hotel is a newly built hotel with a rooftop infinity pool. Marquês de Pombal Metro Station is 700 meters away. Featuring contemporary decor, all rooms have flat-screen TVs and minibars. Some offer views of Lisbon. WiFi is available free of charge.
A buffet breakfast is served in the elegant breakfast room or your room each morning. After a meal in the gourmet restaurant, you can enjoy a drink in the Upscale bar. Epic Sana Lisboa Hotel also has meeting rooms for business travelers.
The 24-hour front desk can arrange childcare, laundry, and ironing services. In addition, guests can relax in the indoor and outdoor pools and enjoy a massage at the spa. Lisbon International Airport is 6.7 km away, and Amoreiras Shopping Center is about 300 meters away.
From the Epic Sana Lisboa Hotel, you can reach the lively Bairro Alto district in 20 minutes by public transportation.
Visa Requirements:
The IATA TravelCentre provides passport, visa, health advice, and much more. Visit the
IATA TravelCentre
!
Join IATA's Strategic Partnership Program and benefit from discounts on sponsorship and exhibition rates.
Sponsorship/Exhibition Contact:
Zhonghua Hu
Sales Manager, Sponsorship & Exhibition- Event

Tel. +33 (0)6 44 27 69 93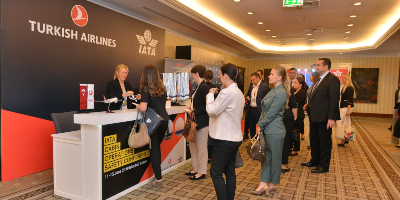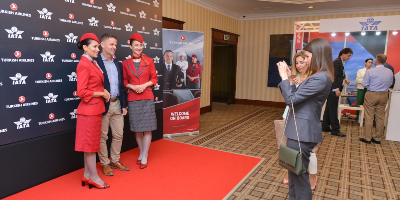 ​​​​​​​​​​​
Potential Sponsors and Exhibitors may include but are not limited to:
Aircraft manufacturers
Cabin baggage manufacturers
Cabin crew training equipment providers
Cabin crew training providers
Cabin crew uniform providers
Cabin seat manufacturers
Electronic flight bag solutions
Emergency and survival equipment manufacturers and suppliers
Galley equipment manufacturers
Inflight medical equipment providers
Passenger comfort device designers and manufacturers
Safety reporting and safety management software solution providers


​​​​
Topics of Discussion:
Day 1:
Accessibility in Air Travel
IATA Cabin Safety Activities
IATA Cabin Operations Safety Technical Group Activities
IATA External Affairs Activities
ICAO Cabin Safety Activities
Turkish Bazaar Discussions


Day 2: Workshops
Identifying, Creating and Presenting Safety Performance Indicators
Effective Change Management Processes within Cabin Operations
The Challenges of Regulation, Policies and Procedures relating to Persons with Disabilities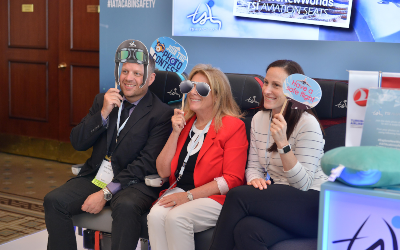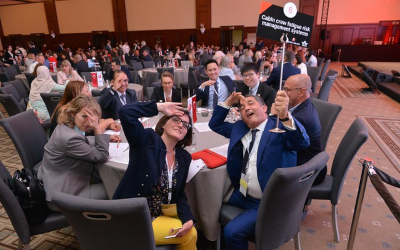 Day 3:
App-Based ECG - Lufthansa's Approach to Introduce mHealth for more Safety on Board
Cabin Crew Mental Health
Data Driven Safety Decisions
Merging of Safety Cultures within Cabin Operations
Post Germanwings 4U9525
Regulating Cabin Crew - Are We Doing Enough?
Service Leadership - Empowering Onboard Leaders
SMS in Airbus Cabin Operations
The Importance of CRM in Inflight Emergencies
Turbulence Encounters
Closing Session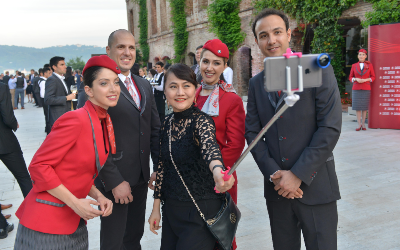 Program
​​​​
Thank you to our 2019 Sponsors!