Welcome to the Virtual Slot Conference help pages, where we will guide you through the process of setting up your profile and requesting and taking your meeting with other attendees of the Virtual Slot Conference. You can find instructions for the different stages in the navigation bar above.
System Requirements
The new secure virtual system is easy to access online and does not require any plug-ins or downloads, only a good internet connection and a webcam for virtual meetings. The secure virtual system works on all internet browsers although Internet Explorer or Edge are not preferred.
Opening schedule
SC148 - Virtual Conference
opening schedule
26 May 2021 (10:00 UTC)
Customization: Delegates eligible to access the system are emailed access to. You are requested to update your profile and prepare your meeting strategy. You can also connect with other delegates and chat with them. After this date, it may take up to 48 hours Mon - Fri for newly registered delegates to receive access to the system.
1 Jun 2021 (10:00 UTC)
Coordinators Head start: Coordinators only can request meetings and write messages.
7 Jun 2021 (10:00 UTC)
Airlines & Coordinators: Can request meetings and write messages.
9 Jun 2021 (04:00 UTC)
Sponsors, Airlines & Coordinators: Can request meetings and write messages.
10 Jun 2021 (04:00 UTC)
Exhibitors, Sponsors, Airlines & Coordinators: Can request meetings and write messages.
17 Jun 2021 (18:00 UTC)

Virtual Slot Conference Closed
New meetings can no longer be requested/accepted or taken.
Program at a Glance
On the Program at a Glance page you will find the conference program. Please refer back to this page in the lead up to the conference to check out the latest presentations, workshops and meetings available to you during this conference.
To add a presentation, workshop or meeting to your schedule, please choose the session you are interested under Program at a Glance and click on the icon next to the meeting title. This session will appear in My Schedule found under the My Meetings tab.
Please find link to the SC148 Program at a Glance here. This will be continually updated as we move closer to the event.
Eligible Delegates
Delegates eligible to receive access to the virtual system are limited to registered Head Airline Representative and Airline Representatives; Head Coordinator and Coordinators; Head Facilitator and Facilitators. If a registered delegate accredited as a support role requires access, their Head Delegate (HOD) must update their accreditation within the Online Accreditation System. After Customization please expect a short delay for newly accredited/registered delegates to receive access to the system.

Support roles, Observers and Visitors will receive limited access to the virtual platform to view presentations but not attend coordination meetings, as usual. Access to the system will be sent to these delegate types a few days prior to the start of the conference.

For frequently asked questions please visit the FAQ tab. If you don't find the answer to your query please contact slots@iata.org and we will be happy to help you!

During the conference please visit our virtual help desk or contact us during conference hours using the live chat function.
Access to the System
All delegates registered before the Customization phase will automatically receive access to the new virtual system by email on 26 May 2021. After Customization, please expect a short delay for newly accredited/registered delegates to receive access to the system.
Logging in
Each user will receive an email from hello@swapcard.com inviting them to log into the virtual system. Scroll down to the bottom of the email and click on the Login button.
When logging into the system, it's important to use the email address that you received the hello@swapcard.com email from, then click next. You will be asked to choose a password. If you have registered using a shared emailed address you will be asked to update your email address with your individual email address as only one email address per delegate can be used.
The system should remember your login details in the future, however, if you need your password to be resent, click on 'send me a magic link' and follow the instructions sent to your email address.

After logging in you can click on the SC148 logo to view the site and customize your profile and availability for meetings.
Customizing your profile
For a quick introduction on how to customize your profile please watch our video tutorial!
To access and edit your profile click on 'EDIT', found on the top left-hand size of the page above your name, or, use the drop-down menuon the top right-hand side of the page under your name.
Follow the prompts and add or edit the information that you wish your future connections to view and use. We encourage you to include your photo and contact telephone number.
Adding and updating your areas of responsibility
Coordinators and facilitators are requested to update or add the airport codes they are representing, so that these airport codes will be searchable and appear underneath their name in the delegates list. Airport/Sections already entered within the Online Accreditation System should appear in the 'Job Title' text field underneath your Last name. To add or update the airport sections you are responsible for please go to My Profile, click on 'EDIT' on the top right hand side of the section, this will take you to 'My main information'. Add the Airport three letter codes you are responsible for under 'Job Title'. It is important that this is completed as soon as Swapcard opens for customization, so that airlines can plan their meetings accordingly.
Once you have completed your information close the section by clicking on the X in the top right-hand side of the section. Return to the home screen and you will see your airport sections now appear directly underneath your name.
If you need to permanently change your accredited details (delegate type, 2/3 letter code, name or company name) please request your Head Delegate updates your details in the Online Accreditation System. Contact IATA at slots@iata.org if you need further information.
Setting your availability
The system is set to your time zone based on your computer's IP address. The system will show you are available to meet 24 hours a day until you set your availability. We recommend you set your availability during the customization phase, before the system is open for meeting requests.
The 24-hour schedule will give you the freedom to make your appointments at the most convenient time for you and your colleagues, in whatever time zone you are present or choose to work in.
For example, an organization may wish to register delegates and roster their staff to concentrate on specific time zones to make best use of their meetings. One person might be assigned to handle appointments for Asia and Oceania, one for Europe, Middle East and Africa and one for the Americas – this way you can each stay in the relevant time zone and work on getting the results you need in that area. Others may wish to work more flexibly, when and how it suits them. You are in control of how you wish to work.
Click on My Meetings. You will see the meeting dates and 20-minute time slots available in your local time from 15 June 2021 00:00 UTC to 17 June 19:00 UTC. As a default the system will show 'Available for a meeting' for each 20-minute meeting during the virtual conference.
You can make yourself unavailable all day by clicking on Make unavailable all day found on the right-hand side next to the date.
You can make yourself unavailable for each 20-minute time slot by clicking Make unavailable for each 20-minute meeting you do not wish to be available for. The meeting's status next to each meeting slot will change to 'Unavailable for a meeting'.
If you wish to change your availability so other users can request a meeting during that time slot click, Make available your meeting status will change back to 'Available for a meeting'.
If you wish to watch a presentation added to My schedule from the Program at a Glance when it is live streamed, be sure to block your availability at that time in My meetings.
When the system is open for meeting requests My meetings will display your confirmed, pending or cancelled meetings. Please see the Opening Schedule for your delegate type.
On the Delegates page you can search for other delegates and request to connect with them, which is similar to adding someone as a favorite.
Watch our video tutorial for more information on finding other delegates and making your connections!
How to find other delegates
Under Delegates, use the filters and complete one or more of the following search criteria.


Delegate Type (drop-down menu)
Country (drop-down menu)
Company name (drop-down menu)
Region
2 Letter (airline)
3 Letter code (airline)
The free text search box will find the following profile information, First Name, Second Name, Job Title (used for Airport/Section for this conference) and Company Name.
Example: to find a Coordinator representing a particular airport, you would choose Head Coordinator and Coordinator in the Delegate type drop down list, then choose the Country and then you would see all Coordinators coordinating that country. If the Coordinator has completed their Airport code under their profile (in the Job Title section of 'My Profile') their airport code that they are responsible for will appear underneath their name. It would also be possible to search in the free text search box for their Airport Code.
Connections
For a quick introduction on connections please watch our video tutorial!
Connecting with another delegate means that you are able to view the contact details they have included within their profile and easily find them under My networking found under the My Meetings tab (which lists pending and confirmed connections) or underneath the contacts icon

(which lists confirmed connections only). From the confirmed connection page, you can export your confirmed connections profile information to an excel by clicking download on the left-hand side.
Delegates do not have to accept connection requests in order to use the chat function or request, accept or decline meetings.
To request a connection, go to the Delegates section and find the delegate you wish to connect with. View their profile by clicking on their name and connect with them by clicking on the icon. If you wish you can also add a message within the chat area on the right-hand side.
This connection request will be pending until the delegate notices they have connection request indicated by the notification icon and accepts this request.
Your connection requests that have been approved will appear on the right-hand side of your screen under the delegate page. If you wish to see both your approved and pending connection requests go to My Meetings and click on My networking.
If you wish to delete a connection, click on the name of the delegate to open their profile, scroll down the screen and click Delete Contact located on the right-hand side of the screen.
Using the Chat Function
The chat function allows you to chat via text or video and share your screen. It is recommended to familiarize yourself with this function before the conference starts.
To use this function, you need to send a connection request (see above). However, the request does not need to be accepted to be able to use the chat function. Once you have sent your connection request you can write and send your message.
Please see the step by step instructions on the Chat Function (pdf).
The system will be open to request meetings at different stages according to your delegate type. Please see the opening schedule for more information. It's important to note, during Customization it is not possible to request meetings and no time slots will be visible under delegate's profiles.
IMPORTANT – Key Differences
There are a number of key differences, that are hardcoded into this system. These differences are not choices that have been made or something that can be changed.
To prevent users from unnecessarily blocking other user's schedules with multiple meeting requests, the system will only allow you to request one meeting per person. Once the meeting is finished it will allow you to make another appointment with the same user. This change affects all users equally, it means that users will only request meetings at times they need and will keep calendars free for meeting requests throughout the conference. It will also mean delegates will need to request more meetings than they are used to during the conference rather than preplanning all of their meetings prior to the conference.
As it is not possible to schedule more than one meeting at a time. If you think your meeting will overrun, either include a note in you meeting request asking the other delegate to request a meeting with you at the next available time slot giving you 40 minutes, or block the next 20-minute slot in your schedule and send a note with your meeting request, asking the other delegate to do the same. The video call will not automatically cut at the end of your 20-minute meeting, you will need to end the call for it to finish, so you can continue your call.
Your chat and meetings are private. If you and your colleagues wish to share your schedule you can each export your meetings into a shared meeting calendar (e.g. MS Outlook group email calendar). It is also possible to informally video chat with your colleagues and share your screen/schedule at any time. Kindly note, exported meetings are static from the time they are exported and downloaded into your external calendar. See managing your meetings (pdf) for more information.
Please click here for step by step instructions on managing your meetings (pdf).
Do I need to install or download anything in order to attend the event?
There is no need to download or install anything prior to the conference. The event will automatically open in a web browser. If windows do not open automatically, be sure to double check that pop-ups are allowed in your browser.
Are there any special device or bandwidth requirements for me to attend?
You will need an internet connection and web browser. We recommend high-speed internet for the best viewing experience.
We strongly suggest that you join the conference using a supported internet browser, which includes the most up-to-date version of Google Chrome, Firefox, or Safari. Internet Explorer / Edge is not recommended.
Is video and/or mic necessary?
If you would like to participate in the conference you will need to have a working webcam and mic.
How do I login to the platform?
You will login to the virtual platform using the email address you used to register for the conference. An email with details on how to login will be sent approximately one week prior to the conference. If you register within one week of the conference your login link will be sent 24-48 hours after registering.
If you are still having issues logging in, please email iatasc@mcveigh.com.
Is my email address available for all to see if it is on my profile?
No. Your contact information will only be shown to delegates or sponsors whom you have established a connection with. (i.e. you have accepted their request, or they have accepted yours).
Is XX attending?
In order to see all registered delegates and sponsors, you must click on the button labelled "Delegates" from the virtual platform.
How do I make a connection with another delegate?
Click here for the step-by-step instructions (pdf). You can also watch our video tutorial.
What are the various ways I can interact with other attendees in the virtual conference?
There are a variety of ways you can interact with other attendees: making connections, messaging, video conferencing, Exhibitor Booths and booking meetings with other attendees.
I haven't got access to make appointments and my colleagues do, why?
Delegates listed as 'support' are not accredited to take appointments and represent their organization with binding decisions. If a delegate needs access, their Head Delegate needs to accredit them in Online Accreditation. They will then receive access as soon as possible and at least by the end of the day.
If a delegate is not registered, they do not get access to the system.
Do I need to have my own Zoom/GoToMeeting/etc account for video conference?
No, you do not need to download any external programs for the one-on-one video conferencing, everything will be done right within the platform.
Note: You may need to 'allow' your browser to access your video and mic in order to successfully start the video call.
How do I video conference with someone?
Click here for step-by-step instructions (pdf).
How do I share my screen?
The ability to share your screen during a video call is another great feature of the platform. In order to share your screen, click the on the buttons indicated below after you have begun your meeting.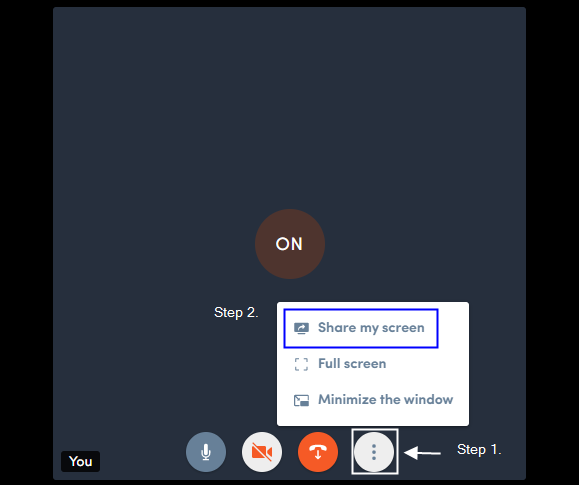 How do I visit exhibitor booths?
Click here for step-by-step instructions (pdf).
Can anyone interrupt my meeting with these instant messages?
If you are in a one-on-one video call and incoming messages will be displayed as an alert on the chat box. This will not interrupt your current meeting or conversation.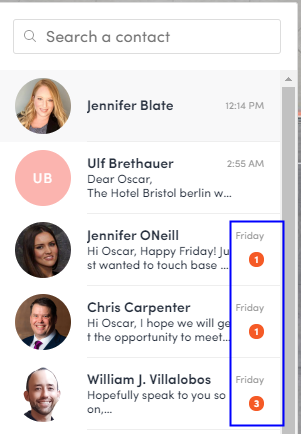 I want to attend the Head Delegate meeting, does my HOD have to nominate me as usual?
Exceptionally for this meeting, the Head Airline Meeting will be available to all Airline Representatives and the Head Delegate will be available to all delegates (excluding sponsors, exhibitors and observers).
How can I reach someone if I am having issues with the platform or have a question regarding OAS?
During core conference hours (07:00-19:00 UTC) there are two live help desks available on the virtual platform, similar to our in-person events. If your question is related to a change in the OAS or your delegate credentials, visit the IATA Info Booth and someone from the IATA Slot team will be available. If your question is related to the virtual platform and any troubleshooting needs, please visit the Help Desk.