It is a pleasure and honour to be here today. At my previous job with OPODO I came to love this great city. And I am fortunate that representing IATA on the board of NATS gives me an opportunity to visit regularly.
Although this is the first time for me to address this prestigious gathering I do feel at home. I see many familiar faces. And we all have a common interest and passion for a great industry. Let me take advantage of that familiarity to be frank in my analysis of an industry that continues to face many great challenges.
You are all aware of the enormous financial losses of recent years. US$43 billion in the red between 2001 and 2005. We are forecasting a loss of US$2.2 billion this year with a full-year average price of US$57 per barrel for Brent. Only the airline industry could see this as the start of good news!
With oil prices rising 25% in the past 2 months, this could easily change. Each dollar added to the price of oil increases industry costs by US$1.3 billion. Fortunately, at the moment, this is balanced by some positive factors:
Some airlines have effective fuel hedging programs

—as a whole 50% of the fuel bill is hedged

Passenger demand is strong

First quarter passenger traffic grew by 5.9%

Airline cost reduction is effective

The break-even fuel price rose from US$22 per barrel in 2002 to US$48 last year

US restructuring is delivering results

A reduction in domestic capacity returned some pricing power to US airlines
Domestic yield rose by 12.4% in February
And US carriers are expected to cut their losses in half to US$5 billion this year
We may even show a profit in 2007—but fuel remains that wild card that could change everything.
So we have a continuing crisis—and a powerful case for change. It is more critical than ever that airlines, governments and our partners share a common vision for a successful air transport industry. IATA is uniquely placed to help lead the way:
We represent 265 airlines—94% of scheduled international traffic
Our settlement systems handle over US$225 billion for the industry
IATA industry standards and processes are the backbone of global networks
And strong operational expertise is helping to improve safety and efficiency.
In the past we were a bit sleepy—a bit dusty. But the industry crisis that began in 2001 was a very loud wake-up call. I joined in 2002 with a vision for an industry revolution that began at home in IATA:
We needed new skills to drive change
60% of our total staff are new
Now we are working closely with our members to bring greater efficiency to the industry
Let me give you two examples of our new leadership:
Safety
Simplifying the Business
Safety
IATA members achieved their best year ever in 2005
One accident for every 3 million flights
That is less than half the global average
The IATA Operational Safety Audit (IOSA) is at the heart of our efforts for further improvement. IOSA is the first global standard for airline safety management. By the end of 2007 it will be a condition of IATA membership — a further mark of quality for our association.
Already over 150 airlines are in the IOSA process—70% of scheduled international traffic. And soon we will welcome our 100th airline to the IOSA registry which is accessible on our website.
Governments are taking note of IOSA. The FAA accepts IOSA audit results for US airlines code-sharing with foreign carriers. Chile and Madagascar are making IOSA a condition of their certification process. And we are calling on governments around the world to make use of this great tool.
Simplifying the Business
IATA's Simplifying the Business initiative will save the industry US$6.5 billion and make travel more convenient. It is centred on 5 core projects:
100% e-ticketing by the end of 2007
e-freight—taking the paper out of freight processing
using radio frequency technology for baggage management
introducing common use to self-service check-in kiosks
and replacing magnetic stripe boarding passes with bar codes—so that passengers can check-in at home
E-ticketing is our top priority. Already we are over 40% ET globally. And the 2007 deadline comes in time for the 2008 opening of Terminal 5 at Heathrow. This is the first terminal designed around the processes for self-service and e-ticketing. There is much to be achieved, but airlines and IATA cannot do it alone. We need a common vision with our partners and with governments.
Today I will update you on 3 critical areas where we have not yet achieved this common vision:
Efficiency
Environment and
Liberalisation
Efficiency
The air transport value chain is a strange animal. Deregulation brought competition to airlines. Consumers benefited from a 30% drop in the real price of travel over the last 10 years. But you can only sustain cheaper prices if you can control costs. Europe's airlines are doing a great job in some difficult circumstances. Let me give you some examples of what they achieved between 2001 and 2004:
Europe's fuel bill rose 63%. Impressively, airlines achieved a 9% decrease in flight operation unit costs in the same period.
Labour is 30% of the European cost structure. This is lower than the 33% in the US but higher than the 19% in Asia-Pacific. It is being addressed - pilots here improved productivity by 14% between 2001 and 2004.
Technology is helping reduce distribution and back-office costs. Europe's airlines reduced this by 24%
The common element is that airlines have some control in these areas. The story is a bit different for airport and air navigation costs. They represent 11% of our costs and are largely outside our control. IATA achieved US$2 billion in savings on this US$42 billion bill. But there is much more work to do.
Progress on air navigation fees is encouraging. Average unit rates for Eurocontrol States dropped by 12.5% between 2003 and 2006. And we have been able to work closely with CANSO—the association of air navigation providers—to benchmark efficiency.
But the Single European Sky is still a dream. It has taken fifteen years just to agree an implementation plan. I am not impressed with the speed, but at least we are talking the same language and looking in the same direction.
We are, however, truly frustrated by the lack of progress with many airports. Per passenger costs at Europe's airports went up by 13% in the last 4 years.
Some airports are moving in the right direction. We have two good examples in the UK:
Manchester reduced costs per passenger by 38% between 2001 and 2004
And Birmingham achieved a 13% reduction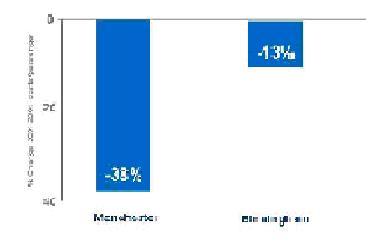 Unfortunately, many more airports monopolies are moving in the wrong direction with double-digit increases between 2001 and 2004. We saw some incredible jumps in cost per passenger:
Aeroports de Paris +44%
Amsterdam +34%
Stockholm +35%
Spanish Airports +24%
And Munich +26%
Compare that to airline unit costs, excluding fuel, for 2001 to 2005:
Air France/KLM –7.3%
SAS –14.8%
Iberia –4.0%
And Lufthansa –13.2%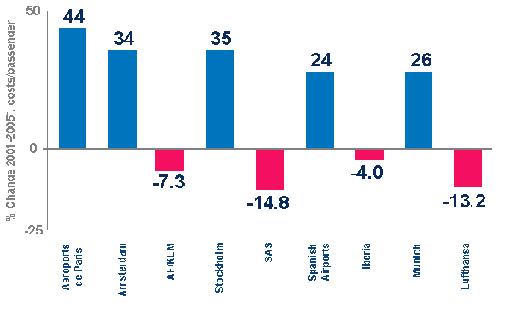 A competitive environment clearly produces better results. These results are embarrassing examples showing that many airport monopolies still operate in the dark ages. And our patience has worn out.
Look at Paris Charles de Gaulle—our worst offender:
In the last five years they increased airline charges by 26.5%
The Government then approved a 5% annual increase for the next five
What business other than an un-regulated monopoly can plan such increases? Our reaction?
We have taken the French Government to court. And we are asking for a European Directive for efficient national regulation of Europe's airport monopolies. At a hearing with Vice President Barrot of the European Commission, we asked for regulation that:
Takes politics out of airport management.
Complies with ICAO principles, including non- discrimination
Ensures stakeholder engagement
If we pay the bill, we need to have a say in what is being bought…at what price…and agree how it is financed
And acts as a substitute for competition
Challenging airports to do better than inflation by reducing charges
The CPI minus x formula used in the UK comes to mind
Our request was well received—and I am hopeful. Two recent developments are adding urgency to the issue:
Airport privatization
The charges fiasco with Aeroports de Paris can only be seen in light of fattening up the airport in order to sell it at a high price. This is unfair and unjustifiable – raising costs not just for airlines and our customers but for the national economy too, as inefficiency constrains future growth.
We can expect more airport privatizations in the future—so the need for independent economic regulation is urgent.
Consolidation of airport ownership
Contrast this with the UK, where BAA is currently subject to takeover bids.
Airports make their own commercial decision on their ownership structure. But this must not be at the expense of exploiting airlines through higher charges.
Privatization and cross-border investments could change today's monopolies into mega-monopolies and airlines will be stuck with the bill.
I am therefore pleased that the CAA has already stated that any future owner of BAA must take full account of the current view of airport charges.
Effective regulation today is the pill that will prevent a serious disease from becoming a critical illness.
We must share a common vision and obsession with efficiency.
The Environment
Environment is among our top challenges, partly because of mis-perceptions. And we must start by killing some common myths.
Number 1: Air transport is a major source of Greenhouse gas emissions
Fact: Our contribution is small—2% of global CO2 emissions
But we generate 8% of the world's economic activity
In the EU, aviation accounts for 3.4% of CO2 emissions
Compare that to power generation at 39% or road traffic at 22%
Even if we completely stopped flying, the impact on climate change would be minimal

Number 2: Air transport is the most polluting form of transport
Fact: Airline fuel efficiency improved 20% in the last decade, nearly 5% over the past 2 years alone.
Fuel consumption by modern aircraft is 3.5 litres per 100 passenger kilometers
That is similar to a small compact car—but with 6 times the speed
And the Boeing 787 and Aibus A380 will take this well below 3.0 litres
Number 3: Air transport is getting a free ride—it does not pay fuel tax
Fact: Air transport pays entirely for its own infrastructure—US$42 billion a year
This is different from road or rail
We pay when we land, when we fly, when we park
In the UK, each journey by air contributes EUR 4.6 to the exchequer in revenues and avoided expenditure
This totals EUR 659 million each year
But each journey by rail costs UK taxpayers EUR 2.4 to a total cost of EUR 2.1 billion
Setting the record straight alone will not be enough. We must strike a balance that is acceptable and sustainable. That means mapping the way forward with a clear vision. In December our Board approved a four point strategy to take us forward.
1. Technology is Key
Technology has driven much of the tremendous progress made so far with engines and materials. The next challenge is alternative fuels. Increases in jet fuel refinery margins alone netted US$14 billion in extra profit for oil companies. Not surprisingly they are cash rich and plan to return US$250 billion to investors over the next two years. Governments must insist on
Investment in new refinery capacity
And research into alternative fuel sources
2. Infrastructure and Operations Must Be Part of the Solution
Airlines are on track to beat their voluntary commitment for a 10% increase in fuel efficiency between 2000 and 2010. Last year alone fuel efficiency rose by 1.8%.
We achieved US$1.2 billion with work on 300 routes last year. For example, the opening of the IATA-1 route in China this month will cut 30 minutes on Europe to China flights. Annually it will also eliminate:
2,860 hours of flight time
27,000 tonnes of fuel consumption
84,800 tonnes of carbon dioxide emissions
340,000 kg of nitrogen oxide emissions
and US$30 million in cost
This is just one route! Think of what would happen with a European Single Sky! Not only would airlines save EUR 3.4 billion each year - eliminating delays would save over a million tonnes of carbon dioxide.
Globally we estimate that optimized ATC procedures could deliver 12% more fuel efficiency.
3. Taxes are NOT a Solution
Increasing industry costs does nothing for the environment. And it kills the social and economic benefits that this great industry brings — particularly developing countries.
Sweden provides a perfect example of a confused approach:
Car drivers get tax breaks to help them purchase more fuel efficient cars
But it plans to tax airlines to discourage air travel
Why must air travel be treated differently? We need a common-sense approach that does not limit airlines ability to invest in new technology.
4. Emissions Trading May be a Part of the Solution
But we must remember some important points. We need a global solution that does not distort competition. Governments tasked ICAO to achieve this by the 2007 Assembly. It is no time to get distracted with local schemes. And any scheme must :
recognize our significant progress
and not hold us hostage to inefficient infrastructure
We appreciate the leading role that the UK is taking in this debate. Prime Minister Blair at the Gleneagles Summit and again earlier this year put forward an agenda based on technology and efficiency. I wish more governments shared this vision.
Liberalisation
The UK is a traditional leader in aviation. The bilateral system was created when the US and the UK agreed to a system of capacity allocation with the Bermuda agreement 60 years ago. What was visionary then, has lost its place in today's world.
Governments have a central role in safety and security. And they have a fundamental role in setting a level playing field for competition. And where there is not competition, then regulation is needed. And then I would put a full stop. Governments should not be involved in other areas of our business.
ICAO set the direction for a staged approach to liberalization in 2003. But the follow-up has been disappointing, particularly in the US and Europe—the traditional leaders of our industry. The US and Europe on are the verge of an important first step with an agreement on open skies and regulatory convergence that includes:
Competition
Taxes
Safety and Security
And the environment
It is disappointing that security is hijacking the debate in the US. We are talking about an international commercial agreement. Politics—particularly local—should not hold it hostage.
But I remain optimistic that there is scope for a deal to be reached. And it must be a followed-up quickly by fully addressing the issue of ownership—beyond the current US NPRM. Any concerns about security can be addressed with Golden shares or other means.
Governments must not fear liberalization—they must anticipate change and lead. Our industry cannot continue on with rules that are 60 years old. Some of you may be surprised to see an IATA that is more liberal than the US government. This issue is critical for our industry.
It is time for the US and Europe to take the lead in organising a nice retirement party for the bilateral system – and to welcome the age of liberalisation with a shared vision.
And remember, if they fail to play their traditional leadership role, China and India are waiting in the wings.
Conclusion
Where do we go from here? A US$40+ billion crisis is a strong case for change.
Airlines are delivering results on efficiency. And consumers are benefiting with improved safety, lower prices and greater convenience.
We are giving a strong signal to governments that we need:
A common sense approach to the environment
A stronger commitment to cost efficiency
And a new set of rules that allow airlines to do business as a real business
Only by working together can we deliver the results that support 29 million jobs globally and US$3 trillion in economic activity
Thank you.
Developing a Common Vision