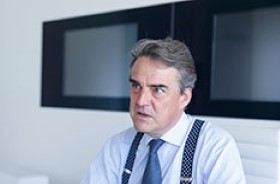 Before taking your questions, I wanted to make a few comments.
First, on the survey data, I believe that we are starting to see a recognition by the public that COVID-19 is not likely to go away. And they want to find ways to manage the risks of COVID-19 while getting on with their lives.
That's a really important development. After a year of travel restrictions people have missed too many human moments. If there was any novelty in a world that had physically de-connected, it has worn away. People recognize the value that aviation brings to their lives.
Half have said that they are separated from family members
Over a third said that they cannot do business normally without air travel
And nearly 40% said the travel restrictions give them mental stress
They want the freedom to travel.
The survey does not tell us that this is anticipated immediately. But as testing capacity increases and vaccine distribution grows, there is a clear expectation that borders will re-open without quarantine measures. We see that with nearly 75% of survey respondents saying that they want to travel to see their friends and relatives as soon as the pandemic is contained. They are willing to get vaccinated or be tested in order to travel. And they are eager to have an app to manage their travel health credentials in a secure way.
This public sentiment absolutely supports our call on governments to have a plan to re-open borders that is based on measurable milestones like testing capacity and vaccination distribution That planning is really important for airlines. As I have said before, we cannot restart by flipping a switch. We will need time to plan, prepare crew and ready aircraft for a scale-up of operations.
The pent-up demand that the survey identifies tells us that nearly 60% of people are ready to travel within a few months of the virus being contained.
That is good news. Demand will return. But 40% still say they will wait a half year or longer to resume traveling. So, the positive trends in the survey do not point to an immediate recovery even when governments are able to re-open borders. Our analysis still says that a full recovery is years away.
I see three takeaways from all of this:
First, confidence that people have not lost their taste for the freedom to fly.
Second, urgency. We must be ready when borders reopen. That means working with governments in at least two areas:

Establishing restart plans, so people don't suffer the economic, health and social costs of travel restrictions a day longer than is necessary, and
Developing global recognized digital standards that governments will accept as vaccination and testing credentials for travel.

And third, vulnerability. The recovery has not started. And, although there will be significant demand for travel, recovery will take time. In the meantime, airlines continue to burn cash—some at dangerously high levels. Governments need to keep a watchful eye and provide relief for those that don't have the financial means to make it through to the recovery.
I look forward to your questions.
Press release: Travelers Gaining Confidence
Air Traveler Response to COVID-19 11-Country Survey details (pdf)
Travel Pass Update presentation (pdf)
Listen to the teleconference (mp4)