Internet of things, digital, drones, big data, virtual reality, robots… Innovation is not just talk! The air cargo industry is no different from the others: it needs to re-invent itself, adapt to new customer expectations, embrace new technologies, challenge the status-quo to be more efficient and attractive for customers, business partners, investors, employees.
The third edition of the IATA Cargo Innovation Awards aims at encouraging new ideas to enrich customer experience and/or to improve the competitiveness of air logistics.
Winner in 2017

At the World Cargo Symposium 2017 in Abu Dhabi, on Thursday 16 March 2017, participants voted for the winner amongst the 5 finalists.
Congratulations to our winner Astral Aerial for their submission on "UTM Concept for Africa"!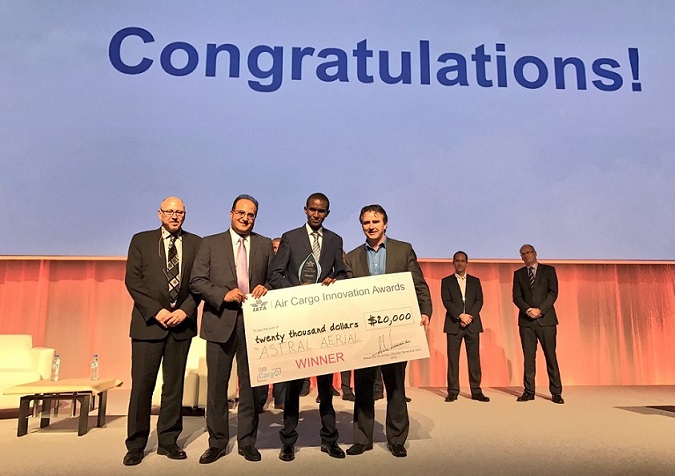 We thank all of the applicants of the Air Cargo Innovation Awards for their many fantastic submissions, especially the finalists who were invited to join us in Abu Dhabi. All of these many innovative ideas are a source of pride for the Air Cargo industry.
Congratulations to the runners-up:
Etihad Cargo - Smart Electric Cool Dolly
Gatechain - Redefining trade with blockchain
Jettainer - Innovative Decision Support System (DSS), ULD management
Openairlines - SkyBreathe Fuel Efficiency

For more information on each submission, you can refer to our finalist summaries (pdf).

Winner in 2015
IATA hosted the first edition of the Air Cargo Innovation Awards during the World Cargo Symposium 2015 in Shanghai.

Winner
CHEP Aerospace Solutions for their CanTrack solution


Runners-up
CLIVE for their "Humanized Technology for the Air Cargo Industry"
CARGOHUB Netherlands for their Cargo Claims solution

Contest Prizes
Winner Prizes

USD 20,000
1 Entry pass to 2019 WCS
Featured article in Cargo Tracker

Runners-up Prizes

USD 2,500
1 Entry pass to 2019 WCS
Featured article in Cargo Tracker