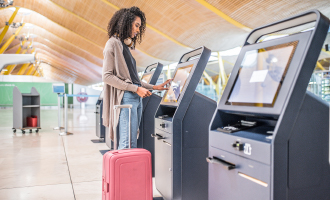 The Fast Travel program was created to drive the implementation of self-service options in order to address growing customer demands, reduce industry costs, improve the efficiency of airport infrastructure and enhance customer service.
Fast Travel provides self-service options representing annual savings of up to US$ 2.1 billion for the industry. By creating uniform standards and recommended practices, IATA facilitates industry adoption of these projects and a better travel experience for the customer.
The Fast Travel Working Group has ceased its activities in 2019 as the project has been deemed mature and self-progressing. Activities are now focused on the One ID Passenger Process, aligning the current 14 steps Passenger Process to the 10 steps End to End Passenger Process proposed in the One ID Concept paper.
​​Fast Travel self-service areas
Check-in*
​Enabling passengers to check-in and obtain boarding passes using self-service channels (online/mobile/kiosk/automated), thus avoiding long queues at check-in counters.
Bags ready-to-go*
Offering passengers the ability to print and attach their own baggage tags (at kiosks, at home or using electronic baggage tags), while also providing dedicated bag-drop options (bag-drop counters or automated self-bag drop units).
​​Document Check
​Enabling passengers to self-scan travel documents (i.e. passport, visa, ID card, driver's license etc.) to ensure compliance with destination and transit requirements​.​​​​​​​​​
Flight Re-booking*
​In case of disruption (cancelation or delay), enabling airlines to pro-actively re-book passengers, offering new booking options and new boarding tokens using self-service channels (online/mobile/kiosk).​
Self-boarding
Offering passengers the option to self-scan boarding tokens at automated self-boarding gates​.
​Bag Recovery
Offering passengers the option to report mishandled bags using a self-service channel instead of waiting in line at a baggage service counter (online/mobile/kiosk).
IATA ​​Fast Travel Awards
IATA recognized carriers that offer four or more Fast Travel compliant solutions to at least 80% of their passengers with a Fast Travel Platinum Award (3 mandatory IATA projects plus one additional project - see below).
​​Top Fast Travel Platinum Airlines (2019)
| Al code | Airline | % of passengers offered with fast travel |
| --- | --- | --- |
| TF | Braathens Regional Aviation AB | 98.88% |
| ​AS | Alaska Airlines Inc. | ​95.95% |
| ​LH | ​Deutsche Lufthansa AG | ​95.15% |
| ​LX | Swiss International Air Lines | ​94.99% |
| ​AA | ​American Airlines Inc. | ​93.76% |
| ​JJ | LATAM Airlines Brasil | ​92.58% |
| ​HA | ​Hawaiian Airlines Inc. | ​92.36% |
| ​NZ | ​Air New Zealand | ​91.67% |
| SK | Scandinavian Airlines Systems | 90.68% |
| ​AC | ​​Air Canada | ​90.21% |
| ​G3 | ​Gol Transportes Areos Ltda. | ​88.38% |
| ​QR | ​Qatar Airways Co. | ​85.64% |
| ​SV | ​Saudi Arabian Airlines Corporation | ​83.74% |
| OS | ​Austrian Airlines AG | ​82.73% |
| MS | ​Egyptair | ​82.35% |
| LA | ​LATAM Airlines Group S.A. | ​80.78% |