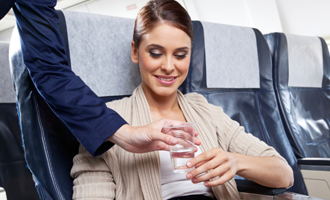 ​The IATA Drinking-Water Quality Pool (IDQP) was created by a number of airlines to share audits on drinking-water quality around the world. IDQP also developed its own procedures for conducting airfield inspections, using the highest quality standards. ​
IDQP Standards can now be found in the Airport Handling Manual (AHM).
DQP Training
Training is available for airline representatives who want to perform inspections on behalf of the Pool. The training covers WHO requirements, standards, procedures, checklists, prevention, reactivity and bacteria in water, as well as reporting. For more details, please contact idqp@iata.org
The IDQP pool also manages:
Training and certification of auditors
Annual allocation of stations
Collection and consolidation of audits results
And communication of audit results (through the IDQP platform)
Benefits
Safeguard health on board for passengers and crew by using the highest standards to ensure water quality
Avoid multiple audits of the same provider at the same location
See substantial financial savings from reductions of airport inspection workloads and associated costs
Why a pool for drinking-water quality?
To avoid illnesses, all water for drinking and other personal use made available to crew and passengers must be free from chemical substances and micro-organisms. The World Health Organization (WHO) and local authorities have therefore issued sanitary requirements for the chlorination and handling of potable water. These audits are often heavy, expensive and redundant.
IDQP terms of reference
Fulfil the ISO 17775, WHO requirements or EU/98/83/EC or those set by the civil aviation authorities of the participating airlines
Develop and maintain the survey criteria for drinking-water quality and health related items
Ensure that surveys are performed in accordance with the checklist duly approved by the Steering Group
Offer a comprehensive training program to qualified airline representatives
Reduce the workload of participating airlines and drinking-water companies by sharing surveys at airports
Perform surveys where deemed necessary by the participating airlines
Share the survey reports and associated data amongst the participating airlines
For more information or to join IDQP, please contact IDQP@iata.org