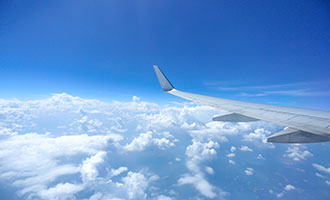 Using a Design Thinking Blue Skies approach to security​
The practical realities of aviation security measures have seldom changed in recent decades, contrary to innovations in other air transport areas. New approaches in technology and processes continue to improve the safety commitment to the traveling public, yet we still deal with known threats and risks. But are we in a position to implement meaningful defence against the unknown security threats of tomorrow and to respond to increasing expectations from passengers?


The post-pandemic recovery requires us to look anew at the issues we all face and how we can best meet the future. At the 2021 Blue Skies workshop, IATA planted the seed for a refreshed approach for aviation security. See the IATA Blue Skies 2021 presentation (pdf) and video highlight below.
To continue this momentum in using a design thinking and blueskies approach to security, the 2022 Integrated Security Forum 2022 will be drawing from traditional aviation security and include cyber security, flight operations, maintenance/engineering and safety. Its objective is to stimulate discussion and facilitate further development and innovation to help the aviation industry better prepare and respond to known threats of today and the unknown of tomorrow.
This technical forum will be held in Europe in Q2 of 2022, more information will follow.
For more information
For any questions or further information on the Air Transport Security 2040 White Paper, or the Blue Skies 2020 edition please do not hesitate to contact us.