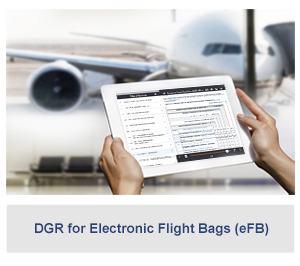 ​
The Dangerous Goods Regulations for Electronic Flight Bags (DGR eFB) allows flight crew to quickly verify details pertaining to the dangerous goods cargo onboard the aircraft and ensure a more efficient and expedient pre-flight check. Ultimately, the pilot in command is the final decision maker when it comes to flight departure checks, so having the information at their fingertips is of utmost importance.





Dangerous Goods Regulations tailored for flight crews
The eFB format allows flight crew to act fast in the event of an onboard incident caused by a dangerous goods shipment. The DGR eFB provides them with the necessary information to make quick and accurate decisions considering ​the type and nature of the goods, as well as the nature of the problem and appropriate procedure to follow, supporting this information detailed on the Notification To Captain (NOTOC).

That's why we've developed a DGR specifically tailored for flight crews − simplified and conveniently packaged to be included in your eFB.
Find what you're looking for with a instant keyword search. For example, you can get all the classification, labeling and handling information you need by simply typing in "lithium batteries". You can also bookmark the information for future reference and even create annotations, making it very efficient.
Only the information a flight crew needs; nothing more, nothing less.
eFB-based ​contents
Based on the current version of the DGR, below is what you'll find included in the eFB.
Section 1 – Applicability Except Section 1.3, 1.6
Section 2 – Limitations Entire section
Section 3 – Classification Section 3.0 , 3.1A, 3.1B (tables) only
Section 4 – Identification Entire section
Section 7 – Marking & Labelling Entire sectio​​n
Section 9 – Handling Entire section excluding 9.9
Section 10 – Radioactive Material Only 10.9.3 and 10.7.7
Appendix A – Glossary Entire section
Appendix B - Nomenclature Entire section
Formats
The DGR for eFB is updated regularly and is available in eBook (ePub) which can be easily integrated into your operations' eFB solution.
Contact
For options on pricing, please contact IATA Publishing at publishing@iata.org