IATA announced a further step in its program to help airlines with their environmental obligations, welcoming Qatar Airways as the first airline to make a trade using the IATA Clearing House (ICH) on the Aviation Carbon Exchange (ACE), a platform for trading carbon credits powered by Xpansiv market CBL. We asked Michael Schneider, Assistant Director Aviation Environment, and our expert on offsetting, why this is such an important development.
Michael, firstly, can you explain what the ACE is and why it is beneficial for airlines?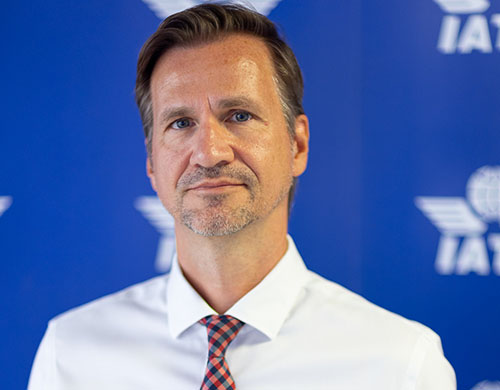 The Aviation Carbon Exchange – or ACE – is a platform that serves as a centralized marketplace for emission units eligible for the carbon offset and reduction scheme for international aviation (CORSIA) so airlines can meet their mandatory and voluntary offset commitments. Since it was launched in November 2019, the ACE has provided airlines with a secure access to real-time carbon offset data, with full price transparency. We've now completed the technical integration of the ICH settlement functionality with the ACE which is a significant milestone to make financial carbon offset transactions seamless, safe and timely for years to come.
What's the environmental benefit?
The ACE makes it easier for airlines to meet their obligations under CORSIA, which is an international agreement designed to ensure growth in airline emissions above a 2019 baseline is carbon neutral. CORSIA is an important interim measure as part of the aviation industry's path towards net-zero carbon emissions by 2050. CORSIA-eligible credits are regarded as among the most robust and reliable carbon offset options. They undergo a rigorous independent scrutiny that the emissions claims can be verified. In addition, many airlines operate their own corporate offset schemes or offer voluntary offset schemes to passengers. Airlines and travelers can therefore be confident that emissions from air travel will be capped at 2019 levels as a first step towards meeting our industry environmental promises.
The ACE was established a year ago, so what is the significance of the latest developments?
The ACE is now the first centralized, real-time marketplace to be integrated with the ICH for the settlement of funds on trades in carbon offsets. The integration will make the need for financial settlement via 3rd parties, i.e. the need to have an association with a bank (and related trading account) unnecessary.

All of our member airlines already have access into IATA's financial back-end process and can simply use the existing connectivity to have their trades settled. To give you an example, let's say airline X makes a US$30m trade for offsets. In absence of the ACE/ICH setup, it usually requires the involvement of numerous people to complete a trade, from procurement to treasury to finance, resulting in a lengthy process that can take weeks. By then the carbon price will no longer be guaranteed and they face issues each time they trade, because the price cannot be locked-in. Using the ICH, on the other hand, will reduce the time to two days, offering a secure and safe mechanism to the airline. Furthermore, on the seller side the ICH guarantees payment, again with a speedy two-day process, so its excellent news for all participants.
And do you already have participants?
Several airlines have already used the ACE. JetBlue was the first to make a trade when it went online last year. But the first airline to make an ACE trade using the new integration with the ICH is Qatar Airways. His Excellency Mr. Akbar Al Baker, Group Chief Executive of Qatar Airways, made a public comment on this, saying "we are determined to meet the aviation industry's climate commitments, and recognize that CORSIA is a key transitional measure to help us reach carbon neutrality.

The IATA ACE is a reliable tool that provides us simplified and transparent access to CORSIA-eligible units, and Qatar Airways proudly supports IATA in their efforts to help the industry achieve its decarbonization goals." We're grateful to Qatar Airways for taking that step and we're confident that many more airlines and offset providers will see the benefit of using the ACE/ICH to ensure a seamless and secure system which guarantees payment and delivery of the carbon credits.