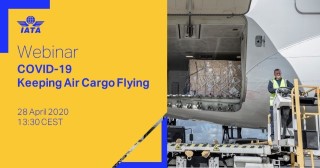 Over 1600 connected to the first IATA Cargo Webinar about "keeping air cargo flying" during these extraordinary times. As Alexandre de Juniac stated, "this is an unprecedented crisis, but stay strong. We will get through this together and keep the world connected." Cargo is critical during this crisis to keep global supply chains moving, including the transport of medical and other essential supplies that are needed across the world by health care systems to respond to the pandemic.
Safety, security, and quality
Participants understood the urgency of the COVID-19 crises and the challenges associated with maintaining and developing effective cargo supply chains whilst not compromising on the priority of safety and security. The next challenge will be to plan and execute a globally efficient network delivery mechanism for the COVID-19 vaccines. In this context, safety, security, and quality cannot be jeopardized. Temperature-controlled supply chain operators must familiarize themselves with the overall requirements for the transport of such high valued sensitive products and be ready to roll into action.
What did the webinar cover?
We heard from IATA's top cargo experts on what is being done to support the aviation industry to respond to challenges of the coronavirus pandemic, including the utilization of passenger aircraft for all-cargo flights, the transport of live animals, human remains and how the digital world will be impacted by the current crises.
If you missed the webinar, you can watch it here: