Aviation supports tourism and international business by providing a rapid and safe global transportation network. Since 1990, the number of city pairs connected by regular air services has more than doubled to reach more than 22,000. At the same time, the real cost of air travel has more than halved. This means that more people have the opportunity to travel more often, to more destinations.
But travel and tourism markets change and evolve rapidly. Professional travel agents need to stay on top of the game and understand their markets well. IATA's
Benefits of Aviation
reports can help travel agents better understand their travel and tourism markets. The reports provide useful insights into the role that aviation plays in promoting and facilitating tourism – an issue that is becoming increasingly important to global travelers.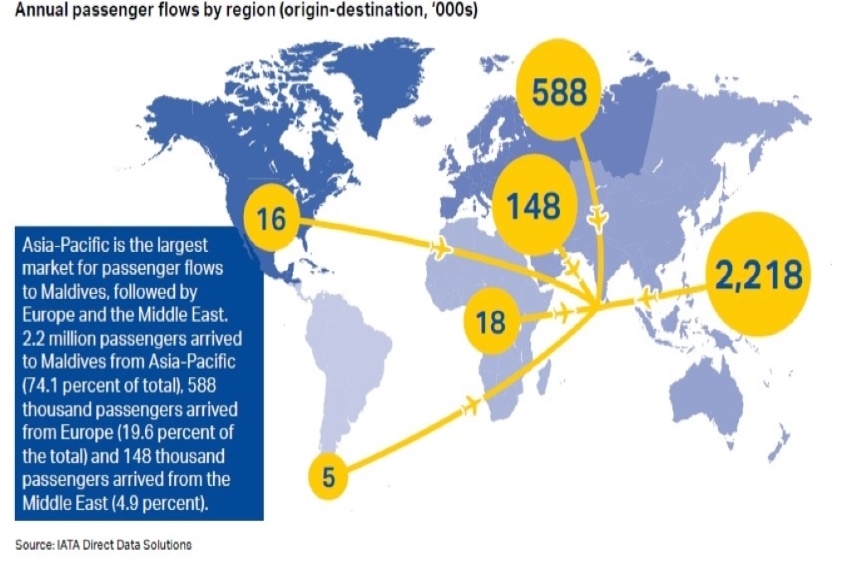 Identify and target new markets. Which regions do air travelers come from? The reports offer information on the number of travelers flying from different regions of the world to a given country.

Make the trip for your customers easier. Can air travelers get to their destination with a convenient non-stop flight? The reports offer information on the top five markets with direct flights to a given country. Satisfied customers generate more business!
As an example, the Maldives is an island nation highly reliant on tourism. Aviation contributes almost 60% to the country's GDP. Air transport is the only means of travel to and from the Maldives. As
our report
shows, Asia-Pacific is the largest market for passenger flows to the Maldives, accounting for 75% of arrivals, followed by Europe and the Middle East (see chart below). The highest number of direct flights to the Maldives are with India and China. And the market is expected to continue to grow; over the next 20 years the number of passengers is expected to increase by around 150%, bringing tangible benefits to the local population and contributing to economic prosperity. Is your business positioned to take advantage of these developments?
The Benefits of Aviation reports will help you understand your market better. And understanding your markets means getting ahead, and staying ahead, of your competitors.