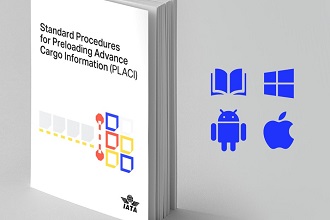 ​IATA's Preloading Advance Cargo Information Guidelines provides harmonized and standardized procedures for advance cargo information filing in a unique, comprehensive manual. It enables users to improve procedural efficiency and empowers their compliance with the preloading advance cargo information (PLACI) regulatory requirements applicable in the United States and due for implementation in Europe, UK and Canada.
PLACI provides additional air cargo supply chain security by enabling an initial risk assessment of the cargo being carried prior to the aircraft's loading at the last point of departure.
IATA's Preloading Advance Cargo Information Guidelines encapsulates and furthers the international standards set in the World Customs Organization SAFE Framework of Standards through improved procedural harmonization and the inclusion of such additional elements as transmission protocols.


The benefits of IATA's Preloading Advance Cargo Information Guidelines include:
Alignment with regulatory requirements, such as US Air Cargo Advance Screening (ACAS), Canada Pre-Load Air Cargo Targeting (PACT), EU Pre-Loading Advance air Cargo Information (ICS2 PLACI) and UK Pre-Departure Information for Cargo Targeting (PreDICT), as well as future other PLACI initiatives worldwide
Avoiding non-compliance issues with regulators and supply chain partners that could result in substantial penalties and severe delays in shipment times
Having harmonized and standardized PLACI procedures in one user-friendly document


Relying on IATA's Preloading Advance Cargo Information Guidelines will assist:
Airlines by enhancing customer service through improved efficiency and shipment timings as well as by providing a single PLACI reference point for multiple regulatory regimes and supply chain partners
Freight Forwarders by providing a means to deal with a multifaceted, multilayered air cargo supply chain in a consistent manner and, also, by clarifying PLACI-related rules and processes
Customs Authorities by promoting the mutual recognition of procedures and by facilitating training based on industry-agreed standards
Ground Handlers by establishing their responsibilities and obligations with well-documented procedures and by allowing them to better manage their resources based on advance information
IT and Security by encouraging the promotion of standards to keep the air cargo supply chain secure and by providing a user-friendly way to assess existing initiatives and plan future upgrades