Need Help?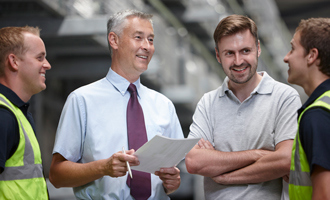 The Training Validation Program (TVP) qualifies facilitators through skills gap analysis and designated training with coaching. Facilitators will receive an IATA Diploma in 'Learning Facilitator' upon completion of the learning and final practicum project.
Need Help?
Facilitate learning in the workplace!
This certification allows an organization to develop facilitators and equip them with the competencies to deliver effective training and perform assessment within the workplace.
Facilitators that obtain the certification benefit from:
Increased effectiveness by developing skills to create and deliver systematic learning plans and assessment records.
Skills gap analysis and designated classroom training supplemented by coaching sessions at your workplace.
Customized practicum project based on company business objective and facilitator KPIs
Issuance of IATA Diploma in 'Learning Facilitator' upon completion of the learning and final practicum project.
Who should take this program?
This program is targeted at supervisors, line-leaders, reporting officers and managers who are required to facilitate, coach and assess learning in their organization and are seeking new ways to enhance learning to elevate performance in the workplace. If you've been nominated to be a trainer or assessor in your organization, it's likely that you already have excellent job domain skills and knowledge. However, imparting these abilities and 'know-how' to others may be challenging.
The Learning Facilitator program aims to solve these challenges, by arming you with competencies to effectively deliver training and assessment at a worksite. You will increase your effectiveness as a learning facilitator by learning how to develop and deliver systematic learning plans and assessment records.
Practical and relevant learning and coaching
We promote a learner-centered approach and encourage participants to include their personal learning objectives in the activities to maximize learning outcomes and drive real-life results with skills they can immediately apply in the workplace. We have designed a program that promotes active learning and avoids the learner's passive assimilation of the content.
Throughout our program we encourage ongoing and frequent facilitator-participant interactions, learner-content interactions, and learner-learner interactions. This offers multiple opportunities for learners to experience, observe, conceptualize and experiment with the content.
Our learning methodology
The learning consists of three (3) distinct phases:
Skills gap analysis
The skills gap analysis is the first phase of learning where the individual will be assessed on various instructional topics through a written online exam and interview.

The analysis will include topics related to the individuals' ability to prepare learning materials, transfer knowledge and conduct assessments. The purpose of the assessment is to identify and analyze the gaps between the existing knowledge and skills of an individual, to the skills required to become a qualified learning facilitator. A dedicated learning path can then be created to close all the gaps identified.


Training and coaching
The participants will attend designated classroom training modules, supplemented by coaching sessions in their workplace.
Module 1: Facilitate Workplace Learning (3 days)
Develop and facilitate workplace learning interventions aligned to learners' and enterprise needs to drive performance improvements.
Module 2: Assess Workplace Learning (3 days)
Learn how to design and implement workplace learning assessments and provide feedback to your learners.
Practicum
To bring the individual's knowledge into the real world, they must successfully complete an enterprise project as a workplace learning facilitator. Using a real work-based project within their workplace environment.
Each project typically lasts about 6 weeks and the participant will receive an updated skills gap analysis report that details the findings and opportunities for improvement.
Each project task is assessed via a written assessment and an oral presentation
On-site observations will also be conducted by the supervisor to gather evidence of their competency
Individuals must be assessed competent in all the program learning tasks to be eligible for certification.
Certification award
An IATA Diploma in Learning Facilitator is awarded to participants obtaining a grade of 70% or higher on all exercises and exams. A special distinction is awarded to participants obtaining a grade of 90% or higher. Workplace learning facilitators are required to undergo refresher training every three (3) years to renew and preserve their qualification.
The total study hours are 78 hours, which includes face-to-face training, coaching, self-study and assessment. The average estimated duration to complete this program is 3-4 months.
Interested in becoming certified?
Is your company an airline, airport, cargo terminal operator, freight forwarder or ground handling agent?
Please complete the form below to receive more information.
The qualification of learning facilitator can be delivered to groups of at least five participants in your workplace. Note: We do not accept self-sponsored applications for this program.