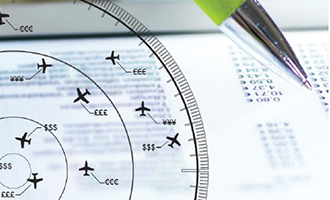 ​Aeronautical Revenues Made Easy
Many air navigation service providers struggle with ensuring that they bill and collect for every flight. SkyRev360 is the new solution to collect all charges for the aeronautical services you provide.​
​What SkyRev360 doe​s

SkyRev360 automates data processing, helping ANSPs overcome strenuous manual processes which are prone to mistakes. A collaboration between two experts of the aviation industry: IATA and the Airports Authority of India (AAI).The solution gathers 100% of your flight data and produces comprehensive billing data. Therefore, with SkyRev360, ANSPs' financial operations become both more accurate and efficient in one stroke.
Features
Data gathering and processing module: SkyRev360 can ensure the essential data for your invoices is always the latest and most complete.
Invoicing module: The system maintains all account attributes and allows for an extensive view of associated data, including aircraft specifications, flight movements, billing ledger records, etc.
Collection: All collections are managed with the IATA Enhancement & Financing Services (E&F) process, which offers efficiencies and automation to ANSPs and airlines by settling through IATA Settlement Systems.
Airline queries: The IATA team handles all queries and disputes related to billing and collection from your air operators.
Dashboard and reports: Incident reports, airspace usage, traffic volumes, economic values and more are always at your fingertips.
The experts behind SkyRev360
SkyRev360 is brought to you by Airports Authority of India (AAI) and International Air Transport Association (IATA). AAI is a leading Civil Aviation Authority managing 125 airports and 9.6 million square kilometers in the Indian subcontinent including oceanic airspace. IATA managesE&F, the world's largest global billing and collection solution for aeronautical charges. Now, their market-leading expertise can also bring you financial peace of mind.
Find out what SkyRev360 can do for you
Contact us today for a FREE consultation at SkyRev@aai.aero or SkyRev@iata.org​​