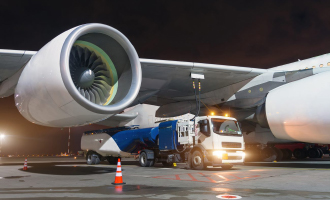 What is IFTP?
The IATA Fueling Training Portal (IFTP) streamlines training activity for into-plane service provider (ITP) personnel by facilitating multiple airline recognition of standardized training for fueling each aircraft type.
Why is this solution needed by the industry?
ITP personnel performing fueling activities need to operate controls on the aircraft itself, and must therefore be trained on these tasks and procedures. In the absence of mutually accepted training by airlines, airline operators are required to provide this training to their ITP partners for each aircraft type.
The IFTP solution reduces the burden on airlines to maintain and deliver material for this aspect of training. In addition, ITP personnel does not have to spend valuable time in duplicated training activities. Reduced training variation helps to reduce complexity and improves the safety of both the airline and ITP operations.
How is the solution implemented?
This solution contains three key elements:
e-learning modules and assessments for Level 2 & 3 into-plane fueling operations based on the standardized fueling procedures.
An online portal where data on ITP personnel trained through the e-learning platform can be accessed by legitimate parties, primarily airlines joining multilateral recognition of standardized training
Administration functionality to allow ITPs to confirm that practical on the job training (OJT) has been completed in accordance with the ITP's own training processes and that the fueling personnel are proficient
Interested in a watching a demo?
Please just share your contact details through this form.
Who can benefit?
Airlines
Airlines already requiring Level 2 or Level 3 fueling service can:

adopt standardized training to reduce burden of maintaining and delivering fueling training for aircraft fleet
monitor training record information to ensure compliance with the safety regulations set by their civil aviation authorities

Airlines seeking to relieve workload on aircraft engineering personnel can adopt this training solution to enable ITP personnel to complete fueling activity autonomously
ITPs
ITP operations can be less disrupted by staff being pulled out for repeated training
Greater flexibility for ITPs in scheduling initial and refresh training activity
How can I participate?
Visit the IFTP adoption page to review the next steps you can take as an airline or ITP.
Contact us to get further guidance and discuss your interest in participating.