You can also take this course in-person, in a classroom
:
Did you know that in the past 3 years, 1116 participants from 137 countries have taken this course with IATA?
About the course
7-day (36 hours) LIVE virtual classroom course

This virtual classroom was developed to address and enable learners to obtain DGR certificates under current travel and business limitations due to COVID-19. We strongly advise that you check with your appropriate local authority if a virtual classroom training solution will be accepted.
Safety is paramount in the aviation industry: Ensure that you learn the fundamentals how to read and apply dangerous goods regulations for the transport of goods by air. These regulations include legal requirements, operational restrictions, packaging instructions, marking, labelling, and documentation to ensure the safe transportation of these goods. Gain the competencies to accept, handle and process shipments containing dangerous goods according to the current edition of the IATA Dangerous Goods Regulations (DGR) manual.

Course Code: TCGP-03-VC
IATA Dangerous Goods training is evolving from traditional learning to competency-based training and assessment (CBTA) as agreed by ICAO. We have already begun the move to this skills-based approach and therefore you might choose to register instead for the new corresponding courses: Dangerous Goods Regulations (DGR) for Accepting DG Consignments - Initial.

Find out more about the CBTA approach well-defined functions, current courses and previous corresponding categories
Categories 3 & 6 will correspond to CBTA DGR Reference H.6.3 | Accepting Dangerous Goods Consignments & Processing Dangerous Goods Consignments

The 63rd edition of the Dangerous Goods Regulations includes the provisions on competency-based training and assessment (CBTA) as agreed by the ICAO Dangerous Goods Panel in DGP/27 (September 2019). There is a two-year transition period and therefore, the training provisions from the 61st edition may continue to be used until 31 December 2022.

Please note that this course will be retired by 30 September 2022.
Course format
The live sessions of this virtual classroom course are delivered by an official IATA Instructor.
The course will take you approximately 36 hours to complete and be held over 7 days.
There will be 2 live interactive virtual classroom sessions per day, each session will be 180 minutes. Supplementary coaching time will be in addition to the learning hours (approx. additional 8 hours).
The live sessions will require your participation, with multiple Q&A sessions and additional time spent on self-study material including projects, research, additional reading and videos.
Student performance will be based on an assessment.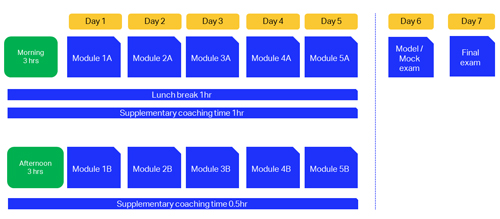 Technical requirements

Prerequisites
Recommended level is Entry-level and Intermediate.
The recommended level of language proficiency is ICAO Operational Level 4 for courses in English or the equivalent level for other languages.
How to register
To arrange in-house training for your company: Complete the in-house training request form or contact the salesperson in your region.
Virtual venues
We schedule our virtual classroom courses through one of 3 virtual venues, each in a different time zone for your convenience. For more information, please visit our page on virtual classroom timing or contact our Customer Portal.
Please check the exact schedule of each class below (View more details) and click 'Register'.
What you will learn
Upon completing this course you will be able to:
Navigate the IATA's DGR manual and understand all respective sections to acceptance personnel
Apply IATA's DGR manual and verify the correctness of dangerous goods transport documents
Perform the responsibilities involved in accepting, storing, loading and inspecting dangerous goods
Understand the legal responsibilities involved with the transportation of dangerous goods
Course content
The key topics that are covered during this course include:
Interpret and review the current IATA DGR manual
Responsibilities of operator and shipper
Limitations
Excepted and limited quantities
State and operators' variations
Classification and identification
Packaging, marking, and labeling requirements
Shipment of radioactive materials
Loading, storage and inspection and emergency procedures
Air waybill, Shipper's Declaration for Dangerous Goods, and Notification to Captain
Materials
Who should attend
This course is recommended for:
Airline cargo acceptance and cargo agency staff
Cargo operations and ground handling staff
Station managers responsible for the safe transport of dangerous goods
Shippers, cargo agents, consolidators, freight forwarders involved in acceptance
Instructional designers and instructors of DGR
Note: This course meets the training requirements for personnel listed in category 6 as per Table 1.5.A of the IATA DGR.
Certificate awarded
An IATA Certificate of Completion is awarded to participants obtaining a grade of 80% or higher on all exercises and exams. A special distinction is awarded to participants obtaining a grade of 90% or higher. Please note: this certificate is valid for 24 months.
This course is a step toward earning an IATA Diploma in:
Dangerous Goods Operations Diploma
Learn the regulatory requirements to handle the air transport of dangerous goods.
English
Español
Français
中文
Dangerous Goods Quality Specialist Diploma
You will be equipped to train all categories of dangerous goods training, including instructing a variety of staff engaged in the shipment of goods by air.
English
Español
Français
中文
Special Cargo Handling Diploma
Safely and efficiently handle special commodities.
English
Español
中文
Português
Français