About the course
LIVE virtual classroom workshop
For real innovation and sustainable change to happen at a business level, a change of mindset needs to happen first. A change of mindset is a personal process. This course will allow you to access that SPACE (Space, Progress, Awareness, Care, Evaluation) within yourself where you can find out who you really are, discover your talent, your purpose, your passion, and what really makes you thrive. This will ensure that you are aligned with your true self and translate into a happier life and more fulfilling career. Every day we hear about the "new normal", that the world is changing, and we need to adapt to it. Once we adapt to this change, who knows when the next change will come and what it will look like? Uncertainty is at all levels: personal, professional, economic and social. How do we build a successful career and a serene life when the criteria on which we base our choices are constantly changing? The way to do this is by building solid roots that anchor us to the ground. Being aligned with who we are allows us to thrive personally, and therefore give our best professionally.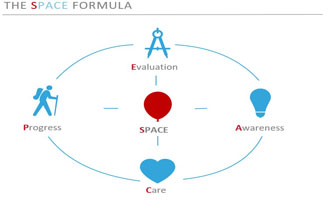 Course Code: TALH-08-VC
Course format
The live sessions of this virtual workshop are delivered by an official IATA Instructor.
The course will take you approximately 6 hours to complete and be held over 4 sessions. Each session will be 90 minutes.
The live sessions will require your participation, with multiple Q&A sessions and additional time spent on self-study material including projects, research, additional reading and videos.
Student performance will be based on an assessment.
Technical requirements
Please verify your hardware, software and network to support your upcoming course with IATA Training.
Prerequisites
Recommended level is Entry-level to Intermediate. This course is particularly impactful for mangers and leaders who wish to lead in a more mindful way and to fully realize their own potential and that of their team members.
The recommended level of language proficiency is ICAO Operational Level 4 for courses in English or the equivalent level for other languages.
How to register
To arrange in-house training for your company: Complete the in-house training request form or contact the B2B Training Specialist in your region.
Virtual venues
We schedule our virtual classroom courses through one of 3 virtual venues, each in a different time zone for your convenience. For more information, please visit our page on virtual classroom timing or contact our Customer Portal.
Please check the exact schedule of each class below (View more details) and click 'Register'.
There are no scheduled classes at the moment
What you will learn
Upon completing this workshop you will be able to:
Gain clarity on the areas in your life where you wish to see change happening
Create your own definition of success, in line with what matters to you
Exploit the power of your mind and learn how you can use it for a happier life and career
Practice love and care toward others and toward yourself
Identify your talent, your passion, your purpose
Apply your learnings to your life and career
Course content
The key topics that are covered during this course include:
Self and general awareness
Mindset change
Love and care
Personal and professional alignment
Mindful leadership
Who should attend
This course is recommended for:
Are going through a professional transition (voluntary or not)
Wish to find clarity on the next steps in their career
Are struggling to find a sense of accomplishment and purpose in life
Wish to fight stress and anxiety
Aim to be inspiring leaders
Certificate awarded
An IATA Certificate of Attendance is awarded to all workshop participants.