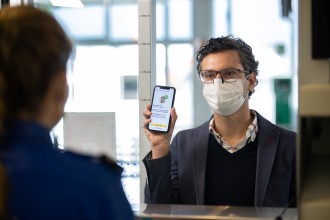 The IATA Travel Pass is a mobile application allowing travelers to simply and securely store and manage verified certifications for COVID-19 tests or vaccines so that it can be shared with border authorities.
How the IATA Travel Pass works


The IATA Travel Pass helps you travel at ease while meeting government requirements for COVID-19 tests or vaccines. It encompasses:


Global registry of health requirements – to find accurate information on travel, testing and vaccine requirements for journeys
Lab app – to locate authorized labs and test centers to securely share test and vaccination certificates
Digital passport module - you can create a 'digital passport', receive test and/or vaccination certificates and verify that they are sufficient for your itinerary, and share testing or vaccination certificates with airlines and authorities.


Governments decide the requirements to travel; airlines and passengers need to comply


Traditionally there have been visa and vaccination requirements in many countries. Due to the COVID-19 pandemic governments have imposed additional restrictions: quarantine measures, testing requirements and eventually vaccination requirements. IATA Travel Pass is a tool for travelers with the ability to communicate with governments, airlines, and test centers/vaccination providers to get verified information to those who need it in a safe and secure manner.