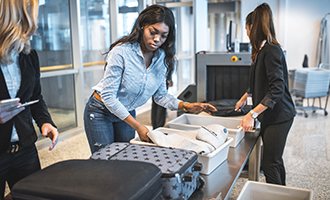 We refer to "Security" to designate all procedures which aim to protect passengers, staff and planes from accidental/malicious harm, crime and other threats. Baggage screening and ID control are part of the security measures that you will have to go through when traveling by air.
Familiarizing yourself with these procedures will allow you to pass through security checks as quickly as possible.
You have to know that security measures are constantly being updated and may vary from country to country. We recommend that you read the latest security advice from the airport of departure before every flight.
Frequently Asked Questions
LEARN MORE
What are the do's and don'ts of flying safely with lithium batteries and devices powered by lithium batteries? Dave Brennan, IATA's Assistant Director of Cargo Safety and Standards, will tell you how to ensure you're taking the necessary precautions. Listen to this 3 min podcast