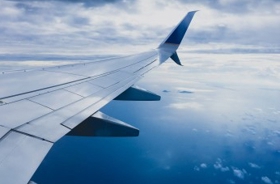 Baku - The International Air Transport Association (IATA) and AZANS, the Air Navigation Service Provider of Azerbaijan, have agreed to develop and implement an Azerbaijan National Airspace Strategy (NAS).
AZANS and IATA will strengthen their existing cooperation for this initiative, which is aimed at delivering benefits to the traveling public, while supporting national economic growth and the competitiveness of the Azerbaijan aviation sector and the global sustainability goals of air transport.

Passenger demand for air transport in Azerbaijan is set to increase some 80% over the next two decades. Air traffic movements are also set to grow rapidly. Azerbaijan has seen particular growth in traffic which is no longer using Russian airspace. Servicing this demand, while ensuring safety, and managing costs, and reducing CO2 emissions and delays, requires Azerbaijan to further modernize its airspace and Air Traffic Management (ATM) network.
The main aspects of the strategy cover leadership and a collaborative stakeholder approach, airspace management, and technical modernization of the ATM system. AZANS and IATA have committed to work together and with all aviation stakeholders, including the government and regulatory authorities, to deliver and implement the NAS.

"It is encouraging to see the recovery in air traffic around the globe – and traffic in Azerbaijan airspace has grown particularly strongly. Last year we successfully exceeded pre-COVID levels. But the main challenge we face is the significant growth forecast to come. As part of the global aviation network, Azeraeronavigation is preparing to meet this demand effectively, fulfill our international requirements, and build a strong sustainable aviation industry of the future with the full involvement of stakeholders. We are pleased to have the professional support of IATA in achieving this challenging and important goal together," said Farhan Guliyev, Director "Azeraeronavigation" Air Traffic Department AZANS.
"Azerbaijan is a growing economy which also occupies a key geographic position. It can expect to handle increasing amounts of traffic in the coming years, and it has an important role in enhancing capacity and efficiency for transcontinental traffic. Aviation is committed to achieving net-zero CO2 emissions by 2050 and airspace efficiencies can play a significant part in that. The commitment to building a National Airspace Strategy is a concrete sign of Azerbaijan fulfilling a strategic leadership role. We congratulate AZANS for its vision, and look forward to working with them to make airspace modernization a success," said Rafael Schvartzman, IATA's Regional Vice President for Europe.

The Azerbaijan National Airspace Strategy will:
Provide the overall State-level mandate for long-term investment in the airspace system as a key part of the country's transport infrastructure
Align industry's airspace investments to a scope and sequence that speeds up roll-out and maximizes the benefits for airlines and passengers
Explain to stakeholders affected by airspace changes, why airspace is being modernized and how they will be engaged
Create a strong governance structure that provides the State, Industry and Regulator with the means to track and drive NAS roll-out locally
For more information, please contact:
Corporate Communications
Tel: +41 22 770 2967
Email: corpcomms@iata.org
Notes for Editors:
IATA (International Air Transport Association) represents some 300 airlines comprising 83% of global air traffic.
You can follow us at twitter.com/iata for announcements, policy positions, and other useful industry information.
See more information on AZANS