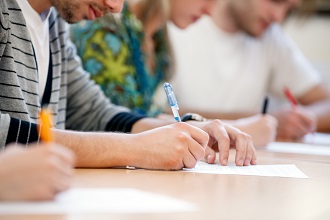 Examinations for IATA Partner-taught and Self-study courses are either supervised (OESR) or unsupervised. You can find detailed information about each course's enrollment validity period and exam on the specific course page. Also, have a look at the Course edition list for exams (pdf) to know which course edition is applicable for your exam.
Given IATA Training's focus on the quality and reliability of our offering, it is no surprise that the majority of our courses have supervised exams. Qualifications stemming from supervised exams are undoubtedly the most valued within the aviation industry and we take special care to ensure that a diverse selection of invaluable courses with supervised exams are available to our students.
You can change your exam date and/or location within the enrollment period, as long as it is done before the exam registration deadline.
Online Exams with Remote Supervision (OERS)
Exams can be taken online using a personal computer in a remotely supervised environment. Please check the system requirements and read the user guide before booking your exam. For more information about OERS, please see the OERS webpage.
Remotely supervised exams are available during the year. For more information please see the Exam Schedule.
Registration is on a first-come, first-served basis with limited space; the registration deadlines for the worldwide exam sessions also apply to the online exams.
Access to a computer with webcam and microphone, as well as reliable internet connectivity, is required.
Important notes for open book exams
If you have purchased an e-book version, you are responsible to bring printed pages of the study material.
You are allowed to make notes in your study material.
You are not allowed to add any additional pages to your study material.
If you have signed up through one of our Authorized Training Centers (ATCs), please contact your ATC for any questions you might have.
Unsupervised Online Exam
IATA Training offers unsupervised online exams for certain courses. This type of exam does not require booking; you may take your exam at any time after completing your study, within your course's validity period. Please refer to your course page to see if your exam is unsupervised.
If your exam is unsupervised online-based, please refer to the

online examination user guide

for instructions on how to take the exam.

For DGR courses, access to the current IATA DGR is required to complete the exam.
Certificates issued for unsupervised online exams cannot be validated by IATA.
Exam Results
You will receive the results immediately after completing your exam.
IATA Training does not provide scores for exams. You will receive your result as a Pass, Pass with Distinction, or Fail.
A distinction can only be obtained if you achieve the required minimum score at your first exam attempt.
Certificates and diplomas will be provided to individual students and to ATCs for ATC students, approximately 4 to 6 weeks after the exam results have been published. Individual students who write online exams with remote supervision will receive their certificates and diplomas directly from IATA Training, approximately 4 to 6 weeks after they write their exams.
Practice exam
IATA Training offers online practice exams for certain courses. If you are enrolled in one of these courses, you will be able to access the corresponding practice exam through your User Account.
Exam on Demand
IATA Training offers exam-on-demand sessions for organizations having a minimum of 10 students per exam session. The offer is subject to certain conditions and fees. Please see the full details.
Other Exam-related Information
For any other exam-related information, please consult our FAQ.