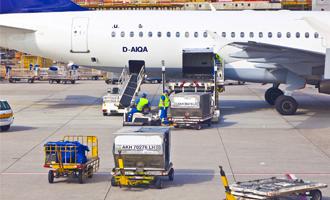 Enabling global trade
Airlines transport over 65.6 million cargo tonnes of goods a year, representing more than 35% of global trade by value but less than 1% of world trade by volume. That is equivalent to $6.8 trillion worth of goods annually, or $18.6 billion worth of goods every day. Find out more interesting air cargo facts (pdf)
Cargo priorities
Safety and Security, including the lithium battery challenge where governments must address the threat from undeclared dangerous goods in cargo and mail.
Digitalization, with speed as this underpins many other key initiatives such as safe and efficient borders, seamless operations, and quality of the supply chain.
Sustainability, we are committed to addressing sustainability challenges, meeting our sustainability targets, and seeing if we can do more.
Areas of Activity
16th World Cargo Symposium, Istanbul Türkiye
Are you a freight forwarder looking to simplify interactions with airlines?
The IATA Cargo Agency Program enables any company involved in international air freight to simplify their interaction with airlines and smooth the way for growth. Two services, designed to meet the needs of your business, streamline your financial operations.