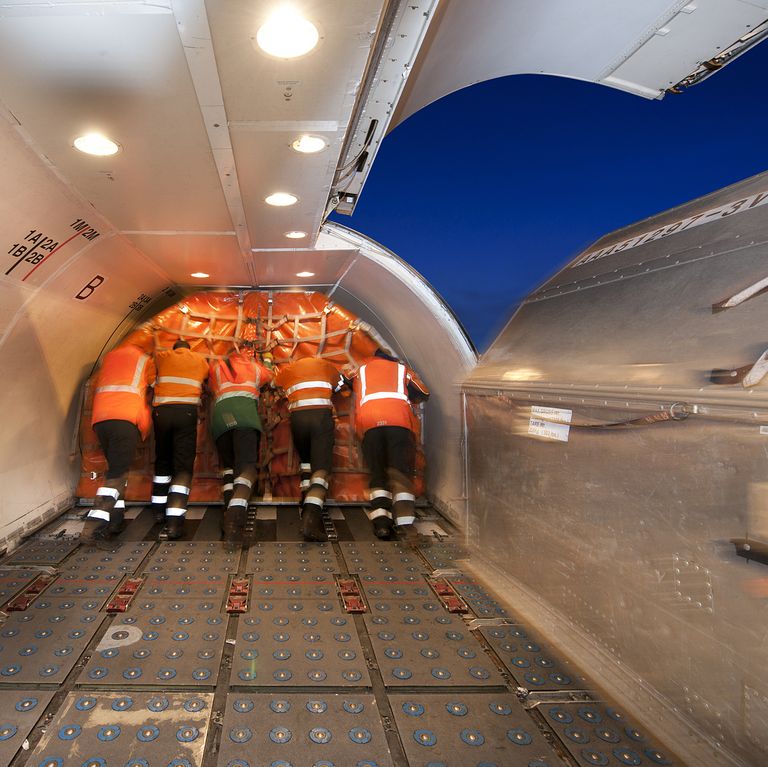 The ability to transport cargo, cross border, over long distances in relatively short timeframes provides the aviation industry with a distinctive market advantage compared with other modes. However, this advantage can only be realized if border procedures are integrated, automated and based on risk management principles.
IATA, through its activities in Security, Customs, Trade Facilitation and capacity building works with customs, international organizations such as ICAO, UN, WCO, WTO, national regulators and NGOs to facilitate cross border trade and logistics. We also assist air cargo industry's stakeholders to develop simplified and compliant processes.
2022 air cargo border efficiency
The average length of air cargo clearance in international borders, from the arrival at destination until handover to the consignee amounts to 1.6 days (approximation based on 12 million shipments handled by Cargo iQ members in 2022).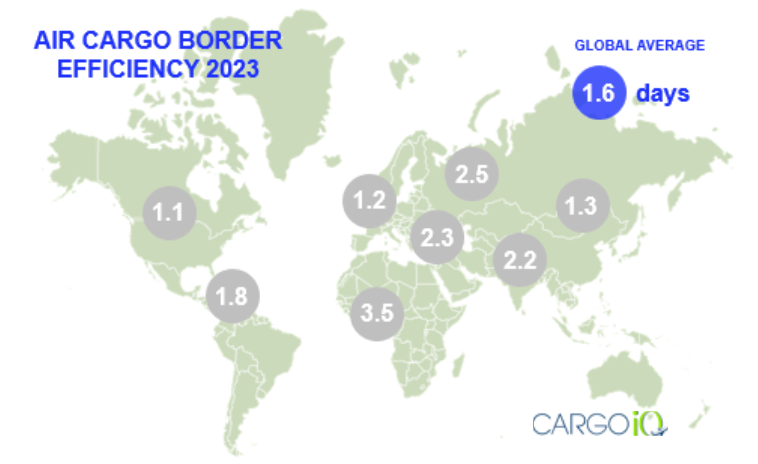 Advocacy and lobbying
We conduct advocacy efforts with border agencies and international organizations to secure and facilitate cross-border trade. IATA is for example directly represented at the World Customs Organization's Private Sector Consultative Group, the Global Alliance for Trade Facilitation, and the EU Trade Contact Group.
Standard setting and adoption
We help the air cargo community to operate safely, securely, and efficiently under clearly defined industry standards.
Governance
Cargo Border Management is handled through the Cargo Border Management Board (CBMB) and its Working Groups (Cargo Customs Working Group and Cargo Security Working Group) to exploit available trade facilitation opportunities and help air cargo stakeholders to operate in full compliance with global customs and security regulatory requirements.
Advance Cargo Information
The World Customs Organization (WCO) published the SAFE Framework of Standards to enhance the security of the international supply chain and promote trade facilitation. It establishes standards to harmonize Advance Cargo Information (ACI) requirements. Since its adoption in 2005, many countries have started to put into effect ACI conditions, but not always aligned with those WCO standards.
2023 EU implementation of new "Import Control System"(EU ICS2) regulations
To learn more about the new EU PLACI requirements (EU ICS2) coming into effect in March 2023, download the slides presented during the 2023 IATA PLACI Compliance Requirements Workshop (pdf)
In order to improve the security of the global supply chain, and in accordance with SAFE, an increasing number of countries are shaping legislation to require advance electronic submission of data on goods passing their borders. The Air Cargo Tariff and Rules (TACT) includes an e-Customs section covering ACI, along with specific requirements for countries worldwide.
The IATA Cargo-XML messages are becoming the preferred standard for the fulfillment of customs requirements in ACI filing. This standard is consistent with the WCO Data Model, ensuring compatibility with cross-border regulatory agencies and international organizations.
IATA has developed a specific guidance document to assist with the deployment of ACI programs (pdf), based on the expertise gathered over the past with the worldwide deployment of ACI requirements for air cargo. It has also developed a Recommended Practice and a Manual to assist air cargo stakeholders in their compliance with preloading advance cargo information (PLACI) regulatory requirements.
ACI requirements may also apply to Mail in some regions, as Mail security is increasingly scrutinized by Customs administrations.
A harmonized approach
IATA has established a group of airlines experts in customs matters, the Cargo Customs Working Group (CCWG). This group develops industry position papers and deals with security and customs issues:
WTO Bali Agreement
IATA welcomes the World Trade Organization (WTO) Trade Facilitation Agreement (TFA) that emerged from the Bali Ministerial Conference in December 2013. The document contains significant trade facilitation requirements and recommendations with regard to customs operations. These are intended to lead, in time, to important reductions in the cost of trade through actions in four main areas:
Transparency within the government to promote openness and accountability
Simplification to eliminate all unnecessary duplications in trade procedures, and to enable automation of cargo processes
Harmonization of national regulations and procedures with international conventions and agreements
Standardization of international processes and practices, documents and information agreed by various recognized international bodies
Greater transparency within governments and the resulting improved predictability, as well as harmonization and standardization of procedures, will all have a positive impact for the air cargo industry.
Trade Sanctions and Export Risk Mitigations
It can be challenging for airlines to comply with a variety of rules, sanctions and subsequent penalties for non-compliance relating to the export of certain goods as cargo. Failure to address such challenges can lead to severe consequences such as criminal proceedings for airlines and their staff, removal from trusted trader programs and serious damage to reputation. In order to assist airlines in developing appropriate due diligence procedures to manage shipments of so-called dual-use goods, military cargo or embargoed/prohibited/restricted items, IATA has prepared a trade sanctions and export risk mitigation document (pdf) resuming the main principles and regulations applicable to export sanctions. This includes non-exhaustive examples of such sanctions from some of the most prominent governing administrations.