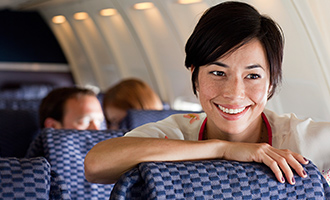 ​Global passenger traffic is expected to double by 2037. Accommodating this fascinating growth is a major challenge for the air transport industry and governments. It will require new standards, harmonized regulations and adequate infrastructure. In collaboration with our members, international organizations and states, IATA drives efficiencies, develops standards aimed at simplifying the passenger process while creating a more seamless and secure passenger experience while lowering industry costs.
Current initiatives
One ID
The One ID solution seeks to introduce a friction-free and passenger-centric process that allows an individual to streamline their journey with a paper-free and contactless process based on identity management and biometric recognition. Passengers will be able to identify themselves at each airport touchpoint through a simple biometric recognition.
Key Priorities
IATA develops global standards and tools, offers financial services and industry solutions, drives transformation projects, creates partnerships, and runs campaigns, advocacy and outreach activities. The Travel Standards Board manages the development of standards and drives policy and strategy for the end to end passenger process.
In order to deliver on its vision of delivering an end-to-end passenger experience that is secure, seamless and efficient for all, the IATA Customer Experience & Facilitation team focusses its activities in the following areas:
Technology
Common Use is the foundation of any passenger experience improvement and helps in providing a seamless handling functions like check-in, bag-drop, identity management, security access and boarding process. With the introduction of biometric recognition in air transport Common Use Standards allow for airlines, airports and handling agents to process passengers using shared technology.

Technology service standards specifically relating to self-service kiosks, overall passenger processing system standards in the area of platform architecture and standardized exchange through the use of web services technology are specific areas pertaining to common use.
Passenger Process
With evolving security threats and increasing government requirements, airlines and airports are required to adapt their processes to maintain the safety and security of their operations. The Passenger Facilitation program focuses on areas of the passenger journey related to border control management, digital identity management, travel authorizations, use of biometrics across touchpoints, passenger data (API/PNR), disruption management, passenger accessibility and other areas of compliance with Immigration and customs regulations.
Baggage Operations
Bags should be as valuable to airlines as they are to passengers. It's not only the cost of mishandled bags but also the potential loss of a loyal customer in addition to the bag. IATA drives industry changes in baggage through different projects and programs. More on IATA Bagagge Operations.
Industry Collaboration
Transformation, industry success and sustainability can only be achieved through collaborative efforts. IATA works to develop and nurtures partnerships to strengthen the end to end passenger experience by engaging airlines, governments, industry associations and Strategic Partners at global, regional and local levels, to identify common objectives, and areas to start or bolster existing collaboration.