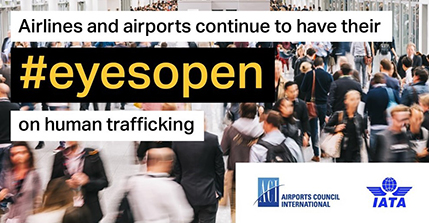 Aviation is the business of freedom. Airlines connect businesses to markets, reunite families and friends, and facilitate tourism and cultural exchange. Unfortunately, the global air transport system can also be exploited by criminals for the illegal trafficking of men, women and children.
Human trafficking is the fastest growing and second largest criminal industry in the world. A report by the International Labour Organization estimates that 24.9 million people* are living in modern slavery, over 75% of whom are women and children. That's equivalent to the total population of Australia.
Although the responsibility for identifying, apprehending and prosecuting those perpetrating human trafficking rests with governments and national law enforcement agencies, the airline industry recognizes that it can play an important role in helping to prevent this crime.
The role of aviation in the fight against human trafficking
A resolution denouncing human trafficking was passed at the last IATA Annual General Meeting. The resolution also reaffirms airlines' commitment to a number of actions to fight human trafficking: sharing of best practices, staff training and reporting.
Once trained, airline, airport, ground handling, security screening and customs staff can provide an important source of intelligence to prevent human trafficking. They can recognize signs of potential trafficking situations and report their observations to the authorities both at airports and during flights. See press release and resolution text: Airlines Denounce Human Trafficking and Commit to Action
NEW - Resources for airline staff training
Campaign materials
​
IATA's role
In addition to working with our member airlines to increase staff and passenger awareness, we are calling on governments and their enforcement agencies to provide clear, practical and anonymous mechanisms for airline staff so they can report potential trafficking situations. A good example of best practice is the US Department of Homeland Security's national toll (cost) free "tip line" and web form where airline staff can report their observations anonymously.
IATA is also working with airports and other stakeholders within the air transport sector to raise awareness on human trafficking and share our guidance material, including 'recognize and report' practice.
IATA position paper on Human Trafficking (pdf)
Human trafficking: a highlight on the 2018 IATA AGM agenda
View Mira Sorvino, UNODC Goodwill Ambassador's address:
​

Address of Jean-Luc Lemahieu, UNODC's Director, Policy Analysis and Public Affairs
​
*About numbers
There are no precise figures on the extent of Human Trafficking. Please find below some clarifications on numbers and definitions with their sources.
The United Nations defines Human Trafficking as the recruitment, transportation, transfer, harboring, or receipt of persons by improper means (such as force, abduction, fraud, or coercion) for an improper purpose including forced labor or sexual exploitation.
Sources: the United Nations Convention against Transnational Organized Crime; the Protocol to Prevent, Suppress and Punish Trafficking in Persons, Especially Women and Children; the Protocol against the Smuggling of Migrants by Land, Sea and Air.
Different countries use different legal terminologies, but "modern slavery" includes the crimes of human trafficking, slavery and slavery like practices such as servitude, forced labor, forced or servile marriage, the exploitation of children, and debt bondage.
An estimated 40.3 million people are in modern slavery, including 24.9 million in forced labor and 15.4 million in forced marriage.
Source: ILO.
In the figure used by IATA on this page and in all documentation related to Human Trafficking we have used the estimated number of people in forced labor, 24.9 million.