IATA's management team is formed of regional and subject matter experts. It sets the strategic direction of IATA under the leadership of IATA's Director General.
> Organization chart (pdf)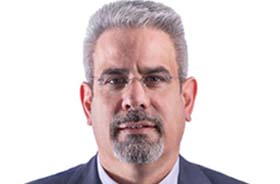 Kamil Al-Awadi
Regional Vice President for Africa and Middle East
Kamil is Regional Vice-President for Africa and Middle East (AME), one of the most dynamic and fastest-growing regions in aviation. Kamil represents IATA in 68 countries, serving 57 airlines across AME. He leads the execution of IATA's global strategic priorities at the regional level and advocates on behalf of industry to maintain global safety levels, enhance connectivity particularly across Africa, to reduce costs for airlines and to ensure the sustainability of air transport in the region.
He works hand in hand with regional partners such as AFRAA, AFCAC, AACO, ACAO and ICAO regional offices towards the advancement of air transport as a social and economic enabler and driver in the region.
Prior to joining IATA, Kamil was the CEO of Kuwait Airways and held various key positions at the airline in the areas of safety, security, quality management and enterprise resource planning over his 31-year career in the aviation industry.
Kamil holds an MBA in Aerospace Management from the Toulouse Business School and an Engineering degree in Aircraft Maintenance Management from Air Service Training (AST) in the UK.
Muhammad Albakri
Senior Vice President, Customer, Financial & Digital Services
Muhammad represented IATA in 68 countries across Africa and the Middle East in pursuit of global aviation industry agendas and focus on regional aviation critical issues.
Muhammad has nearly three decades of experience in Information & Communication Technology and Aviation Finance, having worked for Saudia Airlines as the CIO and CFO.
Muhammad speaks Arabic and English and holds a Master and Bachelor of Science in Information Sciences from the University of Pittsburgh.
Nick Careen
Senior Vice President, Airport Passenger Cargo and Security (APCS)
Currently IATA's Senior Vice President for the Operations, Safety and Security Division, Nick is responsible for IATA's relations with airports, safety, flight operations, fuel supply, passenger experience, cargo, security and ground handling for IATA member airlines and industry partners around the world. He also has corporate responsibility for IATA's training, publications and consulting portfolios.
Nick built his career in Air Canada and its subsidiary Jazz where along the way has had experience managing various aspects of the airport operations, including Inflight, Flight Operations, Operations Control, and Maintenance, his last role prior to joining IATA, was Vice President of Airports, Call Centers and Customer Relations for Air Canada. Nick brings with him a wealth of experience covering all facets airline operations, human resource management, labor and government relations.
He completed his studies in Political Science at Memorial University of Newfoundland and Labrador, and also holds the Master Black Belt Certification from Six Sigma. He enjoys the great Canadian sport of ice hockey among other pastimes when he is out of the office.
Peter Cerdá
Regional Vice President, The Americas
Peter Cerdá is the International Air Transport Association's (IATA) Regional Vice President for the Americas. Globally, IATA represents some 290 airlines or 82% of total air traffic, supporting many areas of aviation activity and helping to formulate industry policy on critical aviation issues.
Based in Miami, Mr. Cerdá oversees 35 countries with 48 member airlines across North and South America, and the Caribbean, driving IATA's global standards and international perspective to deliver maximum value to the safe, sustainable and profitable development of aviation across the region.
He advocates with Government authorities, safety regulators, airports, and industry stakeholders to create a common approach to utilize aviation as an engine of economic growth and social development, which drives nearly USD$1,011 billion in GDP and generates 14.5 million jobs in the Americas Region.
He is a member of the Strategic Leadership Team of IATA, which sets the strategic direction for the organization. Mr. Cerdá is also IATA's major shareholder for Cargo Network Services (CNS) in the United States, and a member of the Executive Boards of Colombia's Air Transport Association (ATAC) and Mexico's National Chamber of Air Transport (CANAERO).
Mr. Cerdá possesses a wealth of industry experience acquired over 30 years in aviation. He has worked in various functions for IATA and started his aviation career with Iberia Airlines prior to joining IATA in 1996. Fluent in English and Spanish, Mr. Cerdá was born in Spain and received his master's degree in Aeronautics and Aviation Management from Embry Riddle University in the United States.
Karen Clayton
General Counsel & Corporate Secretary
Karen is an English qualified solicitor and experienced Senior Executive with over 20 years of international experience in legal, governance, strategy and risk management matters with large companies in different sectors.
Karen joined IATA from Air New Zealand in April 2019 as Corporate Secretary and as part of IATA's Strategic Leadership Team. In this role she leads and is responsible for IATA's governance, membership processes and corporate strategy. On 1 July 2020, Karen added the role of IATA General Counsel to her responsibilities.
While at Air New Zealand, Karen served in the dual role of General Counsel and Company Secretary, supporting the Board and teams across the airline on a wide range of critical functions, including leading the development of the airline's strategic risk and global privacy programs. Prior to arriving in New Zealand, Karen was UK General Counsel & Company Secretary for National Grid plc, a UK FTSE 20 and US NYSE listed international gas and electricity company, where she led a team of lawyers, risk, ethics, and other assurance professionals.
During her career, Karen has worked as a commercial litigator in top tier law firms in the UK and Australia. Karen was admitted as a solicitor in England & Wales in September 1999 after graduating from Sheffield University with an LLB (Hons) law degree, Exeter University with a Diploma in Legal Practice and completing her practical legal training at Herbert Smith in London.
Conrad Clifford
Regional Vice President, Asia-Pacific
Conrad oversees the 26 countries that make up the Asia Pacific region, developing IATA's partnerships to enable IATA's global standards and global perspective to deliver maximum value to the safe, sustainable and profitable development of aviation.
Conrad offers a unique perspective with over 30 years of experience with both airlines and suppliers. Previously, he held the position of the Acting Managing Director of Antrak Air Ghana, CEO for Monarch Group, Vice President of the UK and Ireland for Emirates Airlines and CEO of Virgin Nigeria Airways.
Conrad holds a MBA (Hons) from Durham University UK and a MA (Hons) in Oriental Studies from Cambridge University, Corpus Christi College. Conrad is currently on the Advisory Board of the Singapore Aviation Academy and the Board of the Air Traffic Management Research Institute – an institute jointly established by the Civil Aviation Authority of Singapore and Nanyang Technical University.
Conrad has lived in Ghana, Hong Kong, Nigeria, South Korea, Taiwan, Thailand and the UAE. He speaks English and conversational Mandarin Chinese.
Tony Concil
Vice President, Corporate Communications
Beginning his career with IATA in 1999, Tony has risen in Corporate Communications from Manager of Asia Pacific through the ranks to his current role as Vice President with global responsibilities including media relations, brand, the corporate website and internal communications.
His past experience includes Gavin Anderson and Company Japan from 1997-1999 where he served as the Associate Director, and All Nippon Airways (ANA) from 1992-1997 where he began his career in international communications.
Tony has lived in Japan, Singapore and Switzerland and is fluent in English and Japanese. His holds an Honors BA in East Asian Studies from McGill University, Montreal.
Frank Di Stefano
Chief Internal Auditor & Director Corporate Risk & Compliance
Frank has served as Chief Auditor of the Association since 2003. He is responsible for administering the Internal Audit function and co-managing the external audit mandate. Over the years his cross-functional role has significantly expanded, taking on responsibility for administering IATA's Enterprise Risk Management programme and Financial Regulatory Compliance function. Prior to joining IATA, he worked at PricewaterhouseCoopers as a manager in business assurance and advisory services.
Professionally, Frank is a Chartered Accountant and a member of the Chartered Professional Accountants of Canada, the Institute of Internal Auditors, and the Association of Certified Fraud Examiners. Frank also serves as an Executive Committee member of the International Association of Airline Internal Auditors. He holds a Graduate Diploma in Public Accountancy and a Bachelor of Commerce from McGill University, as well as a Postgraduate Diploma in General Management from Harvard Business School.
Anton Grove
Vice President, People, Performance & Development (PPD)
Anton began his career with IATA having accumulated over 30 years of experience in Human Resources. He currently holds the position of Vice President, People, Performance and Development.
Anton's career has taken him across the Middle East, Africa and Asia where he previously served as the Human Resource Director of Travelport, Compass Group Plc. and SAP.
Anton has worked in numerous countries including Namibia, South Africa, Switzerland, Tanzania and the United Arab Emirates. He is fluent in English and Afrikaans and holds a degree in Industrial Psychology from the University of Stellenbosch.
Ayaz Hussain
Senior Vice President, Corporate Services and CFO
Ayaz is a Chartered Accountant by profession. He is Fellow of the Institute of Chartered Accountants in England & Wales (ICAEW), holds a Postgraduate Diploma in Organizational Leadership from the Oxford University and graduated in engineering sciences from the University of the Punjab.
Ayaz has been with IATA since 1989 in positions of increasing responsibility, including Director IATA Clearing House, Director Finance – Industry Distribution & Financial Services, Director Industry Financial Services and since 2009, the Senior Vice President Corporate Services and Chief Financial Officer of IATA.
Prior to joining IATA, Ayaz worked with Pakistan International Airlines as Corporate Manager Finance Automation and Stations Control in the airline's Finance Department, with Exxon Chemicals Ltd. and with Lubbock Fine & Co., Chartered Accountants in the UK.
Ayaz is a Founder Member of the ICAEW Members' group in Switzerland and was elected to Chair its executive committee.
Sebastian Mikosz
Senior Vice President, Member & External Relations (MER)
Before IATA, Sebastian was as Group Managing Director and CEO of Kenya Airways (2017-2019) while serving on the IATA Board of Governors. Previously, he served as the CEO of LOT Polish Airlines (2009-2011 and 2013-2015) and the CEO of Poland's largest online travel agency, the eSKY Group (2015-2017).
In addition to his airline experience, Sebastian's colorful career includes the positions of Vice President at the Polish Information and Foreign Investment Agency, Senior Advisor at Société Générale Corporate Investment Bank, Managing Director of the French Chamber of Commerce and Industry in Poland and founder of the online brokerage house Fast Trade.
Sebastian is a Polish national and graduate of the Institute of Political Studies in France with a Master's degree in Economics and Finance. He speaks Polish, English, French and Russian.
Brian Pearce
Chief Economist
Brian Pearce is IATA's Chief Economist and his role is to analyse the economic and policy landscape facing the airline industry, to provide credible economic analysis to guide and support IATA's advocacy work.
An economist with over 35 years of international experience in several industries, he is also a Visiting Professor at Cranfield University's Department of Air Transport and a member of IATA's senior leadership team. He has been on panels of expert advisers for the UK Airports Commission, the UK Department for Transport and ICAO. He was formerly director of the Centre for Sustainable Investment at the think-tank Forum for the Future, head of global economic research at the investment bank SBC Warburg in Tokyo and then London, and was Chief Economist at Ernst & Young's economic forecasting consultancy.
Rafael Schvartzman
Regional Vice President, Europe
Rafael oversees 55 countries across Europe and Central Asia, advocating for the interest of IATA's members and strengthening the relationships with aviation stakeholders. His career with IATA began in 2005 in Buenos Aires, as Country Manager for Argentina, Uruguay and Paraguay.
Rafael's aviation expertise also includes a 10-year tenure at DHL in the Americas and experience working for a range of air transport companies in South America. Rafael holds a Master in Positive Leadership and Strategy from IE Business School and a Bachelor of Science in Economics from the University of the Pacific. He has lived in numerous countries including Argentina, Ecuador, Spain, United Kingdom and the United States. He speaks Spanish and English.
Ma Tao
Regional Vice President, North Asia
Ma Tao promotes global standards, efficient regulations, and quality infrastructure in the North Asia region, the world's second largest aviation market, which comprises of Greater China, Mongolia and North Korea, and is home to some 40 of IATA's member airlines.
Tao brings to IATA a wealth of working experience in China's civil aviation industry including 23 years in Civil Aviation Administration of China (CAAC) where he was Deputy Director General of the Flight Standard Department, 10 years in the International Civil Aviation Organization ICAO where he was appointed as the Permanent Representative of China to the Council of ICAO (2006-2017) and Head of the Airworthiness Certification Center of the CAAC. Ma held key posts including as the Chair of the Technical Cooperation Committee (2008-2009), the First Vice President of the Council (2010-2011), and the Chair of the Working Group on Governance and Efficiency of the Council (2013-2015).
Tao graduated from the Civil Aviation University of China (1983) majoring in Aviation English. He also holds a master's degree in aviation safety management in a joint program of the Civil Aviation University of China and Ecole Nationale de L'Aviation Civile.