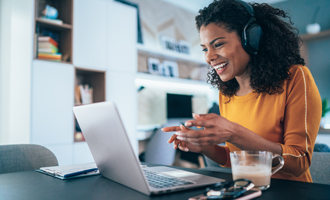 Digital training is vital to the industry restart. It equips individuals with the new skills needed to meet the challenges in aviation's revamped processes. And it allows organizations to manage the essential elements that will help pave the road to recovery, from safety management to emergency planning and risk management.
Digital training is a cost-effective solution that maximizes the value of training budgets. It comprises LIVE instructor-led virtual classroom courses or eLearning. LIVE virtual classrooms are an interactive experience with direct instruction. eLearning lets participants study in their own time with a variety of topics on offer.
Setting standards in 2021: IATA helps develop the industry standards that are at the heart of our training. Together with the latest regulations and COVID-19 updates, it ensures our courses will forge a strong restart for the industry.
Professionals and industry experts have identified the following areas as critical for aviation's restart:
Safety Management Systems & Procedures; Human Factors; Revenue Management; Emergency Response Planning; Pharma Handling; New Distribution Capability; Risk Management.
This is what our students say
Aviation Internal Auditor course
"My Virtual Classroom experience exceeded my expectations. It was much more interactive than expected. Meeting people from other airlines in the breakout sessions was very interesting. Overall, the course had the right balance between theory and practice. It's cost effective too because we saved on travel and accommodation."
Quality Assurance Lead, Kenya Airways PLC

Aviation Law – Fundamentals course
"I just joined the aviation industry. Thanks to this eLearning course, I quickly expanded my knowledge and developed strong understanding of how the industry functions. Highly recommended!"
Corporate Sustainability Manager, Air France-KLM
---
Do you want to know more?
Just complete the form below so we can send you the latest updates.