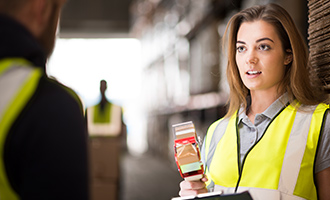 The variety of courses and learning methods available through IATA means that students and organizations can choose the combination of subject and teaching methodology that is right for them.
Whether you choose to study with an instructor or on your own, IATA's courses meet rigorous quality standards. IATA has received official accolades from two certification bodies for its training and is ISO 9001:2015 certified* and ACCET accredited**.
Flexible learning
Instructor-led
Classroom
Study at one of our many IATA Training Centers or Regional Training Partner locations around the globe. All classroom courses are developed and delivered by IATA Instructors or staff members. The classroom approach comes with several benefits, including meeting with professionals in your field and from around the world, direct interaction with an experienced instructor, and tailored training facilities. You may also choose to earn international recognition with our academic partner programs.
Virtual classrooms
IATA Training's LIVE virtual classroom courses provide real-time interactive instructor-led online learning where participants can communicate, view and discuss presentations. During the course you will also engage with learning resources while working in groups, all in an online setting.
In-house Training
Maximize your training budget by bringing IATA Training to your workplace. All in-house courses are developed and delivered by IATA Instructors. This cost-effective alternative to IATA instructor-led classroom training can be delivered to groups of five or more at any location. The same IATA Certificates and Diplomas are available, or companies can request customized courses focused on their training needs.
Partner-taught Classroom
Choose to study at one of our 450+ partner locations around the world where training is available at IATA's Authorized Training Centers (ATC) and Authorized Training Schools (ATS). The courses are ideal for graduates, industry newcomers and young professionals seeking vocational qualifications.
Self-study
If you prefer to study at your own pace, whether online or by reading a book, IATA offers these same courses as flexible and affordable self-study training.
* globally except China
** IATA Training Centers in Miami and Montreal