Need Help?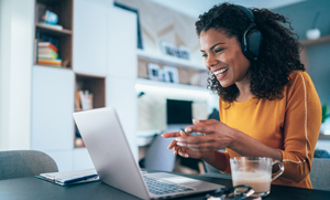 the new way of learning you can trust
IATA is dedicated to providing relevant, timely solutions to sustain and support your learning needs. The way learning takes place may change, but the effectiveness and quality of learning shouldn't. Make the most of these virtual classroom training benefits, and get closer to achieving your professional goals. Invest in high-quality training you can trust.
Need Help?
Why does LIVE virtual classroom training work?
Online learning is more prevalent than ever before, and it's likely here to stay. As we continue to adjust to remote models in both educational and professional environments, we understand you might still have concerns or hesitations when it comes to adopting virtual classrooms. Rest assured that we've designed and developed our virtual classroom courses with these considerations in mind and are confident that online learning works.
Here are 9 reasons why:
Learn on your own time
Easily integrate classes into your schedule and gain more flexibility and time back on your calendar. Choose a course time that's most convenient for you, whether during the day or in the evening. This is especially beneficial to students pursuing additional training outside of their major or professionals who are managing a full-time job.
Learn from anywhere
Whether the comfort of your own home or office, don't be hindered by your location. Join virtually from wherever you are, and save valuable time normally spent commuting.
Wide range of subject areas
Based on your area of interest and specialization, no matter your area of specialization, we've developed a variety of virtual classroom courses across 17 different industry-specific subject areas to fully support your training and professional development goals.
Grow your network
Interact with peers & instructors from around the world in real-time. Our virtual classroom courses are live and instructor-led, so you still get face-to-face interaction and training. Each course also features a diverse set of functionalities, such as breakout rooms, chat boxes, and regular polls, that enable real-time discussion and collaboration with your peers.
Get high-quality training
Training with the very industry experts who developed today's aviation standards & regulations. Get the same quality instruction and industry expertise & insight as you would in-person. Also, benefit from live video chat with your instructor.
In a time zone to suit you
Choose a virtual classroom offered in a time zone that suits your location. No matter where you are in the world, we offer virtual classroom courses in the Americas, Asia, and Europe, Middle East & Africa to best align with your location.
Save on travel costs and fees
Virtual classrooms are a highly cost-effective option. Without your personal travel expenses, or the instructors', you reap course savings that make it more accessible than our traditional classrooms.
Get a Certificate
Qualify your learning by obtaining a certificate upon course completion. Once you complete your virtual classroom course, you'll be awarded a certificate just like you would in our traditional classrooms. Stand out from the crowd, and expand your career opportunities.
Sharpen your digital skills
As companies grow increasingly digital, it's important to be familiar and confident with using digital tools to effectively execute work. Use this as an opportunity to enhance your skillset, and share your experience with potential employers.