You can study with IATA Training throughout the world using a multitude of learning methods.
This industry-leading combination of customization and instruction in global standards and best practices make us the perfect choice for every aviation career.
IATA Training offers unique insight into our key areas of expertise and our commitment to global standards.
All courses are designed and delivered by subject matter experts, making them the ideal choice for your aviation career.
Use the filters below to find a Training Center near you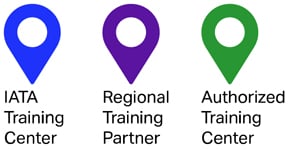 IATA's Accredited Training School program was discontinued at the end of 2022 and has been replaced by the CBTA (Competency-based Training and Assessment) program.
Found 267 Training Centers