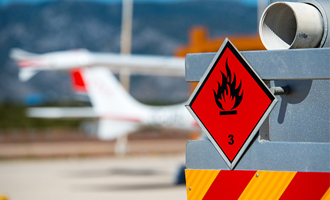 Setting the standards leads to safety
Some items may endanger the safety of an aircraft or persons on board, and these dangerous materials can either be forbidden or restricted for air transport. IATA leads industry efforts to ensure the safe transport of dangerous goods by air. We provide a great variety of technical knowledge, products, services and training solutions, tailored to satisfy industry needs.
The development of standards for documentation, handling and training, as well as the promotion and use, contributed to achieving a very high degree of safety in the transport of dangerous goods by air.
Dangerous Goods Regulations
IATA works closely with local governments and ICAO in the development of regulations. This way, we ensure that the rules and guidelines on dangerous goods transport are effective and operational practical.
The IATA Dangerous Goods Regulations (DGR) manual is the global reference for shipping dangerous goods by air and the only standard recognized by airlines.
2022 UPDATES: IATA Manuals include all necessary information about new regulations taking effect as of January 1, 2022 and how they impact the shipment and handling of air cargo. Learn more
Training
The 63rd edition of the Dangerous Goods Regulations includes the provisions on competency-based training and assessment (CBTA) as agreed by the ICAO Dangerous Goods Panel in DGP/27 (September 2019). There is a two-year transition period and therefore, the training provisions from the 61st edition may continue to be used until 31 December 2022.
Appendix I.1.5 as shown in the 61st edition has been adopted in Subsection 1.5 and Subsection 1.5 from the 61st edition has been moved to Attachment A of Appendix H.
The guidance material on the development and implementation of competency-based training and assessment can be found in Appendix H. This material is the practical guide for the industry players to develop their training framework in accordance with the new provisions and will continue to be enhanced by the Dangerous Goods Training Working Group (DGTWG) based on the feedback from training providers and member airlines.
For inquiries and feedback on competency-based training and assessment, please contact the Dangerous Goods Support Line.
Dangerous Goods Community
The IATA DG Community is the meeting place where shippers, freight forwarders, and airlines have a say. Join us to find out what information you need to know, give us feedback and share with your peers.
More Dangerous Goods Documentation