Need Help?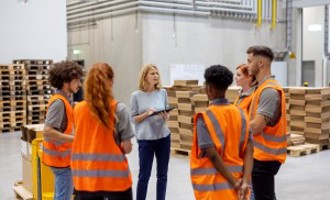 Empower your team. Improve your efficiency.
Maximize the safety of your dangerous goods acceptance process. DG AutoCheck is an automated compliance solution that optimizes your dangerous goods acceptance processes to ensure the highest level of safety.

Find out how DG AutoCheck can help you.

Ensuring the safe transportation of dangerous goods can be a complex and time-consuming process, and you can't afford to make mistakes.
Manual cross-referencing the Shipper's Declaration for Dangerous Goods (DGD) and IATA's Dangerous Goods Regulations (DGR) increases the chances of errors that may lead to rejections, fines, and penalties for non-compliance that costs time and money.
This process is even more complicated when shipments contain Overpacks, All Packed in one, and require more detailed Q-value calculations. Greater chances for error also occur when cargo must comply with airline and state variations. This is why you need a better way to minimize human oversights and maximize efficiency across your operation.
And that's where DG AutoCheck comes in:

An innovative digital solution, DG AutoCheck automatically cross-references a DGD with the IATA DGR, providing a more detailed and accurate acceptance process for dangerous goods. Developed in collaboration with airlines, ground handlers, and freight forwarders, DG AutoCheck gives your team the tool they need to do their job with greater ease and confidence.
With DG AutoCheck your team can:
Process a shipment in as little as 5 minutes.

Automatically generate a detailed report of compliance issues together with the IATA DGR references

Calculate Q Value instantaneously.

Make physical inspections easier with the package preview that shows required marks, labels, and packaging requirements.

Display all applicable State or operator variations with a simple click of a button.

Get reliable business intelligence data and insights on your processes to identify opportunities for improvement.

DG AutoCheck users reported up to a 50% reduction in processing time and a reduction in errors.
DG AutoCheck Demo
Find out how DG AutoCheck can help you.
DG AutoCheck is key to the digital transformation that will make dangerous cargo shipments safer, faster, and more cost-effective.
With DG AutoCheck, your team simply inputs the shipper's declaration into the DG AutoCheck system and follows a clear step-by-step validation process.
Need Help?
Future-proof your dangerous goods acceptance process.
Airlines, freight forwarders, and ground service providers handle over 1.25 million dangerous goods annually. And the rate is likely to increase by 4.9% in the next five years.
DG AutoCheck is your team's digital solution to manage the increasing volume of dangerous cargo shipments as safely as possible.
Maximize safety
Ensure your dangerous goods checks comply with the current regulations.

Intercept and flag compliance errors.

Automatically verify DG staff's training currency to ensure only staff and valid certification can perform acceptance checks.
Improve efficiency
Digitize your documents to streamline and clarify communications.

Distribute check results, error reports, and data for NOTOC, now even more easily with the new Connect API enhancement.
Centrally manage and monitor acceptance checks.
Save time & money
Access valuable business insights to fine-tune processes and reduce costs.

Streamline your filing, reporting, and compliance analysis processes.

Minimize the risk of fines for non-compliance.
Interested in DG AutoCheck for your business?

Don't miss out on the opportunity to optimize your business with digital automation. Get an innovative solution to streamline your processes, empower your team, improve efficiency and maximize safety.

Find out how DG AutoCheck can help you.