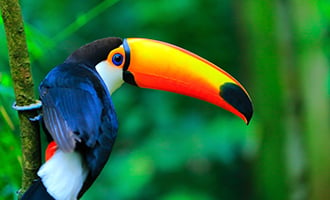 We focus on animal safety and welfare
Animals have been transported by air since the early 1930's. In today's modern world, carriage of live animals by air is considered the most humane and expedient method of transportation over long distances.
Traveler's Pet Corner
Detailed information on the transportation of your cat or dog by air is available on the Traveler's Pet Corner.
IATA Live Animals Regulations
The IATA Live Animals Regulations (LAR) are the worldwide standard for transporting live animals by commercial airlines. Whether it is a pet, an animal transported for zoological or agricultural purposes or for any other reason, the objective of the IATA LAR is to ensure that all animals are transported safely and humanely by air.


The 49th Edition of the Regulations will come into effect on 1 January 2023.
More IATA Live Animals Regulations Documentation
IATA Live Animal Acceptance Checklist (inclusive of the In-Cabin Live Animal Acceptance Checklist Cabin/Excess Baggage) (PDF)
Erratum I to the LAR 48th Edition (PDF) effective 1 January 2022. Any related inquiries could be addressed to larper@iata.org.
Live Animals and Perishables Board
IATA ensures that both safety and animal welfare are addressed in all regulatory issues pertaining to the transportation of live animals by air. IATA coordinates the Live Animals and Perishables Board (LAPB) and provides key input to the airline industry on issues such as animal welfare, identification, and animal behavior based on modern science.
On the transportation of live dolphins
It is the role of governments to set and enforce the rules concerning the transportation of live animals. IATA, however, publishes the Live Animals Regulations which all IATA members are expected to adhere to. These regulations are there to ensure that live animals are handled and transported in such a way that their welfare is top of mind by all parties involved and that they always travel in safe, healthy and humane conditions.
Questions dedicated to the concerns and issues that affect the public display of marine mammals should be addressed to the Alliance of Marine Mammal Parks and Aquariums.
COVID-19 UPDATES: IATA Manuals include all necessary information about new regulations taking effect as of 2022 as well as COVID-19 changes made to the regulations and how they impact shipping and cargo operations. Learn more
Important Notice: Dog Import Restrictions for Canada
Please find the relevant supportive materials for air carriers to prepare for the implementation of Canada's new prohibition on the import of commercial dogs from countries at high risk for rabies
The suspension is effective September 28, 2022
Importance Notice: CDC Temporary Dog Entry Ban
Following the CDC's decision to temporarily suspend the entry of dogs into the United States from countries classified as high risk for dog rabies, carriers should note the essential information below:
The suspension is effective as of July 14, 2021
List of countries classified by CDC as high risk for dog rabies
A Sample Shipper's Declaration (pdf) has been made available to certify compliance with the temporary dog entry ban requirements. This version serves as an example and can be modified to suit carrier needs.
Additional information (please visit the CDC website for the most up-to-date materials):
In light of this temporary suspension, carriers are invited to review their Conditions of Carriage, particularly pertaining to Shipper compliance and liability for any damages (including fines) for failure to comply with current regulations.
Shippers/Forwarders should review carrier Conditions of Carriage to ensure compliance with these provisions.