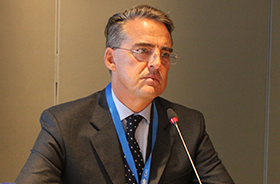 ​​
​​​​Thank you for making your way across the street to join us in the IATA offices. That our offices are located so close to each other is an indication of how important it is for IATA and ICAO to work together. And you will see evidence of that throughout the ICAO Assembly.​​
State of Industry​
Before I turn to the specific issues at the Assembly, I'd like to give some context regarding the present state of aviation. Global air transport is an important industry. It supports some 63 million jobs and $2.7 trillion in economic activity. This year airlines will move about 3.8 billion people and 50 million tonnes of cargo safely to their destinations. That adds tremendous value to our world. I firmly believe that we are in the business of freedom—which has a big and growing positive impact on our world.
Air transport is safe, efficient, reliable and increasingly sustainable. Much of that is due to the global standards which are set by ICAO and IATA.
This Assembly is taking place as airlines enjoy normal levels of profitability. We expect airlines to make $39.4 billion profit this year. That will mean a return on invested capital (ROIC) of about 10%. And the weighted average cost of capital (WACC) is about 7%. This is only the second year in the history of commercial aviation that ROIC will exceed the WACC. The first time was last year.
While the industry is doing better financially than it usually does there a few things to note. Profitability is not evenly spread—most of the profits are being generated here in North America. And there are risks on the horizon—terrorism, protectionism, and the fragile state of the global economy.
On the issue of terrorism, I should say we are very pleased that, under the leadership of ICAO, the UN Security Council last week passed Resolution 2309. This reinforces the responsibility of governments to make investments to keep aviation secure as part of their overall responsibility for the security of their citizens.
We are very encouraged that governments are considering aviation security at the level of the Security Council. And we stand ready to help them fulfill their responsibility.
Environment​
Now to the most pressing matter for today. That is the discussion of a global market-based measure to manage aviation's carbon emissions. The proposal on the table is called CORSIA—Carbon Offset and Reduction Scheme for International Aviation. And the airlines support its adoption by governments.
For those who follow this issue closely, you will know that IATA's member airlines have for a long time called on governments to adopt a mandatory, global carbon offset scheme. Along with measures to improve technology, operations and infrastructure, we need a market-based measure to complete our four pillar strategy on climate change. And that strategy is aimed at delivering some well-publicized goals:
Carbon-neutral growth from 2020
And cutting our net 2050 emissions to half the 2005 level
CORSIA is a practical solution and political compromise which, if adopted, will move us clearly in that direction. It is proposed that there be a voluntary period in the initial years of the scheme. To date nearly 60 states have put themselves forward as early volunteers. So there is serious momentum behind the proposal.
The next weeks will see negotiations on the details. Our input into that process rests on a few key principles which are well-known to the decision-makers here:
It must not create competitive distortions
It should focus on funding emissions cuts (not raising revenues for governments)
It must make some consideration for new and fast-growing airlines as well as for those which have already made significant investments to improve sustainability
And coverage should be as broad as possible
It is important that these principles are met.
And I should emphasize that we believe that this scheme is the most cost-effective solution. And certainly it is a better option—with respect to both cost and effectiveness—to the patchwork of measures that would likely result in the absence of a global scheme.
My last comment on this issue is that I am optimistic. We will see some further discussions over the next days. But the number of states agreeing to volunteer is growing. And the governments here realize that the world is watching with expectation. If we are successful—and I believe that we will be—aviation will become the first global sector to agree to a global mechanism. And I am confident that we will be there by next Friday.
Other Issues
Environment is not the only issue on the Assembly's agenda. IATA has submitted some 25 working papers to the Assembly on issues ranging from onerous levels of taxation, infrastructure efficiency, capacity building among governments, countermeasures for unruly passengers, to the top priorities of safety and security.
I won't go into all of the details on these. Our working papers are on the ICAO website.
I am pleased to take your questions. ​