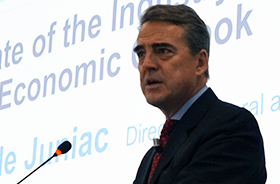 Translation: Portuguese (pdf)
​​​​​​Good morning. And welcome to IATA's home in Geneva. I know that many of you traveled a great distance to be with us. We appreciate your effort. And we have prepared a great day of briefings for you.
As you know, I am relatively new to IATA. I started my duties as Director General and CEO at the beginning of September. It has been a very intense time since then. I wanted to get to know IATA's stakeholders—to understand how people view us in different parts of the world. In the last months, I have visited all continents except Australia and Antarctica!
On each trip, I have also made it a point to meet with colleagues in the media. You fulfil a vitally important role—helping people to understand this wonderful industry that links our world together safely and efficiently.
Aviation is an industry that I have focused much of my life on.
I spent many years in Thales—which supports the industry with vital technology. And I led Air France and then Air France-KLM over the previous five years. I also worked in government, dealing mostly with economic matters. And now I am in IATA which has a very critical mission. We represent, lead and serve the airline industry. Digging deeper, I would cite four essential elements:
First, IATA must be highly respected as the representative body of an important global industry.
Secondly, IATA must be the reference, authority, custodian and innovator of the global standards that facilitate this global business.
Thirdly, IATA must be financially sound with products and services that add value to the industry and instill commercial discipline in the organization.
And finally, IATA must be fast, to stay at least a step ahead of changes impacting the industry.
All of that means that you can count on IATA to be good partners for you as you report on aviation. Our corporate communications team is eager to help you accurately tell the industry story.
Safety, Security, Sustainability and Global Standards
The success of global aviation rests on safety, security, sustainability and global standards. Above anything else, these are my top priorities.
To start with, flying is safe. But it is not free from accidents. In the last week we have had two tragedies, one in Pakistan and the other in Colombia. The thoughts and prayers of everyone in the industry are with the victims and their family and friends. Every accident makes us even more determined to make our safe industry even safer.
Later on this morning our Senior Vice President for Safety and Flight Operations, Gilberto Lopez-Meyer will update you on our efforts. This includes strengthening our flagship IATA Operational Safety Audit and progressing the Global Aviation Data Management project or GADM. Both these initiatives will help airlines to more easily exchange safety information. And by collecting and analyzing aviation data we can identify and mitigate risks.
In tandem with safety is the priority of security. Over the last year two airports have been attacked, an attempt to bomb a jet failed, terrorists laid claim to downing another, and popular tourist destinations have seen bloodshed.
Flying is secure. I fly with confidence and you should too. But there are risks and challenges—insider threats, landside exposure at airports, overflight of conflict zones, and cyber security. Efficient airport checkpoints are important. And our Smart Security program is making them more effective and convenient. But that alone is not enough to stay a step ahead of those who would do us harm.
A recent UN Security Council Resolution reminds governments that keeping aviation secure is integral to a state's responsibility for national security. Governments can and must do more—upping their game on intelligence gathering and sharing vital information among themselves and with industry. That's the only way that terrorists can be kept away from airports and aircraft.
Industry also has a role. My previous employer, Air France, was specifically mentioned on ISIS websites. So I have thought long and hard about security. And you will see IATA becoming more active in this space. Later today, Nick Careen, our Senior Vice President for Airport, Passenger, Cargo and Security will update you on our current and planned activities.
As with every responsible business, the activities of the aviation industry must be sustainable. That is a challenge for an industry that is carbon-intensive and growing to meet demand.
In October we had a great example of aviation's leadership on sustainability. Governments attending the 39th Assembly of the International Civil Aviation Organization (ICAO) agreed to a Carbon Offset and Reduction Scheme for International Aviation—or CORSIA. This was not imposed on the industry. We asked for it!
Aviation is committed to carbon-neutral growth from 2020. And by 2050 we want to cut net emissions to half of 2005 levels. CORSIA is a ground-breaking historical achievement that is critical to meeting our carbon neutral growth target. And IATA is fully supporting ICAO, governments and airlines to iron out the details so that it will be implemented successfully.
CORSIA is not, however, the complete solution for sustainability. It is a global market-based measure that is one of four pillars in the industry's strategy. Alongside CORSIA we must continue to improve technology, operations and infrastructure. And we expect the same of governments—particularly with respect to eliminating inefficiencies in air traffic management and supporting the successful commercialization of sustainable alternative fuels for aviation.
Paul Steele, our Senior Vice President for Member and External Relations will provide a full update on our environmental efforts later today.
And lastly, underlying the efforts on all of these are global standards. Aviation would not exist on the scale that it does today without global standards.
IATA facilitates the development of global standards through the combined efforts of our membership—now 269 airlines from a variety of different business models. And where global standards are developed by governments through ICAO, we support their efforts with industry expertise.
On top of building the standards, a big challenge is getting governments to implement them. Of particularly high importance now are:
The adoption of Montreal Convention 1999 to enable the modernization of cargo processes and to provide fair compensation to victims of air tragedies
The harmonization of consumer protection regulation around ICAO's principles
The adoption of Montreal Protocol 14 to deal with unruly passengers
​The harmonization of slot allocations through adherence to the Worldwide Slot Guidelines

You will hear more on each of these topics later in the day.
The Business​
Safety, security, sustainability and global standards are at the core of aviation's existence. While respecting them airlines must run efficient businesses and generate enough surplus to reward their shareholders. I know from first-hand experience how difficult that is. In fact if we look at aviation's history, we have a pretty poor record when it comes to profitability.
Fortunately, recent years have seen improvements. Net profits have been generated in every year since 2010. That's impressive considering that that oil prices averaged at or above $100/barrel Brent for three of those years. The transformation of the industry in recent years is making airlines better businesses. And it is helping airlines to better serve the nearly 4 billion travelers we expect in 2017.
With 18,000 direct routes and average fares down about 60% (in real terms) over 1995 levels, travel is a better deal than ever. In fact, there are more service choices than ever as airlines invest in innovative services and products to more effectively meet the personalized needs of travelers.
This year we expect airlines to earn $35.6 billion. It is a record profit, even if slightly less than our original expectation. This strong performance on profitability will extend into 2017. Even though we expect conditions to be more difficult, we see a soft landing safely in profitable territory. A net profit of $29.8 billion in 2017 will mean eight years in the black for the industry. And it will be the third year in row where the return on invested capital (7.9%) will exceed the cost of capital (6.9%).
I want to pause for a minute here to reflect. This is the best performance in the industry's history—irrespective of the many uncertainties we face.
On that positive note, I will turn the floor over to Brian Pearce, our Chief Economist, to review the details of our outlook.
I would like to emphasize two important points that Brian has made.

The first is that the industry has improved its financial resilience. We face risks and the ups-and-downs of the business cycle. And the airlines are in better shape to remain profitable while facing these challenges. So we see a soft landing safely in profitable territory for 2017.

The second is that performance across the industry is not uniform. The benefits of an improved industry structure are keeping airlines in North America at the top of the profitability league. But with a net profit margin in that region projected to be 8.5%, it is only a "normal" return to investors. For a truly healthy industry we should be seeing similar levels across the industry. So there is a lot of work still to do!
Before taking your questions, I would like to highlight a few other key areas for IATA's activities.
Innovation
The first is using technology to support process innovation. That covers a large area of the work that IATA does. Smart Security, Fast Travel, the e-Air Waybill and New Distribution Capability (NDC) are all examples.
I am particularly enthusiastic about NDC—another IATA global standard--which will fundamentally modernize the distribution process. Yanik Hoyles, our Director for NDC, will give you an update on the program this afternoon. Already 86 airlines are using parts of NDC or have said they plan to implement it. So the program is gaining traction.
And it is a win-win. With NDC airlines will be able to better understand the needs of their customers. And travelers will enjoy greater choice and transparency when buying travel through agents.
With NDC taking-off, we are now looking at the back office. E-ticketing became the global standard in 2008. But the information on passengers needed to facilitate travel is stored in various places. You have a ticket number and a passenger name record that might have different reference numbers at the airline and in the GDS (global distribution system). And ancillary sales data might be kept in a different record. Each of these carries expensive back office processes, and having various documents and multiple records makes it confusing for the traveler.
That is why we have launched ONE Order. The objective is to simplify back office processes so that we move to a standard that more closely reflects the ticketless travel offered by many new model airlines. But, we will retain the benefit of being able to accommodate travel across many carriers—the interline system. Sebastian Touraine, the Head of our ONE Order program will update you on this transformational project later today.
Cost: Taxes and Charges
We also need governments to innovate their thinking about the industry and the impact of high costs from taxes and charges.
Airlines are catalysts for economic development. Airlines deliver about a third of goods traded internationally—by value. They support some $2.7 trillion of GDP. And employment levels associated with aviation have reached almost 69 million. Global connectivity promotes prosperity. But charges and taxes dampen demand. And there is an economic cost to that.
That is why IATA spends a lot of time fighting taxes and charges. And sometimes enlightened government policies are the result. For example, when the Cartagena airport fee was reduced from $92 to $38 in 2015, international passengers increased by 30%. That created jobs and business opportunities of much greater value than the charge ever collected.
If you question the price sensitivity of travelers, keep in mind that airlines, on average in 2017 will make a net profit of $7.54 per departing passenger. Every tax or charge matters. Despite the positive example of Cartagena, many governments are still too short sighted.
Australia plans to increase its passenger movement charge to A$60.
The Maldives—totally dependent on tourism—are planning to add another $25 to its 'airport development fee' even though none of the money would be spent on the airport.
Germany is adding up to EUR 50 cents per passenger to its departure tax which already collects over EUR 1 billion a year.
Norway introduced a new passenger tax earlier this year with a further increase in 2017 and Sweden is considering a tax of up to SEK430 ($47).
The UK continues to increase its destructive Air Passenger Duty in line with inflation, despite evidence that APD costs the UK economy £16 billion.
​And combined increases in passenger fees in the UAE and Qatar are risking the Gulf's amazing success story with $700 million in new costs.

As you can see it is a constant battle to get governments to see the long-term value of aviation!
Infrastructure
It is also a constant battle to get governments to understand and fulfill the industry's infrastructure needs. We expect nearly 4 billion travelers in 2017. In 2035 we expect 7.2 billion. That growth will bring net economic benefits. But only if infrastructure development can keep pace.
Our demands are relatively simple. Airlines need sufficient capacity. That capacity must be efficient. And it must be available at affordable prices. Unfortunately, I believe that we are headed for an infrastructure crisis.
The promised benefits of the Single European Sky are far from being achieved despite the EUR 245 billion economic boost that it would generate by 2035.
A 12% shortfall in European airport capacity in 2035 is predicted by Eurocontrol. Currently 102 of 175 slot-controlled airports are in Europe. And I don't see any plans ambitious enough to meaningfully change the situation.
The US NextGen program is being held captive to a politicized budgeting process and special interests.
Efforts for cross-border cooperation to reduce delays in the Gulf are not producing results fast enough.
Similarly, China struggles to improve air traffic delays.
Building airport capacity is a struggle in hubs as widespread as New York, Bangkok, Mumbai, Mexico City and Sao Paolo.
​And a special mention here for the proposed third runway at Heathrow. The decision to build is welcome…but the estimated cost of £17 billion is outrageous. To put that into context, for that money, the UK could have built and hosted the 2012 Olympic Games twice over.

There is no magic solution for infrastructure. Each situation is a unique case involving both political and technical considerations. But there are two points that I would like to make.
The first is about consultation and partnership. It is a government responsibility to provide the infrastructure on which the nation's economy depends. When it comes to airports and air traffic management that is best done in consultation and partnership with airlines who are the users. That is the best way to ensure that we hit the mark on capacity, efficiency and affordability.
And the second is to sound a note of caution on infrastructure privatization—particularly for airports. We understand the desire to harness commercial discipline in managing important pieces of infrastructure. But, I will be totally blunt in saying that, despite many privatizations around the world we have not seen any examples of privatizations that have truly met the expectations of sufficient capacity, efficient operations and affordable costs.
Governments must take great care to effectively balance public and private interests. This starts with the selection process for the concessionaire. Finding the highest bidder should not be the prime motivation. The focus must be on finding the best long-term solution to support the local and national economy. And the entire project must be guided by iron-clad regulation to ensure that the privatized entity does not become an out-of-control monopoly.
The Business of Freedom
The last thought that I want to leave you with is my view on the importance of the aviation industry. Of course it must be judged by the success factors of any normal business. But its contribution to our world is unique and special. For me, aviation is the business of freedom.
In connecting our world aviation makes people's lives better. It supports trade, creates business opportunities, facilitates the exchange of ideas, builds friendships across borders and develops global understanding.
We must be concerned with the current "protectionist" rhetoric which is gaining popularity and geographic scope. The job of IATA is to clear the way for the success of the business of freedom—reminding governments of….
The benefits aviation generates,
The policies and infrastructure it requires to be successful, and
The importance of keeping borders open for trade and welcoming to people.
With that, I hope that we have stimulated some good questions!