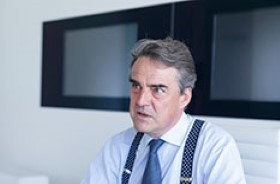 I was hoping that today we could report a strong northern summer season and with a clear vision to a recovery for aviation. Unfortunately, as Brian has presented, that is far from the industry's reality today. Borders are largely closed. And government management of travel restrictions is so unpredictable and uncoordinated that people are still not flying.
For the industry this is immensely frustrating. It is also frustrating for travelers who cannot see family and loved ones, do business or take a break. And it is tragic for the growing numbers of unemployed whose livelihoods are being destroyed.
Re-opening borders
There has been no lack of effort to reassure governments that flying is safe. Through the leadership of the International Civil Aviation Organization (ICAO) and with the support of the World Health Organization, global protocols for safely re-starting aviation were agreed by governments in June. Many countries have implemented the guidelines, which is good. But this produces little result because there is no coordination to manage the re-opening of borders. Quarantine measures, in particular, are keeping aviation, travel and tourism effectively in lockdown.
We understand and completely agree that the top priority for everybody in this crisis is the health and safety of citizens. But we believe that there are alternative measures that will keep people safe and enable global connectivity. That is why today we are proposing a three-point plan to safely re-open borders:
Implement the ICAO Take-off Guidelines universally.
Build on the solid work of ICAO Council's Aviation Recovery Task Force (CART) by developing an agreed common framework for states to use in coordinating the safe re-opening of their borders to aviation.
Develop COVID-19 testing measures that will enable the re-opening of borders by reducing the risk of COVID-19 importation to what is acceptable to public health authorities with accuracy, speed and scalability that also meet the exacting requirements for incorporation into the travel process.
As a participant in the ICAO CART, IATA will work with governments, medical experts and testing manufacturers to accelerate proposals specifically focused on using COVID-19 testing to re-build confidence, re-open borders, re-start aviation, re-charge demand and restore jobs. There is much at stake and no time to lose.
The good news is that the speed, accuracy and scalability of testing is rapidly improving. And we need to plan now so that we are ready to quickly take advantage of testing when it can be applied to facilitate travel.
I will emphasize the need for leadership. The challenges of a global pandemic will not be solved by governments acting in isolation. The protocols are established for safe flight. Now governments must take the next step with coordinated global leadership to manage the risks of opening borders. With testing, technology, science and determination, borders can be re-opened and the world can start moving again.
Relief measures
The disappointing summer also provides two other important reminders for governments.
The first is that financial relief measures are still needed. The crisis is lasting longer than most would have predicted. And the initial round of measures will need to be topped up. The industry needs a financial lifeline that will keep them afloat. And, importantly, this must be done in ways that do not further increase the debt-burden.
The second is the urgent need for a waiver of the 80-20 use-it-or-lose-it slot rule. Many governments such as Australia, New Zealand, China, Singapore, Brazil and Mexico have granted a waiver for the full winter season. But Europe is underestimating the challenge and dragging its feet. Somehow, they believe that demand could rebound to 75% or even 85% of last years levels by early 2021. That is much more optimistic than any industry forecast, or the evolution of traffic seen over the peak summer season. And their intention to provide a response only in mid-October gives precious little time for airlines and airports to plan.
Airlines and airports are aligned in their call for all governments to act. And this is particularly critical for the EC as many countries look to EC decisions for leadership on this issue. Addressing this should be at the top of Europe's aviation agenda.
I now look forward to your questions.
Media Briefing Recording: Listen to the teleconference (mp3)