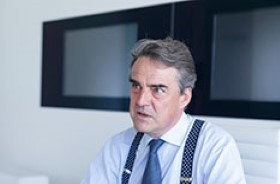 Thanks for joining our weekly briefing again.
This is a very important week for the airline industry. Yesterday most border restrictions within Europe were lifted and people are beginning to travel. As we have seen with the first day of operations, the industry is well-coordinated with governments. The guidance of both EASA and ICAO is being implemented. And we appreciate the patience and cooperation of passengers with the measures that are designed for their safety.
With governments, we will continue to monitor the situation to ensure that everything continues to run smoothly as the number of travelers increases.
The re-opening of travel in Europe raises two important points that we have addressed today.
The first is to remind governments and stakeholders that the re-opening of borders is a long way off from a return to normal flying.
The re-start is anything but a normal situation for airline planning or passenger demand. Forward bookings into the autumn period are down 82% on normal levels. And fewer travelers are planning for an early return to the skies. Our most recent survey indicated that only 40% would fly within a few months of the pandemic subsiding. That is down from 61% in early April.
This is important to note because it means that airlines are still fragile. And we continue our call for government relief. Brian has already spoken about the need for a slot waiver into the winter season—the period from October 2020 until March 2021. That will give airlines the flexibility they need to focus on meeting passenger demand as it evolves, and free from the burden of trying to protect what their schedule might look like a year from now.
The Worldwide Airport Slot Guidelines are critical in normal times. They enable airlines to plan their investments and they give consumers certainty. But these are extraordinary times full of uncertainty. The current waiver has been very useful in giving airlines flexibility in the re-start. And that flexibility will be the key to surviving the winter season. That is why we are calling on regulators to extend the waiver on a worldwide basis.
We are also continuing our call for other relief measures, including:
Financial assistance in ways that do not increase industry debt levels which have risen sharply.
Extensions to wage subsidies and corporate taxation relief measures, and
Avoiding increases in charges and fees.
The second point that we need to address is COVID-19 testing.
Dr. Powell has outlined our position on testing. Most of Europe's governments have not made COVID-19 testing a requirement for re-start. That is encouraging and in line with EASA and ICAO guidelines.
Testing can, however, play a role as an extra layer of protection for countries where risk is assessed at a higher level. And testing is by far a preferred alternative to quarantine measures which essentially keep a country in isolation and its tourism economy in lockdown.
We have seen a few countries, like Iceland, implement testing on arrival as an alternative to quarantine. The point to emphasize here is that testing before departure would be much more efficient. It would keep people who test positive completely out of the travel system. The challenge, however, is for governments to work together so that testing data from the departure location is accepted by the arrival state.
Further, testing will need to cope with the growing volumes of travelers. That means delivering accurate results fast and at the scale of airport operations. Progress towards these goals is encouraging. And then the last point that needs to be addressed is costs. Testing should not become an economic barrier to travel. If governments require testing, they must bear the cost. That was agreed by governments in the WHO's International Health Regulations.
With that, I am ready to take your questions.
Media Briefing Recording: Listen to the teleconference (mp3)