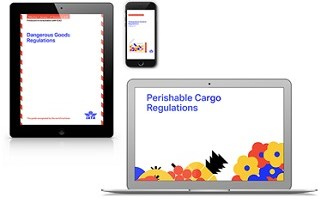 ​In addition to printed books, many IATA publications are available in digital format.
The Windows and Mobile (multi-platform) formats make up the IATA eLibrary.
To determine which one is right for you and your organization, start with a side-by-side comparison, then read on for more detail.
Digital Formats Available
​
Windows
Mobile (Multi-Platform)
OS support
Windows 10, 8, 7, Vista
Windows, Mac OS, iOS, Android
Device support
Windows computers
Windows and Mac desktops & laptops, iOS & Android tablets
​License type
​Single device / user
​Single user
Multiple device
No
Yes
Use in an app
Yes
Yes
Use in a browser
No
Yes
Installation required
Yes
No, for use in browser
Yes, for use in app
Updates
Yes
Yes
​Special features
Publications may include: Dynamic data grids, Document Toolboxes, special content sections, links between titles
​No
Windows
Install the IATA Reader for Windows® once and access your IATA publications from one, easy-to-use software application. Searchable content is conveniently organized and presented. It's all stored locally on a computer so ​​it can be used any time.
Single device/user license.
Discover Windows access to IATA publications.​
Mobile (multi-platform)
Access to IATA publications on all popular platforms (Windows, Mac, iOS, Android), across a variety of devices (desktops, laptops and tablets).
Single user license​.
Explore multi-platform access to IATA publications.​
Product Support
Need help with an IATA publication? Visit the IATA Customer Portal to access support resources.
When you need to reach us, Register or Login to submit a request for assistance.