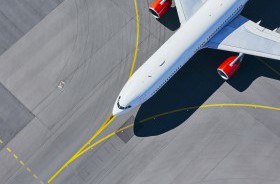 Translation:
IATA s'associe avec l'Université Carleton pour offrir un programme de formation pour rapprocher l'industrie de l'aviation des décideurs de politiques publiques (pdf)
Montreal – The International Air Transport Association (IATA) is partnering with Carleton University's School of Public Policy and Administration (SPPA) in Ottawa, Canada, to launch the Professional Certificate in Air Transport Principles and Policy. The online, instructor-led program is aimed at both public policy makers and aviation professionals and will be delivered through the school's Transportation Policy and Innovation Centre (TPIC).
The objective is to provide aviation and public sector professionals with a better understanding of the complexity of both the air transport sector and the public policy-making process. With this enhanced knowledge, aviation professionals will gain important insights into government policy-making, while public sector employees will obtain greater clarity into how the aviation industry operates and how their decisions affect this important sector.
"Achieving a better understanding between the public and private sector is essential to ensuring sustainable operations in a sector as complex as aviation, especially in a time of crisis. This is one of the key take-aways as we continue to rebuild from the effects which COVID-19 related border closures and travel restrictions have had on aviation, a sector which is an integral part of the global supply chain. Partnering with Carleton University enables us to offer an academic solution to improve comprehension and collaboration between policy makers and the aviation industry, allowing to be better prepared for future challenges, both in Canada and across the globe," said Frederic Leger, IATA's Senior Vice President for Commercial Products and Services
"This partnership will raise the visibility and attractiveness of air transport as a subject of academic study and field of work, leading to a greater outflow of knowledgeable professionals into government and industry," said Brenda O'Neill, dean of Carleton University's Faculty of Public Affairs. "This reflects the growing leadership of Carleton's School of Public Policy and Administration in the field of public policy and governance in Canada and abroad."
The program will focus on the business practices and economic impact of the air transport industry, and on the nature and complexity of the public policy-making process as it relates to the sector.
"Governments sometimes formulate policy with incomplete information about the economic imperatives facing this industry", said Dr. Marc Rioux, who leads the TPIC after a career at Transport Canada. For their part, private sector participants sometimes under-estimate the complexity of public policy-making. The program intends to close this knowledge gap."
The partnership combines IATA's global reach with one of Canada's leading academic institutions. It is targeted at public sector and air transportation professionals from around the world, enhancing workforce skills to meet the aviation industry's global demand.
With its unique focus on policy, the program will position Carleton on the world stage for civil aviation training and professional development. The university joins a list of six existing IATA Academic Partners, all offering specialized aviation related training programs.
For more information, please contact:
Corporate Communications
Tel: +41 22 770 2967
Email: corpcomms@iata.org
Notes for Editors:
IATA (International Air Transport Association) represents some 300 airlines comprising 83% of global air traffic.
You can follow us at twitter.com/iata for announcements, policy positions, and other useful industry information.