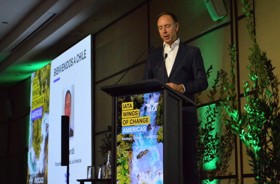 Translation:
Las aerolíneas en las Américas reafirman su adhesión a la iniciativa 25by2025 de IATA (pdf)
Santiago de Chile – The International Air Transport Association (IATA) welcomed the continued focus on diversity and inclusion of airlines based in the Americas region, illustrated by their renewed commitment to the industry-wide 25by2025 initiative, in which participating companies commit to increase the number of women in senior positions and in under-represented jobs and report annually on key diversity metrics.
IATA's Wings of Change Conference Americas, held in Santiago, Chile, featured a panel discussion on gender diversity under the banner of "Breaking the Airline Industry's Glass Ceiling".
This included a signing ceremony of the 25by2025 commitment at which Azul and GOL joined those 24* airlines based in the Americas region, who have already pledged their support. Moreover, Airports Council International Latin America and the Caribbean (ACI-LAC) will be the first non-airline entity in the region to join the initiative.
"We are pleased to see the airlines from the Americas region leading the way in bringing 25by2025 to life. Having Azul and GOL pledging their support is an important step forward in this initiative and hope this will be motivation for others to join,"said Peter Cerdá, IATA's Regional Vice President, the Americas.
"The growing number of airlines signing up to 25by2025 illustrates a strong momentum to make aviation stronger with a more diverse workforce. The airlines which have already signed-up to the initiative demonstrate leadership for change. That is a very solid base to attract even more airlines to make the commitment and, more importantly, to report improving gender balance, particularly in senior roles," said Jane Hoskisson, IATA's Director, Talent, Learning, Engagement and Diversity.
To encourage progress in the area of diversity and inclusion, IATA in collaboration with Qatar Airways, launched the Diversity & Inclusion Awards which recognize three categories in the areas of diversity of inclusion such as:
Inspirational Role Model Award
High Flyer Award
Diversity & Inclusion Team.
Nominations for these annual awards are open until 18h00 CET on 24 April 2022 and will be evaluated by an independent panel chaired by Karen Walker, Editor-in-Chief, Air Transport World and consisting of the 2021 Awards recipients.
The winners of these annual awards will be announced at IATA's 78th Annual General Meeting & World Air Transport Summit.
For more information, please contact:
Corporate Communications
Tel: +41 22 770 2967
Email: corpcomms@iata.org
Notes for Editors:
IATA (International Air Transport Association) represents some 320 airlines comprising 83% of global air traffic.
You can follow us at twitter.com/iata for announcements, policy positions, and other useful industry information.
*Airlines from the Americas region that have committed to 25by2025 include: Aerolineas Argentinas, Aeromexico, Air Canada, American Airlines, Atlas Air, AVIANCA*, Azul, Copa Airlines, GOL, Delta Airlines, JetBlue, Jetsmart, LATAM Airlines Group**, MASAIR, Sky Airline, United Airlines and Volaris.
* AVIANCA along with AVIANCA Costa Rica, Avianca Ecuador
** LATAM Airlines Group along with LATAM Airlines Brasil, LATAM Airlines Colombia, LATAM Airlines Ecuador, LATAM Airlines Paraguay, LATAM Airlines Peru, LATAM Cargo Brasil, LATAM Cargo Chile


The 25by2025 Campaign is a voluntary commitment by participating IATA member airlines. Key among the commitments of airlines participating in the 25by2025 Campaign are:

Increasing the number of women in senior positions (to be defined by the member airlines) by either 25% against currently reported metrics or to minimum representation of 25% by 2025
Increasing the number of women in under-represented jobs (e.g. pilots and operations) by either 25% against currently reported metrics or to a minimum representation of 25% by 2025
Reporting annually on key diversity metrics