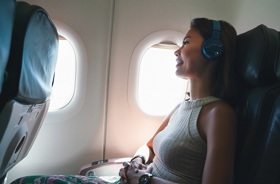 Geneva - The International Air Transport Association (IATA) announced that "Emerging Stronger – Safely Transforming to a More Resilient Tomorrow" will be the theme of the 2022 Safety Conference. The event will take place on 25-27 October in Dubai, UAE, with Emirates as the host airline.
"The past two years of COVID-19 have tested aviation as never before. Yet despite these pressures, aviation operated to the highest levels of safety. Now, we need to ensure that we safely manage the challenges of rebuilding our connected world in line with rapidly returning demand, as well as prepare for future growth. The IATA Safety Conference is the forum to discuss and debate the path forward toward an even safer tomorrow," said Nick Careen, IATA's Senior Vice President, Operations, Safety and Security.
Sir Tim Clark, President, Emirates Airline, will deliver an Opening Keynote Address. "Safety is core to our industry and in an ever-more complex operating environment, leadership is vital to ensure that every link in the aviation chain is strong and future resilient. Events like this conference provide a valuable platform for the aviation stakeholders to convene, communicate and cooperate on policies and initiatives relating to Safety. We look forward to welcoming the speakers and delegates to Dubai for the IATA Safety Conference," said Sir Tim.
Other presenters include:
Billy Nolen, Acting Administrator, US Federal Aviation Administration
The Right Honourable Lord Justice Charles Haddon-Cave, Royal Courts of Justice, UK
Mark Burtonwood, Senior Vice President, Group Safety, Emirates Airline
Jim Chung, Chief Medical Officer, Air Canada
Stephen Creamer, Director Air Navigation Bureau, ICAO
Eduard Ciofu, Head, Air Operations, European Aviation Safety Agency
Stephan Labrucherie, Head of Training Worldwide, Airbus
Hideaki Miyachi, , Deputy Vice President, Flight Safety Management, Japan Airlines
Lacey Pittman, Vice President, Global Aerospace Safety Initiative, The Boeing Company
Bryan Quigley, Senior Vice President, Flight Operations, United Airlines
Piotr Samson, Chairman of the Management Board, European Union Aviation Safety Agency
Session topics include:
Leadership: Key to Building a Safety Culture
The Future of Safety Oversight and the Role of the Regulator
Certification and Oversight in an Automated Environment
Employee Mental Health
IOSA Risk-based Approach
Insight into Aviation's Skills Gap
Integration of Future Aircraft Technologies
IATA Safety Leadership Charter
Safety Critical Workers -Recruitment and retention strategies
Inspiring the Next Generation of Aviation Professionals
The Future of Aviation Training
For more information, please contact:
Corporate Communications
Tel: +41 22 770 2967
Email: corpcomms@iata.org
Notes for Editors:
IATA (International Air Transport Association) represents some 300 airlines comprising 83% of global air traffic.
You can follow us at twitter.com/iata for announcements, policy positions, and other useful industry information.