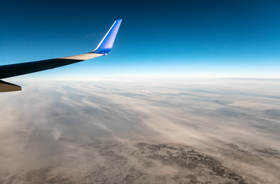 Geneva - The International Air Transport Association (IATA) welcomes the reclassification of airspace over Somalia and the surrounding region to Class A. This will take place at one minute past midnight on 26 January 2023 when air traffic control services will be operationally restored after a 30-year disruption.
Some of the region's busiest airways - linking the African subcontinent south of Ethiopia with the Middle East and Indian subcontinent as well as Western Europe with the Indian subcontinent and Indian Ocean islands - traverse Somalian airspace, which is officially known as the Mogadishu Flight Information Region (FIR). It covers the landmass surrounding the Horn of Africa and extends into the Indian Ocean.
"The reclassification of the Mogadishu FIR as 'Class A' airspace will significantly improve safety in the region and enhance efficiency. This is thanks to the collaborative efforts of the Somalia Airspace Special Coordination Team, comprising the Somali CAA, IATA, the International Civil Aviation Organization, adjacent FIRs and airlines," said IATA's Regional Vice President for the Middle East and Africa, Kamil Al-Awadhi.
The reclassification of the airspace, and the operational resumption of air traffic control in the Mogadishu FIR has been made possible with the installation and commissioning of modern radio navigation and other technological infrastructure. It follows a successful trial which began last May.
"The upgrade of air traffic management and improved navigation and communication infrastructure will enhance situational awareness along an increasingly busy air corridor and its intersections with routes linking many of the world's regions," added Al-Awadhi.
All flights operating in Class A airspace must be cleared by air traffic control which is also responsible for maintaining lateral and vertical separation between aircraft. In the Mogadishu FIR, Class A airspace is the sky above the base altitude of approximately 24,500 feet above mean sea level.
For more information, please contact:
Corporate Communications
Tel: +41 22 770 2967
Email: corpcomms@iata.org
Notes for Editors:
IATA (International Air Transport Association) represents some 320 airlines comprising 83% of global air traffic.
You can follow us at twitter.com/iata for announcements, policy positions, and other useful industry information.