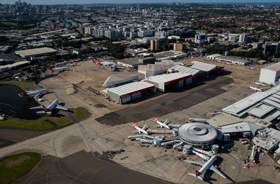 Addis Ababa - The International Air Transport Association (IATA) called on the government of Ethiopia to act swiftly to clear the $95 million in airline funds blocked from repatriation to ensure the country's connectivity is not threatened. The ability to repatriate revenues is guaranteed in international agreements. All parties must abide by these agreements to keep the world connected by air.
Ethiopia is recovering strongly from the COVID-19 crisis
Ethiopia's benchmark regional connectivity (within Africa) stands at 113% of pre-crisis levels according to IATA's Connectivity Index.
Passenger traffic originating from Ethiopia tracked at 19% above pre-crisis levels in the first quarter of 2023 (latest data). This is well ahead of Africa's overall passenger demand which stood at 8.7% above pre-crisis levels in the first quarter.
"The low allocation of USD to the aviation industry by the Ethiopian Government and Central Bank means that $95 million in airline funds are blocked in the country. This sends all the wrong signals and puts at risk the economic and social benefits that its global hub supports Ethiopia's development with. Ethiopia must follow the global rules that it benefits from. It's time for the government to work with industry to resolve this situation quickly," said Willie Walsh, IATA's Director General.
"Ethiopian Airlines is performing very well. Our current performance, in all parameters, indicates that our success will continue strong. We have recovered well from the impacts of the pandemic. By the end of this fiscal year, we expect to generate USD6.1 billion, this is a 20% growth compared to our last year's performance. We will be transporting 13.7 million passengers which is also a 55% increase from same period last year. While our operations and milestones continue to be persistent, we still have challenges regarding expatriating our accumulated funds in various countries. As of today, we have more than USD180 million stranded in several countries. Transferring funds remains a critical challenge for airlines," said Ethiopian Airlines Group CEO, Mr. Mesfin Tasew.
Additional key priorities to support a strong aviation sector in Ethiopia include:
Implementing the Single African Air Transport Market (SAATM): SAATM was the solution to unlocking travel within the African continent pre-pandemic. Twenty-three countries have signed the Memorandum of Implementation to date; however, none have ratified it. Full implementation of SAATM across the continent would generate significant economic benefits. In Ethiopia alone, it could create 21,000 new jobs and add $81.8 million to the GDP.
Fostering the growth of a Sustainable Aviation Fuel (SAF) industry: SAF will play the most significant role in reducing the aviation industry's carbon footprint, aligning with the industry's commitment to achieving net-zero carbon emissions by 2050. To help meet this goal we encourage the Ethiopian government to explore developing and incentivizing SAF production. The country has the potential to become one of the biggest SAF producers with unique feedstocks, vast land area, and significant solar potential - thus providing opportunities for both biomass feedstocks and renewable non-biomass feedstocks like solar and wind power-to-liquid (PtL) solutions.
" Ethiopia's aviation industry is set to triple by 2040, with an average 6% growth in passenger traffic over the next 17 years. The Ethiopian government is uniquely positioned to stimulate SAF production, a move that would not only support the forecast surge in air travel but also trigger substantial job creation and boost the local economy. Ethiopia has the opportunity to take the lead, and in doing so, construct an aviation future that is as sustainable as it is successful," said Walsh.
For more information, please contact:
Corporate Communications
Tel: +41 22 770 2967
Email: corpcomms@iata.org
Notes for Editors:
IATA (International Air Transport Association) represents some 300 airlines comprising 83% of global air traffic.
You can follow us at twitter.com/iata for announcements, policy positions, and other useful industry information.