Good morning, distinguished guests, and colleagues.
It is my pleasure to welcome you to the 35th IATA Ground Handling Conference, an event that has remained relevant for three and a half decades.
I want to extend my heartfelt thanks to Etihad Airways and our Destination Partner Abu Dhabi Convention & Exhibition Bureau, for their gracious hospitality in hosting this event and to all our sponsors who make events like this possible.
As we gather today, we do so in anticipation of a busy peak Northern summer season for the aviation industry, including the ground handling sector, will need to be ready. Global ticket sales in Q1 tell us to expect 35% more travel this year compared to 2022. There is good news for every region. Asia Pacific is up 135%, Middle East by 43%, Europe nearly 40%, Africa 36%, Latin America 21% and North America up 14%. As you can see, the numbers are particularly strong in the regions that most recently dropped COVID restrictions.
And in all cases, travelers will be counting on the industry to have resolved the problems of 2022 and be ready for people to travel in much greater numbers.
Priorities
That means we must continue to focus on:
- Effective staff recruitment and retention
- Consistently implementing global standards
- Accelerating digitalization and automation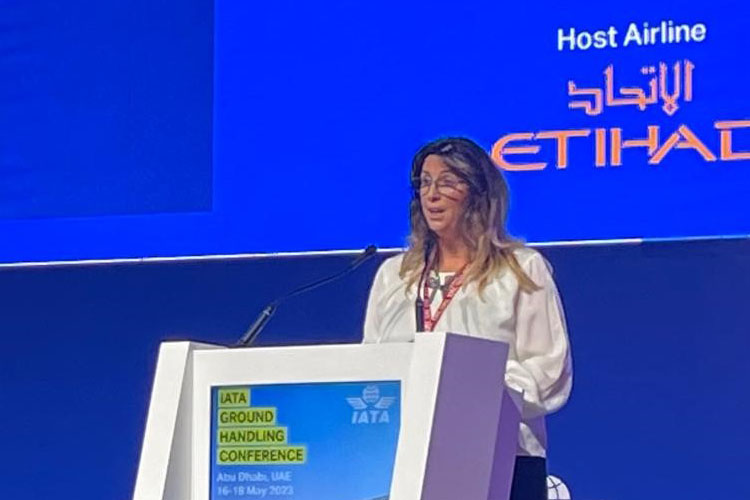 Effective Recruitment and Retention
Let's start with recruitment. Staffing levels have not recovered. In a recent survey, 37% of ground handling professionals predicted staffing shortages until the end of 2023 and beyond, and 60% felt they didn't have enough qualified staff to ensure smooth operations. Plus, 27% of respondents feared that their current employees would leave soon.
The peak Northern summer season demands that we act fast to prepare for increased traffic. Ensuring efficient onboarding and continuing to work with governments to reduce bottlenecks in security clearances is critical. But we also need long-term solutions that create a stable talent base by making the work more attractive. This means:
Embracing automation to eliminate difficult and hazardous tasks, supporting the physical and mental health of our employees
Fostering a culture of continuous learning and career growth
Creating a safe and inclusive environment where talents are nurtured and empathy thrives
Let's talk about onboarding. It's a critical process, but it can take more than six months to train and clear new staff. That's too long! By adopting more efficient and expedited onboarding practices, we can quickly adapt to changing demands, including seasonal fluctuations. Let's focus on competency-based training, with more online assessments to improve speed and efficiency. And by promoting mutual recognition of security training and employee background records among authorities, we can expedite the process and reduce redundancy.
Moving to automation. Revolutionizing our industry with automation and new technologies can attract a fresh wave of talent by creating diverse job opportunities and career paths. For instance, autonomous mobile robots (AMRs) can relieve people from performing physically challenging tasks, like moving luggage into a flight container or onto a baggage cart. And AI can analyse ground operations data and instantly alert crew members to take necessary action making processes more efficient.
Lastly, we need to create an industry that promotes career development and rewards years of training and skills. Today, a ground handler with 20 years of experience at an airport, cannot be confident that their acquired skills and qualifications are recognized elsewhere. That's crazy!
IATA has just launched a Ground Ops Training Passport which supports staff retention and professional growth. It mutually recognizes skills and training across ground handlers, airlines, and airports to drive cross-utilization of skilled personnel.
But the real beneficiary is the employee. They have access to their training records, allowing them to use their knowledge and skills for ongoing professional growth. An industry-wide approach to talent development will pay big benefits in terms of efficiency for all concerned. Let's empower our employees for success!
Global Standardization of Processes
The second priority for Ground Handling is the global standardization of ground handling processes. Standardization boosts efficiency and more importantly, boosts safety. Global standards are the key, and IATA's Ground Operations Manual (IGOM) is the comprehensive industry manual that defines these standards.
To support the efficient implementation of IGOM, last year we launched the IGOM Operations Portal, where airlines and ground service providers (GSPs) can exchange information on their ground handling requirements. Over 140 airlines have already subscribed to its services and the Portal is now opening to GHSPs.
IGOM has proven to be effective, and supporting its global adoption is the IATA Safety Audit for Ground Operations (ISAGO), which is celebrating its 15th birthday this month. Since its launch in 2008, over 3,000 audits have been performed, with 255 completed in 2022, and 300 expected in 2023.
There are now 195 GHSPs in the ISAGO Registry, providing services at 324 accredited stations at 206 airports worldwide. And over 100 ISAGO airline members have instant access to the ISAGO Registry, where close to 500 different ISAGO audit reports can be found.
In addition a growing community of close to 40 airports and regulators globally endorsed ISAGO to complement their monitoring/compliance, performance or licensing systems through cooperation agreements.
We are constantly evolving ISAGO to drive greater standardization of ground handling processes worldwide. A new checklist is being developed that mirrors IGOM and Airport Handling manual requirements, allowing for remote documentation validation through the Operational Portal.
I encourage you to join the growing community of airlines, GSPs, regulators, and airports that endorse ISAGO and support global standardization. The efficiency and safety gains from this approach have been proven throughout aviation's development, so don't be left behind.
Baggage
Another area for greater standardization is baggage. We all know the frustration of losing luggage. And the cost to the industry is staggering. In 2019, 4 million bags were lost or delayed resulting in a bill of $2.5 billion. That's why IATA is committed to improving baggage handling through collaboration and innovation. We're updating our standards to reflect new developments in real-time tracking, electronic bag tags, and Bluetooth technology. Our baggage working groups are bringing stakeholders together to tackle common challenges and enhance the overall passenger experience. So, let's work together to ensure that the journey is smooth from start to finish, and that passengers arrive with all their belongings.
Digitalization / Automation
Continuing the theme of new technology, there is a massive opportunity for the ground handling industry to adopt digitalization and automation. There are three priority areas:
1. Ramp Digitalization
2. Load Control Digitalization
3. GSE Automation
Starting with the ramp digitalization. Ground operations are complex, and delays are the bane of every turnaround coordinator's existence. But with technology and communication advancements, we can avoid delays and make operations safer and more efficient.
That's why IATA's Ground Operations Digitalization and Automation Working Group (GAD) was established. Through GAD, we developed the Timestamps Turnaround (XTST) message to provide standardized communication and enable airlines to monitor their network in real-time.
By implementing the XTST standard, ground handling delays can be reduced by up to 5% globally. Qatar Aviation Services already tested and implemented this schema in Doha Airport, demonstrating a promised 5% reduction in ground handling delays. We urge airports and airlines to invest in technologies implementing the IATA XTST standard to improve their operational efficiency and reduce costs.
With Pegasus we are pioneering the automation of load control to make exchanging aircraft data safer and more efficient.
The new X565 digital standard reduces workload and costs, allows for easier handling of fleet data, reduces errors, and allows for real-time updates.
Pegasus was the first airline to complete the adoption of X565 digital standard earlier this year. We urge other airlines to follow suit to improve safety and efficiency in the aviation industry.
The third digitalization priority is the transition to enhanced ground support equipment (Enhanced GSE). The aviation industry is facing a massive challenge - ground damage costs could skyrocket to almost $10 billion by 2035 if we don't act fast. But there is a solution - Enhanced GSE.
Enhanced GSE uses anti-collision and inching technology to improve vehicle control and increase docking accuracy, and it's time for the aviation industry to use it.
By transitioning 75% of the global fleet of belt-loaders, cargo-loaders and passenger stairs to Enhanced GSE, we could reduce ground damage costs by 42% and make the ramp a safer place for personnel and aircraft.
We're already seeing autonomous GSE trials in over 15 countries. To ensure safe and efficient implementation, IATA has produced a set of guidelines and a generic risk assessment for users and system providers to follow.
Transitioning to Enhanced GSE isn't just good for safety, it's also good for the environment. GSE CO2 emissions could be reduced by 1.8 million tonnes annually if all the pre-COVID GSE fleet were to be turned into electric GSE. Hand in hand with the reduction in emissions, electric GSE has also proven to be quieter than traditional fuel powered GSE – offering a reduction of between 5.5 and 8.3 dB(A).
IATA is committed to carrying out best practices that make ground ops more environmentally sustainable, while providing a better working experience for staff on the ramp.
Conclusion
In closing, I want to take a moment to reflect on why we're all here today. We're part of an industry that connects people, cultures, and economies around the world. Ground handling may not always get the spotlight, but its vital role remains. Our work has a direct impact on the safety and efficiency of air travel, and on the lives of millions of people every day.
So let's drive change and innovation, and let's work together to build a stronger and more resilient industry for the years to come.
Thank you and let's continue to make a difference!