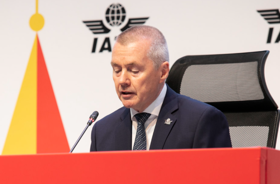 Airlines are en route to a profitable, safe, efficient, and sustainable future.
The pandemic years are behind us, and borders are open as normal. Despite economic uncertainties, people are flying to reconnect, explore, and do business. Latest data show passenger traffic at over 90% of 2019 levels. Airports are busier, hotel occupancy is rising, local economies are reviving, and the airline industry has moved into profitability.
Financial Performance
Margins are, however, wafer thin. With $803 billion of revenues, airlines will share $9.8 billion in net profit this year. Put another way, airlines will make, on average, $2.25 per passenger. So, the value retained by airlines for the average plane trip won't even buy a subway ticket in NYC. Clearly that level of profitability is not sustainable. But considering we lost $76 per passenger in 2020, the velocity of the recovery is strong.
Challenges remain. Inflation continues, cost pressure is acute, and in some areas, labor is in short supply. Unfortunately, many of those we do business with are adding to these pressures.
OEM suppliers have been far too slow in dealing with supply chain blockages that are both raising costs and limiting our ability to deploy aircraft. Airlines are beyond frustrated. A solution must be found.
Oil companies did very well on our tab while the crack spread for jet fuel was at historic highs for most of 2022 until April this year.
And there are grievous examples of some airports and ANSPs shifting the costs of their inefficiency to airlines.

On this point, I can now confirm that Schiphol Airport has no shame. After a self-made operational disaster in 2022 the airport continues its three-year 37% charges hike—with 12% this year.
In South Africa, airports want a 38% charges increase, only to be outdone by ATC demands for a 63% hike.
And, back to Europe, airlines are paying for a EUR1.9 billion addition to the air traffic management cost base in 2022. You'd expect good performance. But delays were triple what was anticipated. And capacity and environment targets were missed.
With such bad behavior on open display, calls for lighter touch economic regulation of our monopoly suppliers must not be taken seriously by any government.
Considering these many challenges, that airlines are turning a profit at the industry level is truly impressive.
Safety
We can also be impressed by the industry's safety record. This year marks 20 years of the IATA Operational Safety Audit (IOSA). In September 2003, Qatar Airways was the first to join the IOSA registry. Today, over 400 airlines are on the registry. It is the global standard for managing operational safety.
More importantly, it is clear that IOSA helps to improve safety. In 2022, IOSA registered carriers outperformed those not on the registry by a factor of four. It is never "job done" on safety. So, we are marking two decades of success by making IOSA even more effective with a transition to a risk-based approach.
Of course, IOSA is not the only global standard improving safety. We prevent future accidents by learning from accident reports. But, of the 214 accidents in the last 5 years, only 96 final accident reports are available. This is an inexcusable violation of the Chicago Convention and a disservice to the safety of our passengers and crew. Governments and their agencies must improve.
Efficiency and Implementation of Global Standards
As an industry connecting people and goods across jurisdictions, global standards are at the core of our success—starting with safety and permeating everything we do.
For example, consumers the world over appreciate the ability to purchase air travel in a single currency for any destination in absolute confidence. That's achieved with the global standard processes of the IATA Financial Settlement Systems. With half a century of experience and global scale, they are cost effective, safe and reliable. And we are constantly evolving them to deliver the value you expect
This experience also helps IATA to set global standards that make travel ever more efficient….
The transformation to modern airline retailing is taking shape. The aim is to make buying air travel as easy as ordering from any online retailer.
Verifiable digital identity standards enabling all players in the supply chain to interact more efficiently and securely are being developed.
And, with biometric identification, standards for contactless processes are improving the security and efficiency of the airport experience.
Even if not always top of mind, global standards underpin our ability to connect the world. Unfortunately, that appreciation is not universal among our stakeholders, including governments. Fragmentation is growing because governments are either.
Not acting globally
Not implementing completely, or
Simply inventing local solutions.
Local Solutions: Passenger Rights
Passenger rights is an example of the latter. Over a hundred jurisdictions have developed unique regulations intended to protect air travelers. And at least a dozen governments are looking to join the group or toughen what they already have.
The question I ask myself is what is the basis for all this? We recently surveyed 4,700 travelers across 11 markets to understand their experiences.
96% were satisfied with their last trip
77% said air travel was good value for money, and
73% were confident they would be treated fairly by their airline in the event of operational disruptions
Every journey is not perfect. There are lessons to learn from rare but widely reported incidents where customers were not treated as they should. But governments are going beyond the reasonable.
Europe's infamous EU 261 passenger rights regulation is a contorting contagion. It penalizes airlines for disruptions—misunderstanding that the huge costs of not operating to schedule are already a major incentive.
Meanwhile, the European Court of Justice continues to transform EU 261 from bad to absurd. Its latest judgement found that the death of a pilot, at an outstation, is not an extraordinary circumstance. Anyone with common sense would certainly wonder who the judges expect to fly the plane!
It should come as no surprise that, nearly two decades after the regulation came to be, consumers are paying more to cover the cost of compensation, and EU studies show no improvement in delays or cancellations. At the same time, Europe conveniently excuses itself from modernizing air traffic management. The Single European Sky contains the tools to reduce most delays at their source and improve environmental performance.
So we were amazed when the US announced that EU 261 will be the model for its punitive passenger rights regime. That closely followed Canada's latest innovation on its 261-style regime where the airline is now guilty until proven innocent. Considering that 93% of Canadian travelers polled told us that they were satisfied with their last flight, this is a regulatory sledgehammer to crack a nut, and the results will be messy. We must keep careful watch because governments from Australia to Latin America and the Middle East are all thinking about their own innovations in this area, which could be a nightmare for airlines and their passengers.
The rotten tomato prize, however, goes to the "pay as you fly" initiative by the EU's DG Justice. In a misguided initiative to protect travelers, airlines would only receive full payment when the journey is complete. The cashflow impact would be horrendous. And who's interest will be served by the higher costs and higher fares that will result?
It is a sad reality that we must remind governments that:
They should follow the passenger rights principles that they agreed through ICAO, especially on proportionality, and
That airlines serve passengers who are firmly in control of the ultimate passenger right—to choose the airline they spend their money with.
The Importance of Fully Implementing Global Standards: Slots and Schiphol
Problems also arise when global standards are not implemented as intended. There are two examples:
The first is slots. The Worldwide Airport Slot Guidelines (WASG) underpin 43% of all journeys. And European data show they are effective with a 95% utilization rate and plenty of choice for consumers. Still, some regulators succumb to temptations to "toughen" the rules to be seen to be doing something.
Truth be told, the best way to improve performance is fully utilizing the existing slot guidance provisions. For example, when there are extraordinary situations like COVID-19, the flexibility provided to regulators is the quality that keeps them relevant. Flexibility helps airlines meet consumer demand without perverse requirements to fly near empty planes.
Regulators should also insist on honest capacity declarations by all players—including airports, ANSPs, and border control. Inaccurate capacity declarations resulted in chaos at some hubs last year. A repeat performance cannot be permitted. We need rigorous attention on meaningful capacity declarations. Where known staff shortages and airspace restrictions exist, they must be planned into the capacities that airlines are scheduling against, not absorbed by delays or cancellations on the day.
The second example is Schiphol. The Dutch government imposed a 12% capacity cut in a crude effort to manage noise. We won a court challenge because the government didn't honor its decades-long commitments under the ICAO Balanced Approach on noise management. Consultation was a charade and operational restrictions were the first choice—not the last resort as the Balanced Approach calls for.
The Dutch government is appealing, and we continue to challenge for two reasons. An industry focused on safety cannot accept the politicization of technical discussions. And ignoring the rules-based order established by global standards is a slippery slope to confusion that we airlines can ill-afford and our customers will not tolerate.
The message is simple. Global standards are key. When fully applied, they improve safety and drive consumer benefits, operational efficiencies and sustainably efforts.
The Importance of Acting Globally: Sustainability
And on sustainability, we have said from the beginning that it is a global challenge that needs a global solution.
At the 41st ICAO Assembly in October 2022 governments agreed a long-term aspirational goal for aviation to achieve net zero emissions by 2050—aligning governments with our net zero by 2050 resolution at the 77th IATA AGM a year earlier.
That's important because governments are now accountable to deliver a global policy framework to achieve net zero by 2050. And even though "aspirational" is a qualifier in LTAG, failure is not an option.
What has happened since LTAG was agreed?
Let me just highlight two significant steps.
First, IATA has published a series of roadmaps to net zero by 2050. These roadmaps are the first detailed assessment of the key steps necessary to make net zero by 2050 an aviation success—covering technology, infrastructure, operations, finance and policy. They will, of course, evolve as we dig deeper to set interim milestones on the way to net zero.
I must emphasize that the roadmaps are not just for airlines. Governments, suppliers, and financiers cannot be spectators to the challenge. We all have skin in the game. And each must deliver the products, policies or investments needed to decarbonize.
Expert evaluation is essential. But too often even professional organizations contribute amateur assessments to this important debate. And that helps nobody. The latest that caught my eye, because it received widespread media coverage and is now often quoted, was a recent Royal Society report on resource requirements for net zero aviation fuels.
To underpin their research, they used fuel burn performance data for flights between London and New York for a Boeing 737-300. Yes, you heard me right, a 737-300, an aircraft that went out of production in 1999, flying between London and New York. Now, I've flown the 737-300 so I know a bit about it and what I know for certain is you cannot get the minimum of 21 tonnes of fuel that they estimated you would require into the fuel tanks that can only take a maximum of 16 tonnes. So, if we know that that section of the report is rubbish what confidence can we have in the rest of the document?
Decarbonizing aviation is a serious multi-trillion-dollar initiative. It must be informed by expert research that can stand up to scrutiny.
And that leads me to a second important development since LTAG. IATA published a global standard methodology to track progress toward net zero. The transparency that accurate tracking will enable is critical to holding ourselves and our stakeholders accountable—accountable for what is achieved and what is not in the quest for a truly credible net zero by 2050 target.
Temptations
I'll say it again. Decarbonizing aviation is a serious issue and governments must not be allowed to use it to shore up exchequer finances.
CORSIA illustrates the risk. The ICAO Assembly increased CORSIA's financial burden by adjusting the baseline to 85% of 2019 emissions. We accepted this as part of a political compromise to achieve LTAG and with the assurance that CORSIA would be the only economic measure applied to international aviation.
Almost immediately Europe developed amnesia. Not only is it threatening to make EU ETS extra-territorial, but several European states also want to tax jet fuel—in defiance of the Chicago Convention and almost every bilateral air service agreement and of course, undermining the CORSIA agreement that Europe promoted.
And the argument that international aviation is not taxed does not hold water. We analyzed data from almost 7 billion tickets for international flights going back to 2018 which showed that airlines have paid over $380 billion in taxes and charges which added over 33% to the price of a ticket. And if we include domestic flights, that figure of $380 billion rises to half a trillion US dollars. It's important that policy makers are moved by facts not fictions and it's heartening that 75% of travelers see green taxes for what they are—nothing more than government greenwashing!
SAF
Of course, our biggest focus is on SAF which will be the biggest contributor to net zero success.
Today's SAF production is less than 0.1% of what we need for net zero. But the trend is positive. In 2022, SAF production tripled to 300 million liters. And while critics of our industry dismiss that figure as irrelevant, it's important to remember that airlines used every single drop costing almost $350 million. With the right supportive policies, reaching 30 billion liters by 2030 is challenging but achievable. That would be about 6% of the 450 billion liters annual production capacity we need in 2050. We think it will be the tipping point because achieving it will establish the trajectory needed to scale up for 2050.
Why are we not moving faster? The willingness of airlines to use SAF is definitely not the issue. As I've said, every drop of SAF ever produced has been purchased and used. The problem is insufficient production capacity to meet demand.
That's why we must increase the number of pathways for SAF production and diversify feedstocks—of course while maintaining their sustainability credentials. Doing so will open production opportunities best suited to particular geographical locations. Governments should be jumping over themselves to be first in line for the job creation, local economic stimulus, and biodiversity protection that SAF production brings—significant benefits for both developed and developing economies alike.
Unfortunately, the politicians have not made good on their COP 26 promise to stop financing fossil fuels. We've not seen a major shift of fossil fuel subsidies to green energy—certainly not for SAF.
The US approach to SAF is the most advanced with a system of tax credits to drive up production levels. This will be more effective than purchase mandates being considered as far and wide as Singapore, India and Europe. When there is not enough supply, a purchase mandate will drive prices up, stall innovation and limit competition long before supply increases.
And if there is an early policy decision that is needed, it is to establish global standards for a SAF book and claim system that can fairly allocate SAF credits with no double counting.
Just as location makes no difference on the impact of CO2 emissions, it has no impact on where SAF is uplifted and used either. A global approach to book and claim for SAF credits will help facilitate economies of scale in SAF production. And it will avoid the long-distance shipping (or even importation) of SAF, which would only degrade its climate credentials.
It is important that we get these basics of energy transition done—production incentives, more diversified production pathways and a book and claim system. Our commitment to net zero by 2050 is fixed and firm. We have the roadmaps for an energy transition. Now we need these tools to get the job done!
Looking Ahead
The sustainability challenge is, bar none, the biggest that we will face as leaders of the aviation industry. This will be difficult and take time. As pioneers building the net zero emissions age for aviation, scrutiny of our efforts will be extreme. We must welcome it as a means of telling the impressive story of aviation's decarbonization and its contributions to society.


My friends, we have every reason to be proud of a profitable, safe, efficient and sustainable global air transport industry and our research tells us that people appreciate what we do:
87% believe that flying is critical, and we must find a way to fly sustainably without restricting travel
88% feel that air travel has a positive impact on society
82% recognize aviation as a key contributor to the UN's Sustainable Development Goals, and
91% see air connectivity as a modern necessity and
81% of travelers appreciate the freedom to fly more today than they did pre-pandemic
And we have lived up to the faith they place in us;
Last year airlines transported goods valued at $8.5 trillion, supporting enormous economic opportunities
And this year we expect to safely enable 4.4 billion flyers to do business, reconnect with loved ones, explore our beautiful planet, fulfil something on their bucket list, or expand their horizons.
In the two hours it takes for our AGM, there will be over a million people experiencing the wonders of air travel. We dedicate ourselves to being profitable, safe, efficient and sustainable because each of those arrivals has every potential to make good things happen in our world.
On behalf of everyone in IATA who is there to serve and represent you, I thank you for your commitment and support.