Santiago – "The successive crises that have traumatized air transport since September 2001 cost the industry three years of growth and profitability. Positive traffic trends over the last six months bring us back to pre-September 11 levels. IATA estimates a modest industry profit of US$3.2 billion on international operations in 2004," said Giovanni Bisignani, Director General and CEO of IATA, speaking at the IATA/FIDAE "Wings of Change" conference in Santiago, Chile.
The level of profitability remains a concern. "We cannot pin the long-term sustainability of the industry on margins of 2-3%. We are recovering, but the industry remains fragile. Continued emphasis on cost reduction and efficiency gains across the industry is essential," said Bisignani.
Bisignani reiterated IATA's call for airports and air navigation service providers to join the industry's cost reduction efforts. "While we have had some successes in convincing our monopoly service providers to respond to the industry's commercial pressures, major problems remain. As a result of a poorly planned airport privatisation process, Latin America's airports are among the worst offenders. Government action is needed to bring Latin American airports in line with commercial reality, " said Bisignani.
Bisignani's comments came as the Association released its February 2004 traffic results, which extended the industry's year on year growth streak to six consecutive months. International passenger traffic for February improved 9.8% over February 2003 and international cargo traffic grew 15.7% for the same period. Provisional results for February 2004 against 2003 indicate strong year-on-year results for all regions.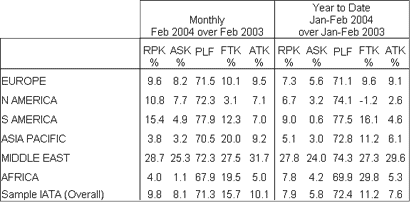 Notes for editors:
1. Explanation of measurements:
a. RPK: Revenue Passenger Kilometres measures actual passenger traffic
b. ASK: Available Seat Kilometres measures available passenger capacity
c. PLF: Passenger Load Factor is % of ASKs used.
d. FTK: Freight Tonne Kilometres measures actual freight traffic
e. ATK: Available Tonne Kilometres measures available total capacity (combined passenger and cargo)
2. IATA statistics cover international scheduled air traffic; domestic traffic is not included.
3. All figures are provisional and represent total reporting at time of publication plus estimates for missing data.
4. Due to uncertainties in the adoption of the new ICAO statistical definitions by reporting carriers, care should be taken when making year comparisons.
IATA (International Air Transport Association) represents over 270 airlines comprising 98% of international scheduled air traffic.
FIDAE (Feria Internacional del Aire y el Espacio) Wings of Change:
Conferencia de Alto Nivel Sobre Transporte Aéreo para las Américas
"Nuevas Estructuras: El Mañana ya llegó"
Santiago, 30-31 de marzo y 01 de abril de 2004